Rezzed developer sessions
Watch all this weekend's presentations! Rome 2, DayZ Standalone, WildStar, Project Eternity, Dreamfall Chapters and many more.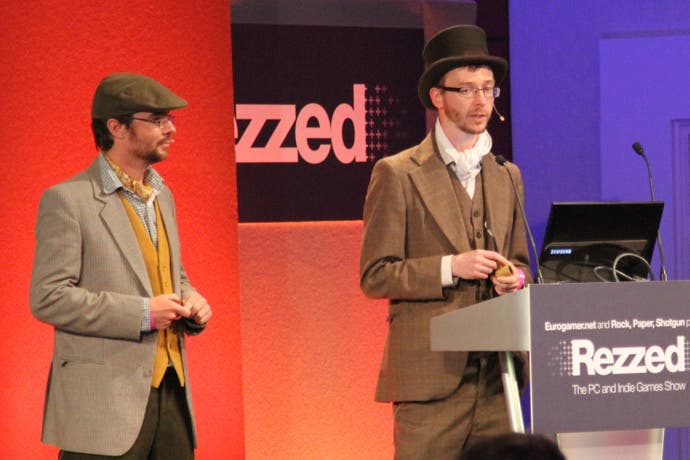 Welcome to the live stream page for Rezzed: The PC and Indie Games Show! Rezzed takes place at the NEC in Birmingham on Saturday 22nd and Sunday 23rd June and - as well as a show floor full of playable PC and indie games - is home to two days' worth of amazing developer sessions, where top people like Chris Avellone, Ragnar Tornquist, Dean Hall and Creative Assembly share the latest progress on their games. You can watch every session live on this page as it happens. Sessions start at 12pm BST / 1pm CEST each day and the full schedule is below the embed. Enjoy!
Check out the full schedule for Sunday below (all times BST - add an hour for CEST):
12pm - Panel: Is storytelling in games getting any better?
John Walker hosts Dean Hall, Chris Avellone, Ragnar Tornquist, Ed Stern and Will Porter.
1pm - Luftrausers
Rami Ismail from Ridiculous Fishing creator Vlambeer takes the stage to show off the iconoclastic indie's new dogfighting game.
3pm - WildStar
Developers from Carbine Studios showcases its upcoming science-fiction MMORPG, published by NCSoft.
4pm - The Creative Assembly Game Jam
Having built a game in a day, teams present their work to an expert panel of Chris Avellone (Obsidian), Ed Stern (Splash Damage) and Keith Stuart (The Guardian).
5pm - DayZ Standalone
Dean Hall returns to Rezzed to share progress made on the standalone version of his hugely successful zombie survival mod for ArmA 2.
Catch up on Saturday's sessions:
12pm - Panel: How can new business models improve PC gaming?
John Walker hosts Mark Morris, Chris Delay, Paul Taylor, Chris Avellone and Ragnar Tornquist.
1pm - Total War: Rome 2
The Creative Assembly present the latest work on the most ambitious real-time strategy game in the studio's history.
2pm - A look back at Frozen Synapse and a look forward to Frozen Endzone
Mode 7's Paul Taylor and Ian Hardingham show how work on Frozen Synapse helped influence Frozen Endzone, with exclusive details on the new game.
3pm - Dreamfall Chapters
Red Thread Games' Ragnar Tornquist, Martin Bruusgaard and Dag Scheve present exclusive new details on the Kickstarter-funded adventure title.
4pm - Project Eternity
Obsidian Entertainment's Chris Avellone presents an update on development of this hugely successful Kickstarter-backed RPG.
5pm - Sir, You Are Being Hunted
Big Robot's Tom Betts shows how procedural generation is being used by this tweedpunk open-world survival game.