Microsoft's Gamescom 2014 briefing
New Tomb Raider an Xbox exclusive, and our first look proper at Quantum Break. All the news as it happened.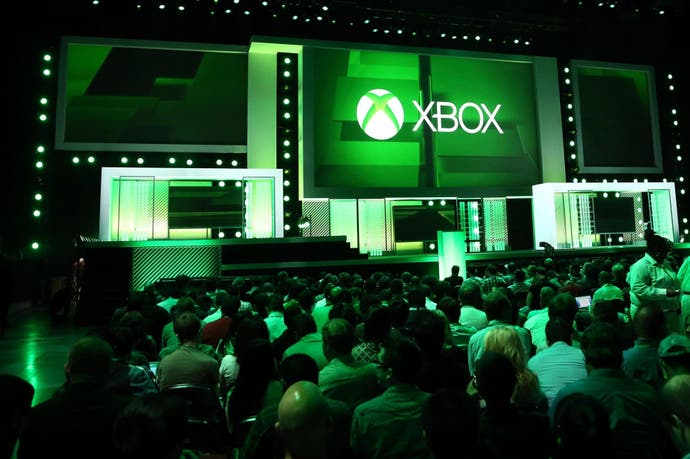 It's over. It's done. Finished. Microsoft brought a decent selection of exclusives to Gamescom, with the most shocking news being that Rise of the Tomb Raider is coming to Xbox One only. There's more! Three new bundles debuted, plus further details on this winter's Halo 5 beta and the first look proper at Remedy's Quantum Break.
Watch live video from xbox on www.twitch.tv
Our live coverage of this event has finished.
He's nearly here! A couple of hours to go 'til the briefing kicks off - just enough time to get to Lewisham's Sausage Man for a quick bratwurst.
(I'm hoping that Sausage Man reads Eurogamer, appreciates all the free publicity and gives me a discount next time I'm down there. Screw Doritos - the next big controversy is all about me and a frankfurter).
MrTomFTW: I've already heard rumours about Martin Robinson's love for big frankfurters.
Don't normally comment on rumour and speculation, but am happy to confirm in this instance.
I think we've got a fair idea of what we will see - Quantum Break, a couple of indies and, if we're lucky, a new first-party game. But what, in an ideal world, would you like to see? A new Perfect Dark, Shenmue 3, PGR5?
Gosh, I didn't know there were so many Grabbed by the Ghoulies fans out there. I hope you're not too disappointed when it becomes evident I was just making stuff up again.
Sammoore: Has Ian made it over yet?
He's arrived safe and sound!
alcolepone: do i have to type something long to appear?
No.
This is the first Gamescom I've skipped and, sitting here watching a stream through the Wii U, I can't say it makes me that sad.
HardlyRiding: shit so far, when's nintendo's show on?
:(
mkreku: Fallout 3 released in 2008. It's been six years (!). Isn't it time for Fallout 4 soon?! Please..?
That's a long, long way off. Lord I'd love to be proven wrong.
I don't think I could be friends with the guy in the Sunset Overdrive ad.
A couple of things I do know! That Forza Horizon 2 is looking ace. I popped down to Playground last week, and there's some exclusive videos going live on the site as soon as Ralph and co. wrap up on stage.
Plus! Well, there's another announcement embargoed for the end of the conference that should please a lot of people. It won't surprise you if you've been paying attention the past week, though.
Oli has joined me here for the stream, and he's brought biscuits from his recent holiday. But they're from FRANCE! That's no way to get into the swing of things.
If you're interested - and I know you are - they're Petit Beurre. A *phenomenal* biscuit.
Wes is in the building! He's made it in! I'm still quite smug about being at home.
Apparently the set-up is quite modest compared to E3. Three screens and a relatively small stage.
And he ate a currywurst last night.
This just in my inbox - Microsoft has partnered with Unity to offer the engine free to all ID@Xbox developers.
They're announcing the wi-fi details in the hall. Not sure we'll write that up as a news story.
Kiki Wolfkill is prepped by the side of the stage - so we're betting Halo kicks off the show.
Wes is giving me a list of people with microphones. This is the stuff that excites me! Ralph Fulton and Sam Lake are also prepped to go on stage.
Hang on, there's one other guy with a mic...
And one last celeb spot... Peter Schmeichel!
Some very, very muted applause in the audience there. We're kicking off with Assassin's Creed: Unity.
Gregor Bieler! A new challenger arrives!
Some classic football based trolling from Gregor and he's off.
Untucked shirt from Phil Spencer, who's just taken the stage. Bold move.
Maybe it's untucked so he can unleash the different branded t-shirts underneath.
Beneath the shirt, Phil's like this.
That's why he's moving around a bit stiffly.
New bundles being announced.
The Phil Spencer branded t-shirt bundle please!
We've one big exclusive to announce.
The debut, I think, will be Quantum Break.
FIFA 15 will have exclusive legends. Come on Schmeichel!
I apologise for probably misspelling Schmeichel.
Leicester City's most famous fan David Rutter steps up.
Sammoore: Oh god, a footballist interview
You're a footbalist.
Everyone's gone untucked so far. Well, apart from Peter, but he can do what he likes.
Schmeichel is picking through his ideal team. I'd like to make it sound more interesting than it is, but, well, I can't.
ManatuBear: This is not what i was expecting... im getting really bored...
It's *exactly* what I was expecting.
Ultimate Team is Xbox One exclusive once again. Shearer, Schmeichel, Roberto Carlos and Roy Keane are all included.
FIFA 15 bundle available from September 25th for £349.99.
Chris Charla! The Charlinator! Charla-roo!
A round-up of ID@XBOX games - like Fruit Ninja Kinect 2, Ghost of a Tale, Goat Simulator, Gunscape.
Wait, what - Goat Simulator?
And Superhot - there are some neat, neat games in that line-up.
Pasco_: Conference saved by SUPER HOT SUPER HOT SUPER HOT
I can't heaaaaaaar you! Super Hot looks ace.
Space Engineers is making its console debut on Xbox One.
Microsoft has really upped its game when it comes to titles like this, it seems. A lot of these are excellent, excellent games.
Super Hot gets a deserved moment in the spotlight, too.
It looks like Killer 7 - but it's ACTUALLY A GOOD GAME.
Nephirion: what's that game called?
No idea. Timegun or something.
The Escapist - Dean Hall's personal pick of Rezzed not long back - is also headed to Xbox One.
elsieparoubek: prison architect rip off?
It's kind of Prison Architect inverted - you've got to escape rather than keep people in. It's good!
Smite is also first to console on Xbox One.
That's it for ID@Xbox - we're left with Capy's Below.
Phil's back, and he hasn't changed shirts... yet.
Not too late for him to tear the shirt off.
It's Glen Schofield, half-man half-titan.
We had our first look at Advanced Warfare's multiplayer last night, of course. I think it looks great, for what it's worth - not a revolution, but a step in the right direction for Call of Duty after the stale Ghosts.
We're going to get a look at Collapse, the San Francisco level.
ollyn: A memorable story is not achieved through bigger explosions.
No. It is achieved through having Idris Elba shout at you.
Oh, this is a single-player level. It's got driving in it. I love driving!
After some bad driving, the driving part stops.
Love the HUD floating off the gun - very Dead Space, of course.
I'm not sure this is the best way to show off Advanced Warfare's single-player - it's a shoot-out on a very narrow bridge that doesn't show much of the mobility that's supposed to change this new instalment.
Well, he is doing little jetpack jumps here and there.
'In the interest of time...' I'd love if they just had that on and then cut the feed for good.
A lot of people from Laaaaaaaaaaaandon in San Francisco these days, it seems.
Call of Duty Advanced Warfare bundle features 1TB hard drive and the game, for £429.99.
Dizzy: Evolve... next years GOTY
It is an excellent, excellent game. Sadly it just isn't getting the hype.
Someone pointed out to me that while Evolve looks great, you can really tell what Valve brought to the table when working with Turtle Rock on Left4Dead.
Apologies to whoever I nicked that off from yesterday's CoD stream. As someone pointed out, poor old horizontality never gets a look in.
It's not a game that lends itself to live demos - it plays really, really well.
No, you stay classy young man.
Tomb Raider - are we about to hear about exclusivity for the new one due next year?
We're getting more concept art rather than any new gameplay.
Rise of the Tomb Raider is an Xbox exclusive.
Well, that is huge. No wonder Phil Harrison looks pleased.
Everything else we're seeing from now on is Xbox One exclusive. Starting with Quantum Break.
Someone just sat down on a pin in the audience just as Phil mentioned Alan Wake.
Sam Lake - this guy has some style. We're about to get a live demo of Quantum Break. Sticks will wiggle.
So, it's third-person action. And being Remedy it's bloody gorgeous too.
Jack, our hero, can manipulate time.
Cover-based shooting. VERY PRETTY cover-based shooting with a time freezing mechanic, mind.
L0YD: So max payne?
Ha, yes indeed.
Mechorpheus: Also does anyone else remember TimeShift?
Now that you mention it I do. Bit of an unloved gem. Ah, Sierra, whatever happened to you...
There's an awful lot of style in Quantum Break - the frozen time sections look incredible.
Ah, third-person shooters. Who needs interesting enemy types when you can just chuck loads of armour on a standard one?
You can see Jack in a frying pan later this week if you're at Gamescom.
That's Quantum Break, then - some smart ideas, though the third-person shooting looks a little stale.
Phil H, for those keeping score, is also untucked.
I wonder if there's a meeting at which this is decided upon?
I wonder who gets to create that power point presentation, and who gets to write that memo?
I wonder how heated the arguments got between the two different camps, one aggressively tucking on one side of the office while the other dances around, shirt tails flapping around.
I wonder all this as we're shown Fable Legends.
There's a multiplayer beta of that coming in October 16.
A new Frontier game - which looks like Rollercoaster Tycoon.
Or The Outsider - but I'm guessing Rollercoaster Tycoon.
It makes sense that this will use Kinect in some way, given Frontier's experience with the device.
Oooh, it's called ScreamRide.
Wes can ask why MS went this way when he interviews Phil Spencer later on. How will Sony respond?
I CARE ABOUT THIS! Formula E is coming to Forza Motorsport 5.
The Rolls Royce Wraith is also coming to Forza Motorsport 5.
That Formula E car must be mental fun to drive with the amount of torque it has.
Ralph Fulton is now here to present Forza Horizon 2.
A reminder! We'll have exclusive video of this for you in about five minutes. Whenever Ralph stops talking, basically.
starsama: I'm guessing Tomb Raider is a timed exclusive that they're just wording very specifically as an exclusive. Otherwise Crystal Dynamics has made the biggest screw up ever.
A genuine exclusive, it seems. Amazing scalp from MS.
SeventhSun: Open world PGR - this is going to be awesome
Ha, that's spot on. I played it for an hour or two last week and I'm utterly in love.
Seamless integration between online and solo play.
Nephirion: erm test drive unlimited 2?
Yes, but not broken and with a handling model that works.
There are car meets - social places you can show off your car and embark on road trips from.
Someone sat on that pin again.
Right, so here are those Forza Horizon 2 videos for you. http://bit.ly/1oGxPDM
Sorry, in the rush to get them online I missed Ori. In short - pretty.
Ted Price is always, always untucked.
He just don't care what MS mandates.
Man, he loves to point. The pointiest man in games development, for sure.
I don't think I could be friends with anyone in Sunset Overdrive. They're all so noisy.
There's an Xbox One Sunset Overdrive bundle too - £349.99.
It's the super hot white Xbox One, too.
Bonnie Ross takes to the stage for Halo. Untucked.
December 29th the Halo 5 Guardians MP kicks off for three weeks.
The Halo channel announced - your new home for Halo.
Is Halo Waypoint still a thing?
I really don't understand this.
Anyway, announce a bundle and let's be done with it.
Dan Ayoub is now here for the Master Chief Collection.
Like Bonnie he wears a t-shirt. Untucked.
'Microsoft: Untucked'. That sounds like the kind of thing we'd tune into the Halo Channel for.
Another new game, another man sitting on a pin.
Anyway, this remake looks incredible.
An update on the ranking system - there will be a skill-based ranking system with identical levelling to Halo 2.
Aw man, poor Dan's not getting the applause he's expecting.
Ascension and Sanctuary are playable at Gamescom. Those that can spell Ascension without consulting a dictionary at the booth get a free Xbox One.
Fairstart in the Halo 5 beta, 60fps and seven maps. It's pretty generous.
You can unlock items in the beta you can carry over to the full game. YOU HEAR THAT DESTINY?
(I don't think Destiny is listening)
captain_pancakes: cmon microsoft, scratch some ground back, show some new gears, cgi trailer even...
I've a fair inkling of what the mic drop will be, and it's not that epic. Interesting though!
Phil S is wrapping up now - three new bundles, some big exclusives. And, Phil? And....
You can pre-order and pre-download games now on Xbox One. Well, select games such as Fifa 15 and Horizon 2.
Oh alright. The big announce I was expecting that never came is a new.... Well, it'll be on the site in two minutes.
LARRY YOU DIDN'T GET THE MEMO. YOU TUCKED!
Man, such a shame to see the bright career of Major Nelson come to end like this.
Right, Geometry Wars is back.
Lucid Games is working on the third game as part of the return of Sierra Online.
Was really expecting that in the conference. Full story is on the site now!
And with that we wrap - a decent showing from Microsoft.
As ever it'll be interesting to see how Sony respond. Will they tuck, or go shirtless?
Topless Jim Ryan would make my year.