Lionel Messi is the best footballer in the world, according to FIFA 20
Ronaldo slips to second. Bale out of the top 100.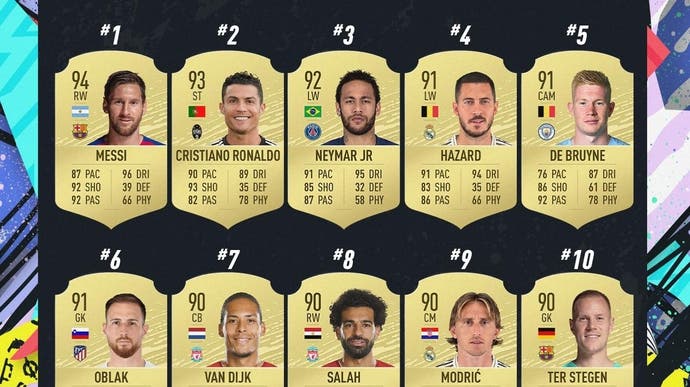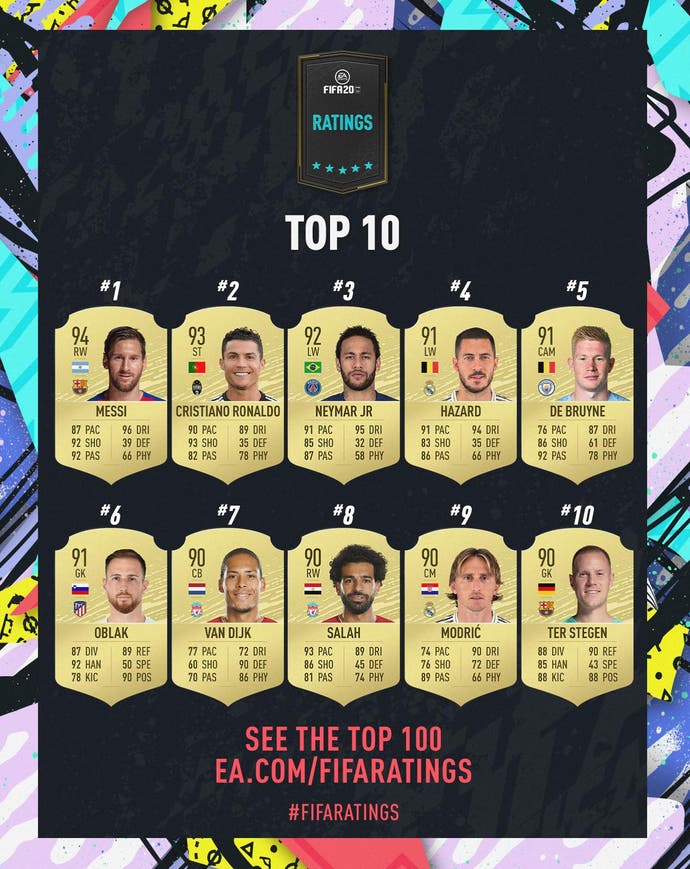 EA Sports has released the ratings for the top 100 players in FIFA 20, and this year Lionel Messi is on top.
FIFA 19 saw rivals Messi and Cristiano Ronaldo joint top for the first time, with a rating of 94 each.
For FIFA 20, EA Sports has downgraded Ronaldo's overall rating to 93 while keeping Messi at 94 (Messi has seen a position change from CF to RW). Digging into the detail, though, Ronaldo still has monster stats for all the categories that matter, so will no doubt be as indispensable this year as he was last.
Ronaldo is no longer the FIFA cover star, and his club team, Juventus, is not officially licensed for FIFA 20. Football video game rival PES 2020 has the exclusive on Juventus, which has forced EA Sports to create Piemonte Calcio to replace the Old Lady.
Elsewhere, Liverpool players rise up through the ranks, as you'd expect given they won the Champions League last season. Defender Virgil van Dijk enters the top 10 with a 90 overall rating, as does forward Mohamed Salah.
Real Madrid defender Sergio Ramos slips out of the top 10, as does Barcelona forward Luis Suarez, Manchester United goalkeeper David de Gea and Real Madrid midfielder Tony Kroos (it's a bad year for Real Madrid players overall, as you'd expect given the team's poor form recently).
Here's the top 10 (courtesy of the EA FIFA France Twitter account):
Messi
Ronaldo
Neymar
Hazard
De Bruyne
Oblak
van Dijk
Salah
Modric
ter Stegen
The top-rated Englishman is, once again, Spurs striker Harry Kane, who retains his 89 rating from FIFA 19. Manchester City's speedy winger Raheem Sterling has an overall rating of 88, up from 85, to reflect his astonishing season for Premier League champions Manchester City. Welsh winger Gareth Bale is out of the top 100 altogether (did Zinedine Zidane put together this list?).
You can see the top 100 in our big FIFA 20 player ratings list.