Linkin Park's Phoenix Farrell
On Medal of Honor, Man United and more.
Eurogamer So you're quite into English football then?
Dave Farrell
I love football.
Eurogamer Let me guess... You support... Manchester United!
Dave Farrell
You know what, that's unfair because... Yes. Every single person I talk to, British or whatever, has a bone to pick with me about that.
Eurogamer I only said that because that's the only football team I've ever heard of. I couldn't give a toss.
Dave Farrell
Well, usually people are mad at me about that. The thing for me is, growing up I was a big soccer player, and I still play somewhat to this day. But the only good soccer we have on TV [in the US], the only games that were ever televised, were Manchester United games.
There was the occasional match with Arsenal, Chelsea, Liverpool, whoever. But that was the one you were guaranteed to see, so naturally I became a fan. It wasn't until we started travelling and got over into different territories I realised saying that might make me enemies.
Eurogamer Going back to Medal of Honor... Obviously I wouldn't be so rude as to ask how much you're getting paid for your involvement, but can I ask: is it more than a hundred pounds?
Dave Farrell
How do you know that we're not paying EA to be involved?
Eurogamer Because that is a highly unlikely scenario.
Dave Farrell
It can go both ways. At this stage, for us, the partnerships we do really have to make sense. It's more about finding new ways to keep in touch with our fanbase and have them keep in touch with us.
One of the really cool things about games in general is that we can find a lot of our fans in that world and reach them where they're at. But at the same time, with Medal of Honor, there are a lot of fans of the game who aren't necessarily familiar with Linkin Park or what we do.
It's a way for us to introduce what we're doing to new audiences, and we're always looking for creative ways and natural ways to be able to present our music creatively. So that's the real win in the partnership for us.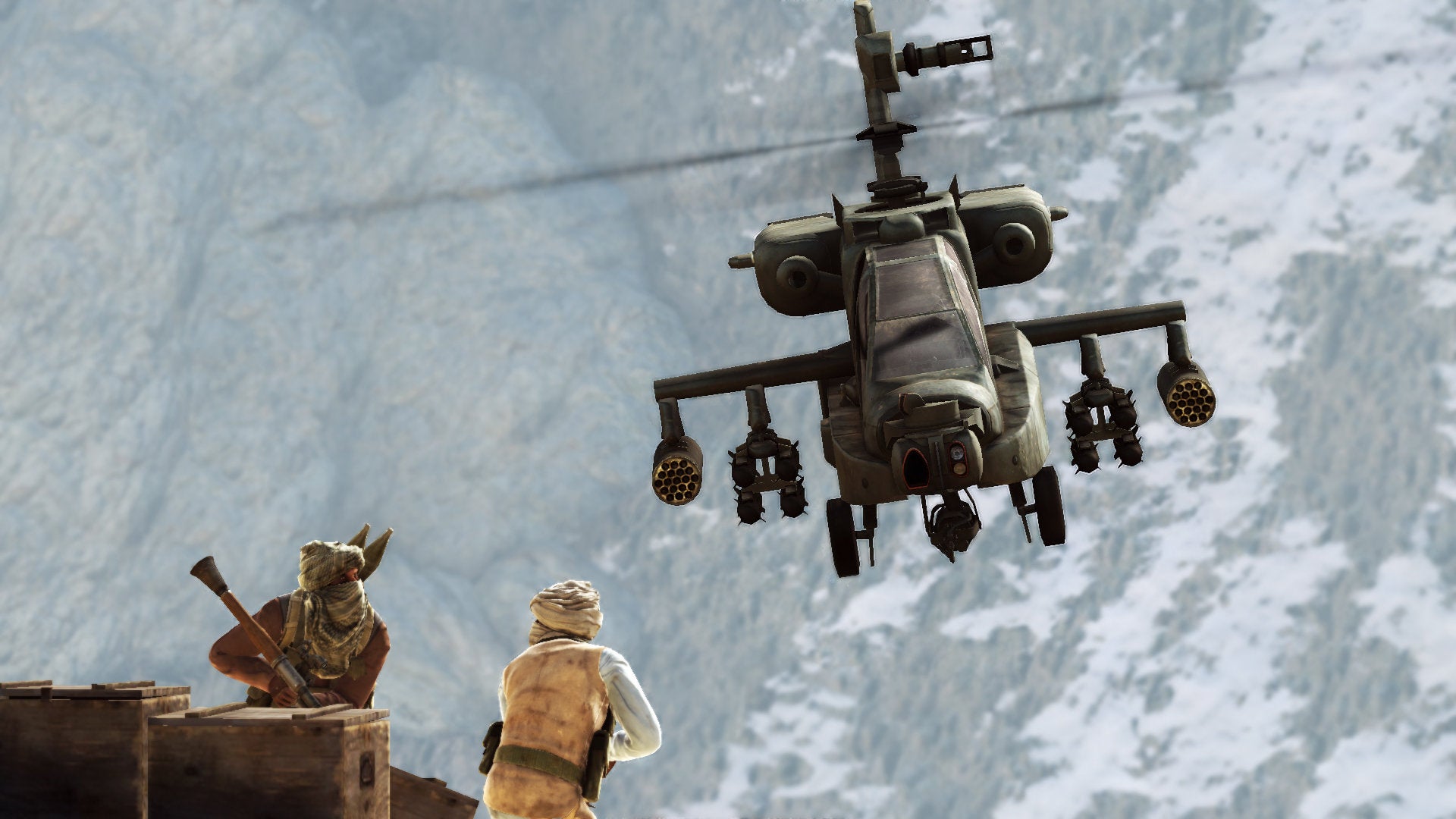 Eurogamer So have you had a chance to play Medal of Honor yet?
Dave Farrell
Yes, just in the last few weeks we got the chance to play it.
Eurogamer Marks out of ten?
Dave Farrell
Um... Are we doing stars?
Eurogamer Er... It could be 10 stars... On Eurogamer we just have a sort of numerical system...
Dave Farrell
I wouldn't want to give a definitive rating because I've only gotten to play one level, basically. But if I can rate the one level I played it would definitely be in the nine range. Very very high.
It's really great game, I was really surprised with the detail that they've done with the equipment. The level I played was the helicopter flying level and it's really cool, really fun, the playability's great and it's awesome.
For fans of Medal of Honor, myself being one of them, the first time having it being out of the World War II scenario is exciting and different. It adds a kind of new realism and a new interest in the game, and in addition to that for fans of our band, the incorporation of our music works well. I think game and the track complement one another really well.
Medal of Honor is out now on PC, PS3 and Xbox 360. Linkin Park's latest album, A Thousand Suns, is also available now. Ellie Gibson supports Crystal Palace but only because her Dad does.
Will you support Eurogamer?
We want to make Eurogamer better, and that means better for our readers - not for algorithms. You can help! Become a supporter of Eurogamer and you can view the site completely ad-free, as well as gaining exclusive access to articles, podcasts and conversations that will bring you closer to the team, the stories, and the games we all love. Subscriptions start at £3.99 / $4.99 per month.