Like a Dragon Ishin how to get Prize Tickets and use the Prize Wheel
Plus, the best places to get prize tickets and how to track the rewards on offer.
Prize Tickets in Like a Dragon Ishin are valuable items to collect as they can be used with a specific vendor in Fushimi. Essentially a game of luck, the prize tickets can be traded for a chance to win something from the vendor.
There are a lot of shops and traders to visit in Like a Dragon Ishin, but there is one where you don't have to spend any money. Instead, you can trade the prize tickets that you collect across your adventures for a chance to win different goodies.
We're going to show you how to get prize tickets in Like a Dragon Ishin, and how to use the prize wheel in Fushimi.
On this Page:
How to get Prize Tickets in Like a Dragon Ishin
There are two ways to get prize tickets in Like a Dragon Ishin.
Find them on the ground
The first way is by finding them randomly scattered on the ground as you walk around. You may have already noticed some glowing objects sitting on the ground as you explore different parts of the map.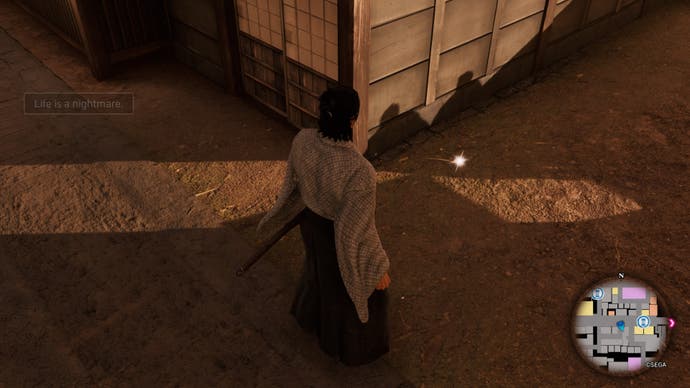 Walk up to one of these and use the prompted command to pick them up. They can be prize tickets, though there is a chance that they may be something else, so don't be disheartened if you don't get what you want.
Earn them from traders
The second way is a much easier, though costly, way of earning prize tickets. When you visit some traders and spend a decent amount of money on their products, they can reward you with prize tickets.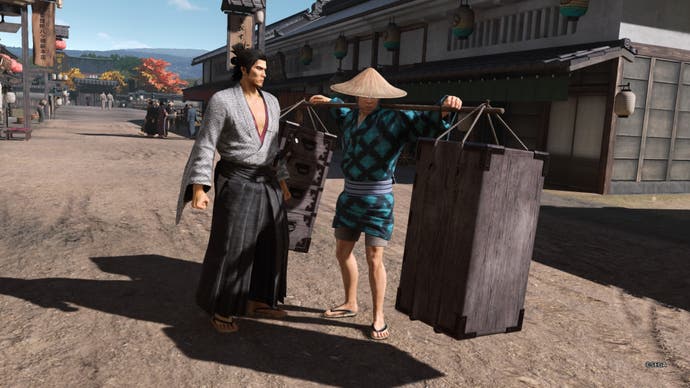 Many vendors across the map will do this, but these are the ones that we have found to be the most generous with their prize tickets:
Ichikuru's General Goods Store (Fushimi)
Greengrocer (Fushimi)
Durama Eatery (Fushimi)
Baitmonger (Rakunai)
Apothecary (Rakunai)
Sundries Peddler (Rakunai)
At each vendor, we roughly spent between 800 and 1,000 Mon to get tickets.
---
Need help in Another Life - the farming simulator minigame of Like a Dragon: Ishin! - or want to learn how to fish? Maybe you need help completing the Mochi Mystery, Global Fraud, It's a Long Story or finding all of the Memoir locations for The Captain and the Curious side story? We also have guides on the Trooper abilities, how to get Prize Tickets and crafting new equipment.
---
How to use the Prize Wheel in Like a Dragon Ishin
When you have enough tickets, you can head to the prize wheel stall to use them. The stall can be found in Fushimi, just north of Durama Eatery on the edge of Kuramachi and Fushimi Ichibangai.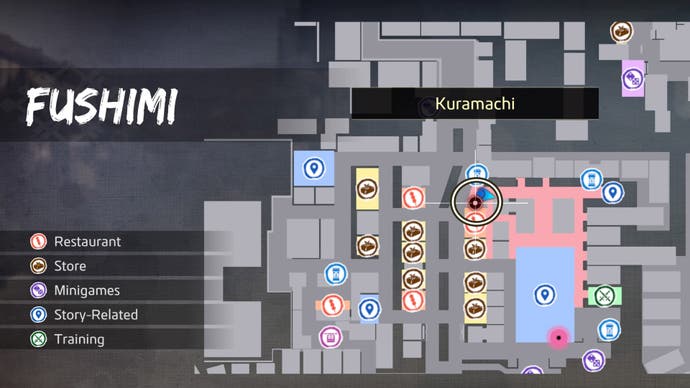 You can spin the wheel as many times as you want to in a day, but each spin will cost you one prize ticket.
When you find them, walk up to the stall and speak to the attendant. Then select 'Spin The Prize Wheel'. The amount of prize tickets you have are displayed in the top right corner of the screen.
Then, when prompted to, use your movement control to spin the wheel. Then a coloured marble will fall out of the wheel, which then determines your prize.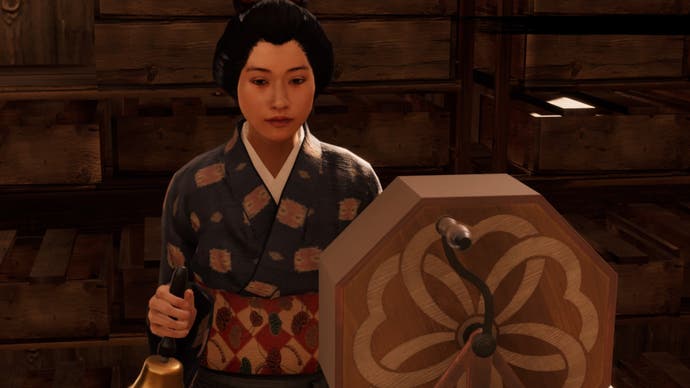 Like a Dragon Ishin Prize Wheel rewards explained
Now, onto your potential rewards from the prize wheel. When you speak to the attendant, you can choose the 'View Prizes' option to see what the current rewards are. More importantly, you can also see what the grade of each prize is.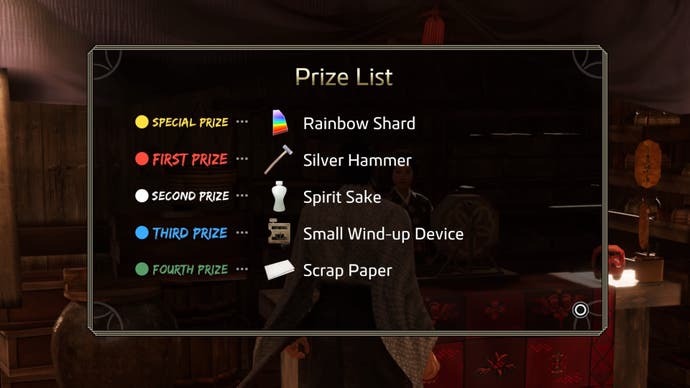 The colour of the marble that comes out of the wheel is linked to a specific prize ranking:
Special Prize is Yellow
First Prize is Red
Second Prize is White
Third Prize is Blue
Fourth Prize is Green
Of course, the special and first prizes are the most desirable, but many of the rewards on offer are useful in their own right.
If you're getting stuck into Ryoma's adventures, check out our Like a Dragon Ishin fishing guide where we give you the lowdown on all fish types and bait. Also, we have all the Global Fraud answers if you're stuck when you're helping the kind teacher in Rakunai.