Lego Super Mario adds 16 more sets in 2021
That won't be Cheep Cheep.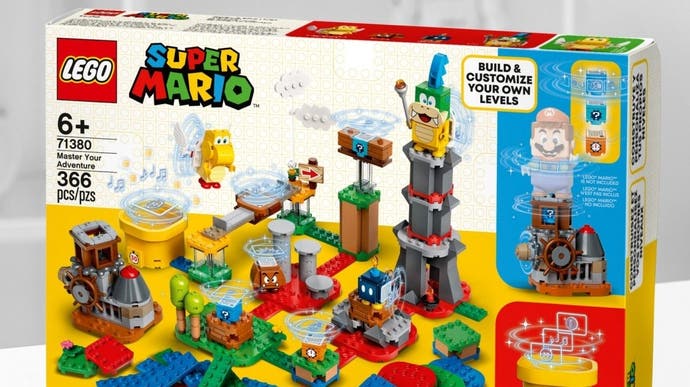 Lego will release a further 16 Super Mario sets in 2021.
This second wave will include a big new customisation set, three expansions, two new power-up suits and 10 character packs.
Perhaps most interesting is the Master Your Adventure Maker Set, which Lego describes as a "creative toolbox". It's designed to let you customise the layout of existing sets and adds a new Start Pipe which changes the rules shown on your interactive Mario toy.
Next year's three new expansions are themed around some more familiar Mario enemies: the Chain Chomp Jungle Encounter Expansion Set, the Piranha Plant Puzzling Challenge Expansion Set and Wiggler's Poison Swamp Expansion Set.
You'll also be able to dress Mario as Penguin Mario and Tanooki Mario.
Finally, the second series of character packs will include blind boxes for (deep breath) Huckit Crab, Spiny Cheep Cheep, Ninji, Foo, Parachute Goomba, Fly Guy, Poison Mushroom, Para-Beetle, Thwimp or a Bone Goomba.
As ever, you'll need the main Mario Starter Course set with its interactive Mario toy in order to get the most out of these upcoming additions.
There are no prices yet for 2021's releases, though existing sets in the range vary from around £20 to £90 each. Power-up suits cost £9 each, while character packs are sold in £3.50 blind bags.
We broke down the entire launch range of Super Mario Lego and found it cost at least £500 for one of everything.
"Two of the world's great toymakers meet in the middle with Lego Super Mario," Oli Welsh wrote in his review of the Lego Super Mario range. "It's a hybrid - a fascinating and fun one, but one that can only hint at the pure joy of the originals."