Leaked Rayman Legends Wii U trailer shows graphics, touch-screen, NFC tech
UPDATE: Ubisoft confirms game, comments on leak.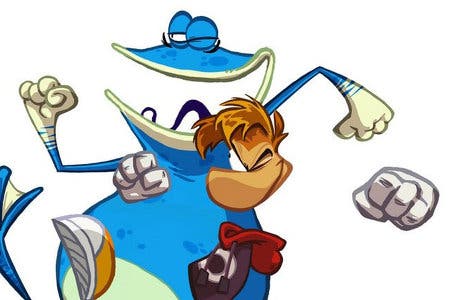 UPDATE: Ubisoft has told Eurogamer that Rayman Legends is real, and is in development at its Montpellier studio by Michel Ancel.
But it insisted the leaked video does not represent the final game, or the final version of Nintendo's next console, the Wii U.
The statement in full:
"An internal video showing images of Rayman Origins' sequel has leaked over the Internet. This video was intended as a purely internal demonstrative video, and in NO way represents the final game, the final console or their features. This video was destined for internal production teams who often create game prototypes with work in progress development kits. Ubisoft confirms the development of Rayman Legends handled by Michel Ancel and his team in Montpellier."
ORIGINAL STORY: A trailer for Rayman Legends on Wii U has leaked, showcasing the console's graphical power, touch-screen tablet and NFC (near field communication) capabilities.
The video shows roughly two minutes of Wii U gameplay and boasts of an "epic rendering engine". The Wii U's graphical power appears to match that of PS3 and Xbox 360.
The Wii U version allows gamers to use the console's tablet controller as a separate screen during four-person multiplayer. You can shift on-screen platforms with a swipe of the touch-screen.
The Wii U's tablet also offers NFC compatibility with Ubisoft toys. Gamers can conjure a Raving Rabbid and heart into the game by placing models on top of the Wii U tablet controller's touch-screen. Ubisoft hints at Assassin's Creed's Ezio making an appearance.
Legends supports online gameplay and social features, and allows friends to set challenges for each other.
Ubisoft is removing the video from YouTube as you read this, although it is still available elsewhere.
The much-rumoured Rayman Legends appears to be a 2D platforming follow-up to last year's Rayman Origins.