LA Noire remaster changes those infamous interrogation button prompts
Good cop?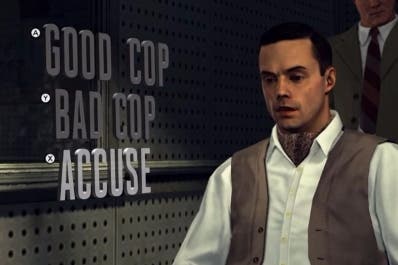 LA Noire had a lot going for it - pulpy murder mystery cases to solve, an open world 1940s Los Angeles to explore, and that weird uncanny valley facial motion capture.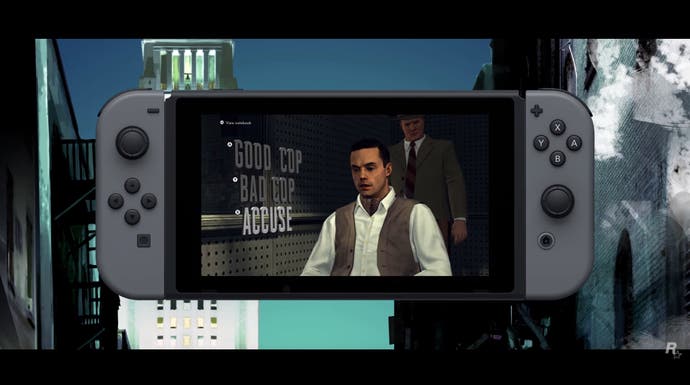 The thing I remember most, though, is its interrogation scenes. As Cole Phelps I sat across a table from my suspect and attempted to extract information using three button prompts - Truth, Doubt, Lie. And frequently I'd mess up.
LA Noire's new remaster - headed to PlayStation 4, Xbox One and Nintendo Switch next week - has rejigged this slightly.
Instead of Truth, Doubt, Lie, you now choose Good Cop, Bad Cop, or Accuse.
You can see it in Rockstar's new trailer, below:
It's a change which actually stems from a late alteration in the original game's development. The options were originally designed to be Coax, Force, Accuse, which are much closer to the three picks in this new enhanced edition.
"What we wanted at the start, it was more your strategy," creator Brendan McNamara told Eurogamer back in 2011 when asked about the change. "As a detective, what strategy are you going to choose? Are you going to coax an answer out of them, or are you going to jump in there and try and force an answer out of them - or do you just suddenly accuse them of lying straight up?
"We tested that round and round the organisation and people never really liked the words or got the words. But that was the way it was written. Then we switched to Truth, Doubt, Lie, because that was more straightforward for people. But it made Doubt weird."
It made me press the wrong button a few times.
"Truth and Lie are pretty straightforward, right?" McNamara continued. "But Doubt... what it changed it from was what your strategy was into what was the person's performance like?
"I don't think it made it bad, it just made Aaron [Staton, Cole Phelps' actor] appear slightly psycho on the Doubt button. That's my fault, not his. When people go, he turns into a maniac when you press Doubt, that's my fault, not his."
So, when Phelps goes hard on your interview subject, you'll know why - and hopefully the reaction will better fit its description.