Kingdom Hearts: The Story So Far bundles up (almost) every game in the series on PS4
A sight for Sora eyes.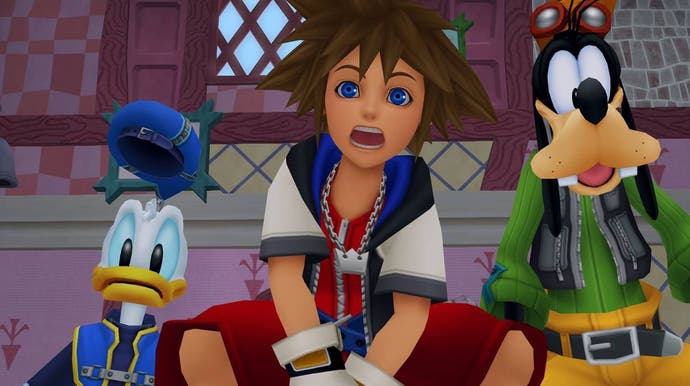 Square Enix has announced Kingdom Hearts: The Story So Far, a frankly enormous PlayStation 4 compilation featuring every game released so far in the series - minus the browser/mobile instalment, Kingdom Hearts χ.
As such, The Story So Far is an ideal starting point for newcomers to Square's Final Fantasy/Disney J-RPG mash-up ahead of Kingdom Hearts 3's release next year, albeit not necessarily the most efficient way to inhale the series' notoriously convoluted plot.
A faster option would be to revel in the excellent summary video below, as compiled by Eurogamer's very own Kingdom Hearts uber-fan Bendix Engmann (be warned, even this needs to break out the diagrams at points), but if you'd prefer to go the old-fashioned route, The Story So Far features nine games to best, each with a name more ludicrous than the last.
Incidentally, none of the games within Kingdom Hearts: The Story So Far are new to PlayStation 4 - it's actually a compilation of two other compilations, one of which was already a compilation of two compilations itself. Please stand by for distressingly erratic capitalisation.
Kingdom Hearts HD 1.5+2.5 ReMIX consists of Kingdom Hearts FINAL MIX, Kingdom Hearts Re:Chain of Memories, Kingdom Hearts 358/2 Days, Kingdom Hearts 2 FINAL MIX, Kingdom Hearts Birth by Sleep Final MIX, and Kingdom Hearts Re:coded.
Kingdom Hearts HD 2.8 FINAL CHAPTER PROLOGUE, meanwhile, includes Kingdom Hearts Dream Drop Distance HD, Kingdom Hearts 0.2 Birth by Sleep -A fragmentary passage-, and the movie Kingdom Hearts χ Back Cover. Phew.
The Story So Far is set to launch on October 30th, and will cost $39.99 (around £30). It doesn't appear as if Square has formally announced a European version of the collection just yet, but I'll update the story if it turns out to be a US-only affair.