Kickstart your new PC build with this great value GTX 1080 Ti bundle
For $250 more than a GTX 1080 Ti, you get a whole lot
Nvidia's rumoured RTX 2080 card is set to be announced later this month, so it's no surprise that retailers are starting to drop prices on the best graphics cards to new levels in a bid to clear out their existing stock. That's exactly what we're seeing today, with B&H Photo in the United States offering the fastest card on the market, the GTX 1080 Ti, as part of a $999 EVGA bundle that contains almost everything you need to build a high-end gaming rig.
The standard GTX 1080 Ti is a monster capable of 4K gaming, but there are plenty of custom designs that provide better cooling and factory overclocks to achieve even higher frame-rates. This particular GTX 1080 Ti is one of the best designs on the market, as it is EVGA's FTW3 edition. This card boasts an advanced three-fan design, RGB lighting and a comfortable 1683 MHz boost clock - more than 100MHz faster than a stock design. The FTW3 normally retails for about $750 online by itself, so what else is included to make up that remaining $250?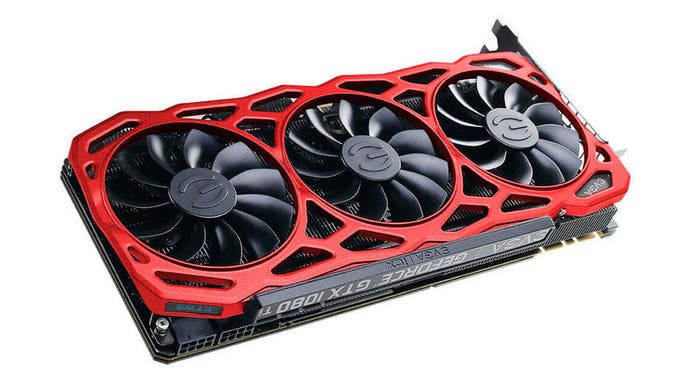 Actually, quite a bit. You get a bunch of high-end kit, including an EVGA DG-86 windowed full tower case ($245 on Amazon), an EVGA Z370 Classified K socket 1151 motherboard ($180) and an EVGA Supernova 850 850W 80 Plus Gold power supply ($110). That means you just need to pick up a CPU, RAM and storage and you'll have a supremely powerful gaming machine.
The kit also includes a few nice extras that'll make your build stand out, including an SLI bridge (in case you wanted to really make full use of this case and motherboard and slot in a second GTX 1080 Ti), four CLC Tuners (to route a closed loop liquid cooling pipes) and a PowerLink Cable Management Adapter that tidies away messy PCI-e power cables for a pristine look.

By our calculations, these components - the GPU, case, motherboard and PSU - currently cost around $1285 on Amazon, not even counting the smaller items that you may or may not use. As the bundle costs just $999, that's a savings of nearly 30 per cent - not bad!
Of course, you might prefer to hold fire and wait for Nvidia's next-generation cards, then choose components for yourself. The new cards likely won't hit full retail availability until later this year, but they will likely out-perform at least the GTX 1080 - if not the 1080 Ti. However, you will need to pay full retail price - if not more in the first few months after launch - so the GTX 1080 Ti bundle we've highlighted here might still offer better bang for your buck.