Katamari Damacy remaster announced
UPDATE: Dated for December, coming to PC too.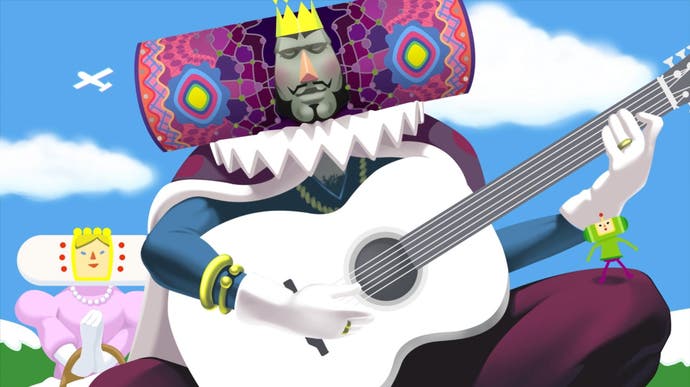 UPDATE 14/9/18: Following on from Katamari Damacy Reroll's debut during last night's Nintendo Direct, publisher Bandai Namco has revealed that the HD remaster will be coming to Switch on December 7th.
That's not all though! PC players will also be able to get in on the series' wonderfully therapeutic rolling action, with Katamari Damacy Reroll arriving simultaneously on Steam.
And for those poor souls yet to experience the game's inimitable delights, this intro from the 2012 PS2 original should, giant codpiece and all, tell you everything you need to know.
---
ORIGINAL STORY 13/9/18: The much-loved Katamari Damacy is getting a remaster.
The 2004 PlayStation 2 third-person puzzle-action game, directed by Japanese designer Keita Takahashi and published by Namco, is remastered as Katamari Damacy Reroll and is due out winter 2018.
Reroll was announced during Nintendo's Direct reveal tonight, so we know it's coming to Nintendo Switch. Here's the official blurb:
"New fans will be joining the chorus when an HD remaster of the classic Katamari Damacy comes to Nintendo Switch, complete with HD rumble, gyro control and multiplayer support with the Joy-Con controllers."
It's been a while since we've had a Katamari Damacy game. The last one was Touch My Katamari, which launched in 2012 for PS Vita. Before that, we had Katamari Forever, which came out on PS3 in 2009.
As for Katamari Damacy, in the game you roll a magic, adhesive ball around, collecting objects of increasing size until it becomes a star.