Offbeat JRPG classic Resonance of Fate gets PS4, PC remaster
Destiny.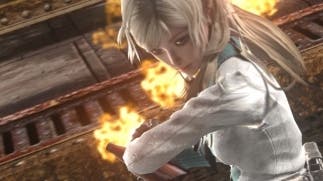 Offbeat 2010 role-playing game Resonance of Fate will get a new lease of life with the wonderfully-named Resonance of Fate 4K / HD Edition.
This buffed up version of tri-Ace's futuristic JRPG lands on PC and PlayStation 4 worldwide on 18th October via digital download.
Resonance of Fate is memorable for its unique battle system, where you juggle control of three characters in semi real-time scraps, its hex-shaped maps, and a generally pretty weird story. Here's a taste:
Despite all that, or perhaps because of it, Simon Parkin recommended Resonance of Fate upon its original release in Eurogamer's review. "By the end of the adventure you'll be certain that Resonance of Fate's approach is a one-time affair, unlikely to inspire any copycats. Its ideas are simply too leftfield, and too fully realised to be closely imitated."