Joe Danger 2 The Movie Preview: Welcome to the Danger Zone
Multiplayer, new vehicles and a little something else are all in for Hello Games' sequel.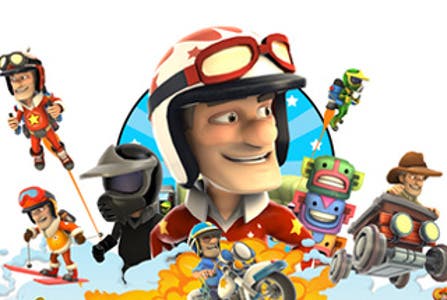 You can tell a lot about a game by the environment that it's made in, I reckon. Go to EA Sport's Vancouver campus and you'll find yourself in the aftermath of a collision between a games development studio and a space age sports centre: a full-sized basketball court crash-lands between banks of monitors piping out wire-framed superstars, and small plasma screens in each of the toilets blare out the stat-heavy ESPN news channel all day long.
Indie outfit Hello Games' office in Guildford is something else entirely: a small, snug office that shares its lot with a local taxi firm, there's just enough room for the 12-strong team to bounce off the brightly coloured walls as they put the finishing touches to the forthcoming Joe Danger sequel.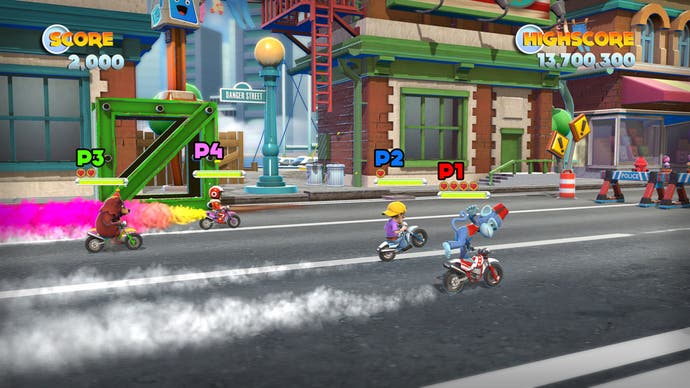 And bounce around they do thanks to the amount of Relentless that's sloshing around the place. There's an enthusiasm and energy to Hello Games that goes beyond the intake of energy drinks, though: here's a team that seems to be in love with its work, which isn't a surprise when the result's something as infectiously entertaining as Joe Danger.
The original was a welcome success story when it launched on PS3 a couple of years back - a 2D stunt bike game that was as in love with the breeziness and colour of the 16-bit era as it was with the exacting trick mechanics and ink-slick control of the extreme sports genre.
Its appeal was broadened and refined a little when the Special Edition came to Xbox Live Arcade, and it's on this platform that the sequel's due later this year. Joe Danger 2 The Movie's more than just a follow-up, though - it's a leap forward that feels as fundamentally refreshing as when Mario leaped out into the Galaxy.
Which is as fitting a comparison as any, really, as one of Hello Games' guiding edicts is 'what would Nintendo do?' For Joe Danger 2, you can shift that to 'what would Nintendo EAD Tokyo do?', as this takes to heart the generosity of imagination that defines the work of the Galaxy team.
There's an abundance of ideas here, and often they're only fleeting in their appearance. The first game saw our hero Joe fixed firmly on his stunt-bike; for the sequel the roster of vehicles has been extended dramatically to around 20, each one complete with its own handling model and its own quirks to learn - and some of them only stick around for a single level.
It's all framed neatly, as ever, by the cuddly concept of Joe Danger the stuntman. Tricks are learnt within the blue and white lattices of a motion-capture studio, while set-pieces are tied to various themes; a stint as a policeman has Joe pursuing a set number of criminals through a colourful cityscape, while a snowmobile chase takes every opportunity to nod towards On Her Majesty's Secret Service. By the time a minecart makes an appearance, it's no surprise to see Joe donning a fedora for the occasion.
All of which suggests a variety that was maybe lacking a little in the original - and a diversity that Hello Games is keen to deliver on. This much we knew when we saw the game over a year ago, so what's changed since then?
There's multiplayer, for a start, and it's introduced to Joe Danger in a handful of smart guises. Play solo while connected and friends' performances are represented by green orbs charting a lively line through any given level; a red orb, meanwhile, represents the world's number one player. They're ghosts by any other name, though given their abstract, spectral form it seems more fitting to dub them souls.
Local multiplayer's also in, a lively affair that's superficially similar to Trials Evolution. Four players can compete, being penalised for falling off the screen, and if it's at all possible the action's actually a little more boisterous than in RedLynx's game; a couple of games with unicycle-riding bears as our steeds soon extends into a good half-hour of screams and excited giggles as the race descends into knockabout farce. It's as effective as Trials Evolution at its multiplayer best, its slightly more anarchic tone making it distinct.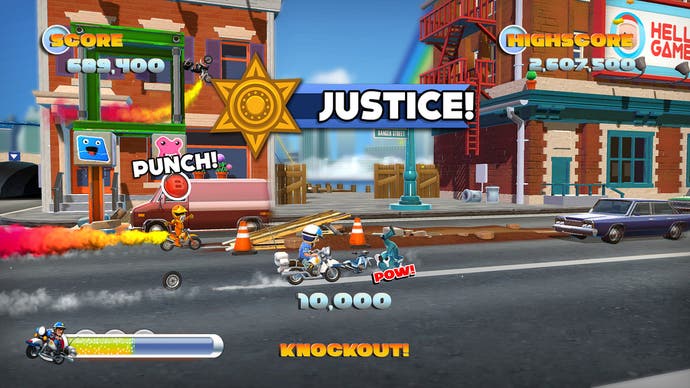 A simple track designer makes the cut too. It doesn't run as deep as LittleBigPlanet or indeed Trials, but it never really sets out to - Joe Danger 2 The Movie's approach to user generated content addresses the problem that levels are never as much fun to create as they are to play by welding those two things together: run through the creator on your bike and you'll be able to pause and place obstacles, assembling courses with big chunks of gamey Duplo. The director's on hand to bark you through a tutorial of sorts, and there are a selection of filters to help navigate through the results of other player's experiments.
There's something else that's been added to the Joe Danger formula, though, and it's a certain something that promises to elevate a charming score-attack game into something much more robust. There's polish, and it's the kind that's formed from the sticky, Relentless-laced sweat of dozens of afternoons spent burning through playable builds in the studio's games room.
You'll see that polish in the more refined handling and the more nuanced level design, and you'll see it explicitly in the Deleted Scenes, a selection of levels where the bar is set a little higher and where you're encouraged to deepen your skills.
And you'll see it in a high-level play that's new to Joe Danger. Score was a part of the previous game's make-up, but now it's more integral and a little less, well, broken. Score and time are interconnected a little, though it's possible to play straight for points or simply against the clock, and a smarter line in level design makes for fewer exploits and a tauter challenge. It's all neat, colourful and endearingly energetic - a little like Hello Games themselves. Stuntman Joe's been away for a couple of years, but come his return later this year it seems he's learnt a fair few new tricks.