Joe Danger 2 coming to PS3, has 10 hours of extra content
"If there's a piece of advice I would now give, it's don't ever piss off PlayStation fans."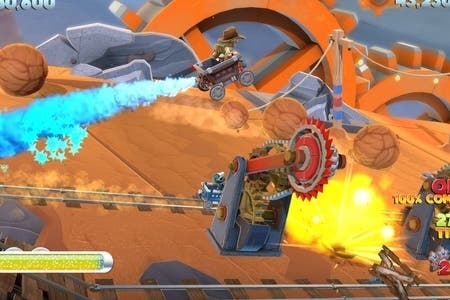 Joe Danger 2 is coming to the PS3 within the next couple of weeks, and it'll be coming with 10 hours worth of extra content. The announcement comes under two weeks after the game launched on Xbox 360 in what many assumed was a platform exclusive.
The original Joe Danger launched on the PS3 over two years ago, and the appearance of the sequel on Xbox 360 angered many fans. "I can totally see why," said Hello Games' Sean Murray. "I mean, they made Joe Danger and Hello Games a success. We owe them everything.
"Until now we couldn't talk about the PS3 version, which has killed me. Our plan was that we would just never talk platforms for Joe Danger 2, and everyone would just assume it was coming to both. Instead PS3 fans assumed it was never coming to their platform, or at least not for the usual one-year exclusivity. So many times over the last few months I wanted to scream "you'll just have to wait a few weeks, and you'll get the final version", but instead we couldn't say anything."
"Let's just say if there's a piece of advice I would now give to every developer in the world, it's don't ever piss off PlayStation fans," Murray said of the reaction. "They are a force to be reckoned with! If you are an indie developer, I'd say to never get yourself into a situation where you can't talk about what you are doing. We regret that. We dropped a bollock."
The original Joe Danger eventually came out on Xbox 360 some 18 months after the PS3 release - though the turnaround this time looks to be much, much shorter. So why was it an Xbox 360 exclusive? "We knew we wanted to bring the game to as many people as possible. We could have worked with a publisher, but we would have lost the Joe Danger IP," said Murray.
"That meant we needed to work with Microsoft and Sony directly, and we've done that from day one. With Microsoft it's pretty well documented that means some sort of exclusivity, but we fought hard to make that as short as possible. They were actually really supportive and genuinely have been great to work with. Doing it this way meant that PS3 fans can get the final version, just a few weeks later. We've worked really closely with Sony to make that possible."
The PS3 version of Joe Danger 2 will include 10 hours of exclusive content that harks back to the original game, placing an emphasis on Joe and his bike over the multi-vehicle focus of the sequel. Hello Games is exploring the possibility of getting the new content to the Xbox 360 version via a patch, but there's nothing concrete to announce just yet.
Given how strong the reaction has been to Joe Danger 2's platform-hopping, would Hello consider another platform exclusive in the future? "Right now, they are very hard to avoid," said Murray. "I think exclusives of big retail titles are actually really positive, they define platforms. Like I can't think of 360 without thinking of Master Chief, or PS3 without thinking Sackboy or Drake.
"For download titles like ours though, I'm not sure how much sense it makes. Joe Danger has been under one exclusivity or another for his whole life. Literally today, for the first time, he's free. He could be on PC, Wii U, Vita or whatever he wants now. If enough people want him on a platform, I guess we'll find a way to get it there. That kind of seems more like how it should be."
Joe Danger 2's going to be playable on PS3 at the Eurogamer Expo tomorrow. Go and say hello to Hello if you get the chance.