Jelly Deals: Xbox One S with Assassin's Creed, Wolfenstein 2 and five other games for £260
Your choice of FIFA 18 or Destiny 2.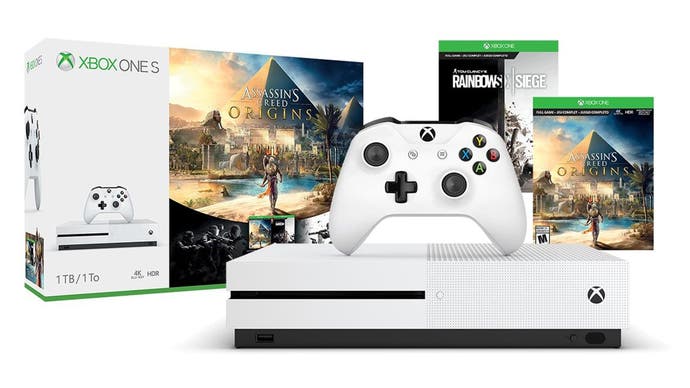 A note from the editor: Jelly Deals is a deals site launched by our parent company, Gamer Network, with a mission to find the best bargains out there. Look out for the Jelly Deals roundup of reduced-price games and kit every Saturday on Eurogamer.
---
This may be the week of the Xbox One X launch but Microsoft is making damn sure that you don't forget the console's older brother, the Xbox One S.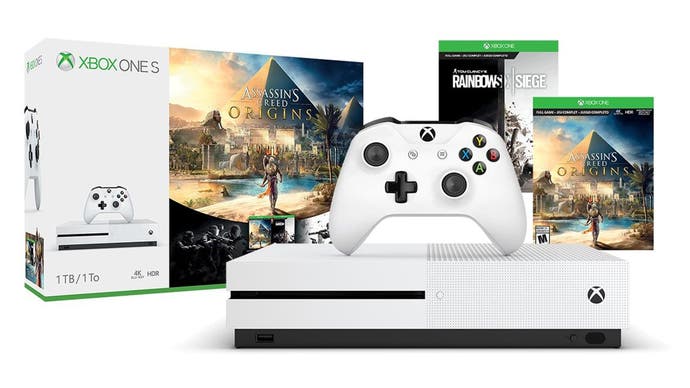 Head to ShopTo right now and you can pick up one of the year's best Xbox One S bundles so far - for the time being. There's no telling what kind of Xbox Black Friday deals will show up in a fortnight's time, but whatever does rear its head will have to be pretty impressive to beat this one on value.
For a total of £259.55, with free delivery, you'll be getting the following:
Xbox One S 1TB console
Assassin's Creed Oranges
Rainbow Six Siege
Dishonored 2
Doom
Fallout 4
FIFA 18 OR Destiny 2
Wolfenstein 2: The New Colossus
Both of the Ubisoft titles, Creed and Rainbow Six Siege, are digital codes inside the console's box, but the rest are fully fledged boxed copies and you can do what you wish with them after your purchase. If that involves selling them on somewhere to recoup some costs, so be it, but it's a perfect storm of games that should give you everything you need to play for a long time, frankly.
Xbox One S 1TB with Assassin's Creed, Rainbow Six, Dishonored 2, Doom, Fallout 4, Destiny 2 OR FIFA 18 and Wolfenstein 2 for £259.55 from ShopTo
If you prefer to stay on the bleeding edge of technology, you may want to know that the Project Scorpio Edition of the Xbox One X is back in stock over at Microsoft's online store right now. Be quick, though.