Jelly Deals: St. Patrick's Day Sale at GOG features up to 90% off hundreds of games
Also, a lot of Star Wars games.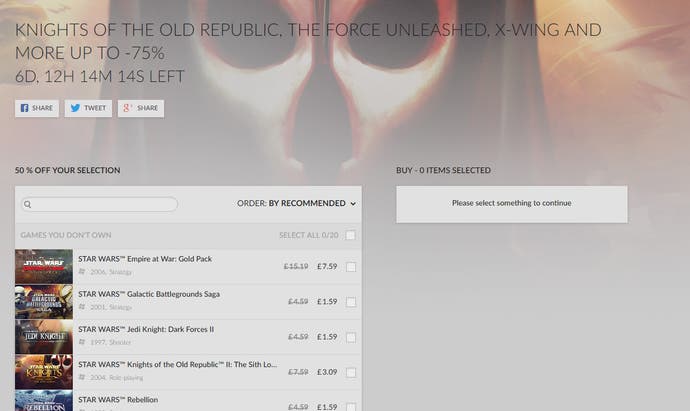 If you're a PC gamer and have a bit of cash to spend on something nice this week, you may want to head over to GOG and check out the sales and offers going on over there.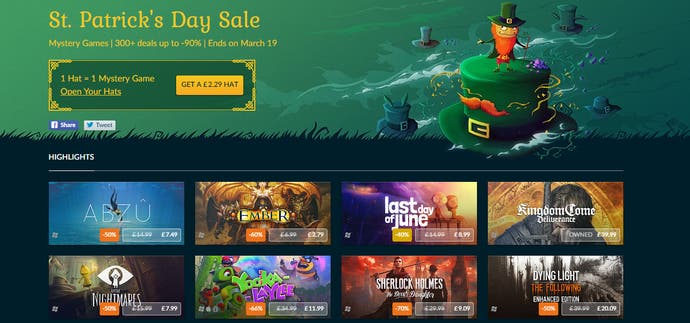 The biggest and most noteworthy sale you'll find is the St. Patrick's Day sale, which, contrary to what you might have thought, is not limited to Irish games - though that's a range I'd like to see personally.
The sale is live from now until March 19th and features over 300 titles with up to 90 per cent off. You can also, if you fancy it, spend a few coins and get yourself a mystery game by buying Paddy's day 'hats'. You then open your 'hats' and see which random game you got. What could possibly go wrong with that concept?
For the more direct approach, you can pick up games like Abzu for £7.49, Little Nightmares for £7.99, The Banner Saga 2 for £11.99, Furi for £6.79, Vampire: The Masquerade Bloodlines for £3.79, Tyranny for £15.39, Pyre for £11.29 and a lot more. New games are added each day the sale is live, as well, so be sure to keep your eyes peeled for something you might like.
Elsewhere on the site, you can pick up a huge amount of Star Wars titles with up to 75 per cent off for the next week. I might be a sucker for some of the older titles (Tie Fighter is still up there with the best), but this range features everything from those old classics through to The Force Unleashed (£5.99), Knights of the Old Republic (£3.09) and even the Nintendo 64 banger that was Shadows of the Empire (£1.59). Might be time to indulge in some nostalgia.
Meanwhile, over at Jelly Deals, you'll be able to check out today's best deals, which right now feature a 20 per cent off voucher for Co-Op electrical stuff including 4K TVs, the Sea of Thieves controller at its cheapest price yet, £150 off gaming motherboards and more. Stop by, say hi.