Jelly Deals: Sid Meier's Civilization 3 free at Humble
Ends Saturday.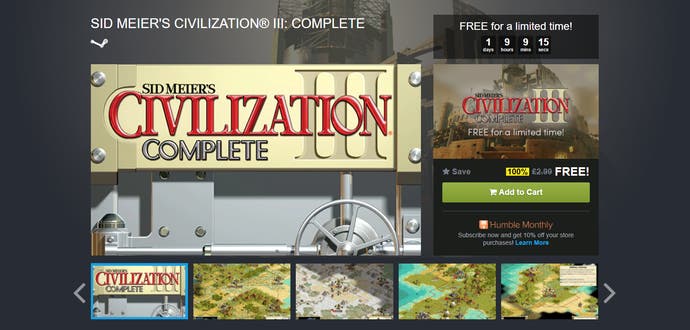 A note from the editor: Jelly Deals is a deals site launched by our parent company, Gamer Network, with a mission to find the best bargains out there. Look out for the Jelly Deals roundup of reduced-price games and kit every Saturday on Eurogamer. You can also find Jamie's Black Friday 2017 coverage right here on Eurogamer.
---
Free things are nice. Like when you go into a supermarket and there's a little cart offering up a free taster of some new form of meat-free sausage roll or when you find yourself in a kitschy tea shop that eagerly wants you to try a shot glass full of its new pumpkin spice infusion (it was lovely, for the record).
Over at Humble right now, you'll find a free treat of a different kind - the 4X kind. Sid Meier's Civilization 3: Complete Edition can be all yours for the next couple of days for the low, low price of nothing at all. This one is set to end at around 6pm (BST) on Saturday, 21st October for the record, but there's a handy little countdown thing on Humble's page to help with any local time zone worries.
It kind of goes without saying at this point but Civilization 3 is very good. There's a reason it's a classic and you should absolutely, 100 per cent grab this one while you can, whether to try the series for the first time or to indulge your nostalgia.
Sid Meier's Civilization 3: Complete for free from Humble Store
This also seems like the ideal time to mention that our lad Chris Bratt had a lovely sit down chat with Sid Meier himself that covered 25 years of the Civilization series. If you haven't seen that, you really should.
Have a read of this thing while you're at it for more Civilization goodness.