Jelly Deals roundup: Nier Automata, Earthworm Jim, £20 off tech and more
Plus, for better or worse, Snapchat glasses.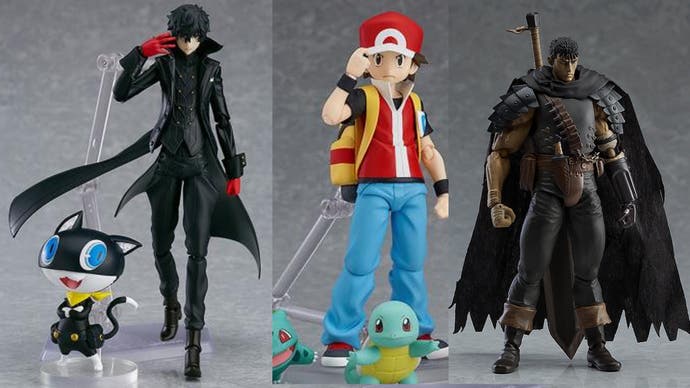 A note from the editor: Jelly Deals is a deals site launched by our parent company, Gamer Network, with a mission to find the best bargains out there. Look out for the Jelly Deals roundup of reduced-price games and kit every Saturday on Eurogamer.
---
Back after a week's break, it's time again to take a look at the very best gaming, tech and 'stuff' deals that the past week has yielded, collected and curated by yours truly. This week, in particular, is digital-discount-heavy, but there's still room for some console bundle offers, some movie deals and even some stuff that's nearly guaranteed to make you go 'wait, what?' With all that in mind, let's take a look at what's around.
We've got deals that'll work in the UK, deals that'll work in the US and some deals that will work in both the UK and US, as well as presumably many other places. Let's get started.
UK & US Deals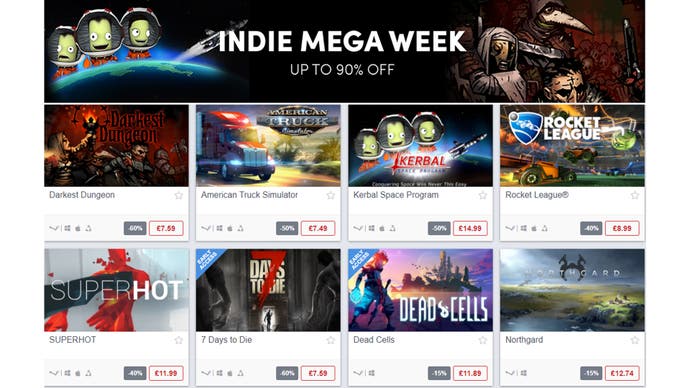 We begin with one of the Humble Store's biggest sale ranges on a whole batch of indie gems. Head over to the sale during the Indie Mega Week sale (which, as you may expect, ends this week) and you can pick up some absolute classics for some very cheap prices. Here are some of the highlights:
Darkest Dungeon for £7.59 / $9.99 / €8.79
Dead Cells for £11.89 / $14.44 / €14.44
Superhot for £11.99 / $14.99 / €13.19
American Truck Simulator for £7.49 / $9.99 / €9.99
Kerbal Space Program for £14.99 / $19.99 / €19.99
Rocket League for £8.99 / $11.99 / €11.99
ABZU for £11.24 / $14.99 / €14.99
Northgard for £12.74 / $16.99 / €16.99
Enter the Gungeon for £5.49 / $7.49 / €7.49
Game Dev Tycoon for £2.79 / $3.99 / €3.99
Inside for £8.99 / $11.99 / €11.99
Axiom Verge for £7.49 / $9.99 / €8.99
911 Operator for £7.14 / $9.74 / €9.74
Virginia for £1.74 / $2.49 / €2.49
Papers, Please for £3.99 / $4.99 / €4.49
Downwell for 65p / 98¢ / €0.98
SOMA for £6.89 / $8.99 / €8.39
Indie Mega Week Sale from Humble Store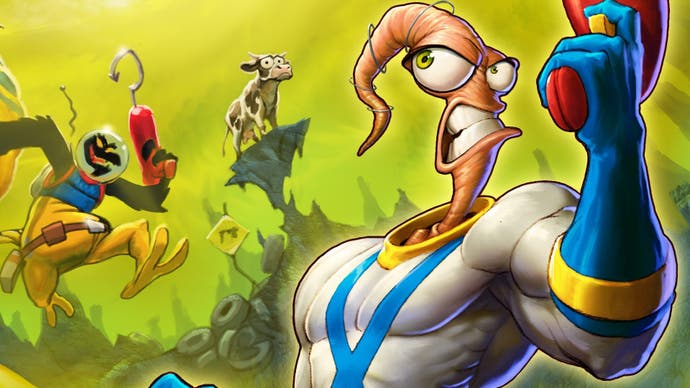 You may have to be above a certain age for the mere mention of Earthworm Jim to be mildly exciting, but if you're one of those people, just know that you can pick up both original Jim games for £3.09 / $3.99 right now. That's just the tip of the 'good deals' iceberg for GOG, though, since there's a host of other Interplay classics up for grabs, too.
Highlights:
Earthworm Jim 1 & 2 for £3.09 / $3.99 / €3.59
Jagged Alliance 2: Unfinished Business for £1.89 / £2.39 / €2.19
MDK for £1.89 / £2.39 / €2.19
MDK 2 for £1.89 / £2.39 / €2.19
Kingpin: Life of Crime for £3.09 / $3.99 / €3.59
Star Trek Starfleet Academy for £1.89 / £2.39 / €2.19
Giants: Citizen Kabuto for £3.09 / $3.99 / €3.59
Interplay Staycation Sale from GOG.com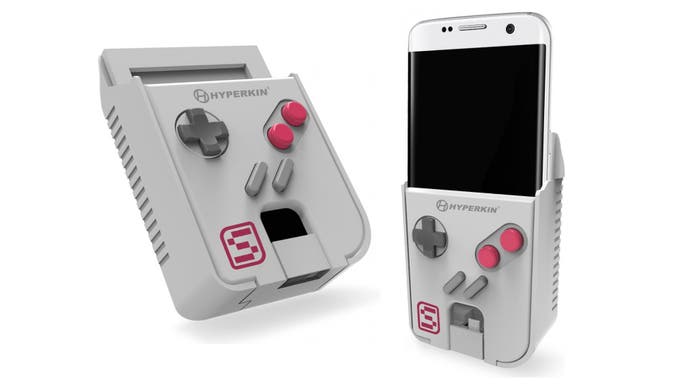 You may have read about the Hyperkin Smart Boy when it was unveiled earlier this year, given that it's a relatively insane idea that has somehow become a real thing. Essentially, this is a little cradle for your smart phone that will not only give you physical buttons themed after the original Game Boy, but will, in fact, also let you play actual Game Boy and Game Boy Colour cartridges on your phone via an emulator. It's really weird and kind of fantastic and it's available to pre-order now at Play-Asia, if you like.
Hyperkin Smart Boy (Pre-order) for £54.23 / $69.99 from Play-Asia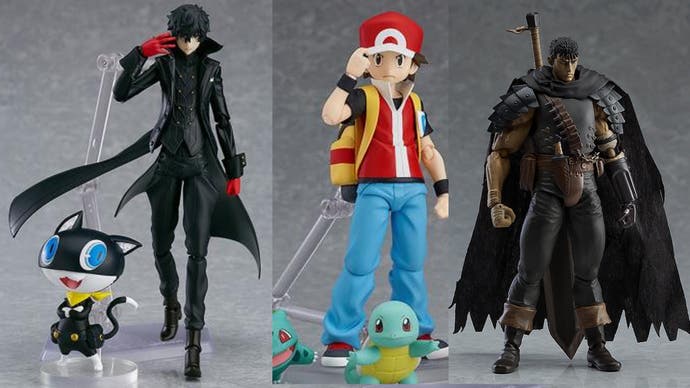 Figma, for those who have never heard of the brand, is an ongoing collection of some of the most detailed and poseable action figures around. There have been Figma renditions of everything from popular anime characters to movie stars, video game characters and comic book heroes and villains. If you're the kind of person who would proudly display a mini version of your favourite pop culture character, you're going to want to see which Figma are on offer over at Play-Asia currently.
Figma action figures from Play-Asia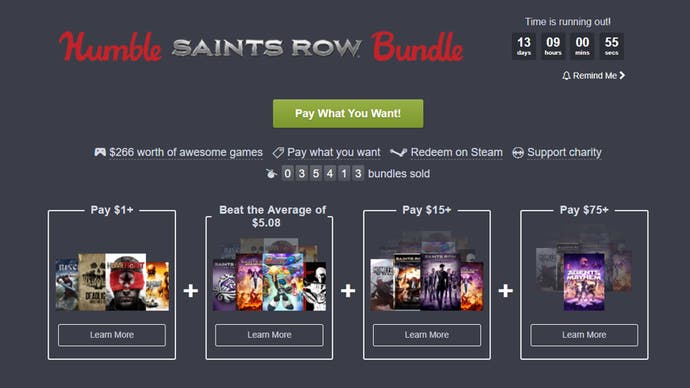 There's a brand new bundle on offer over at Humble filled with some of Deep Silver's finest wares. While the official bundle name might be the 'Humble Saints Row Bundle', this one does in fact feature games like Homefront: The Revolution, Deadlight, Risen 3, Killer is Dead and, for better or worse, Mighty No. 9. If you decide to drop a ludicrous $75 on the bundle, you'll get Agents of Mayhem too, if you like.
Pay $1 or more
Risen 3: Titan Lords Complete Edition
Deadlight: Director's Cut
Homefront
Saints Row 2
Pay more than the average
Saints Row The Third
Saints Row: Gat out of Hell
Mighty No. 9
Killer is Dead Nightmare Edition
More to unlock soon
Pay $15 (£12) or more
Homefront: The Revolution
Saints Row IV: Game of the Century Edition
Saints Row The Third: The Full Package
Saints Row: Gat out of Hell Devil's Workshop Pack
Pay $75 or more
Pay what you want for the Humble Saints Row Bundle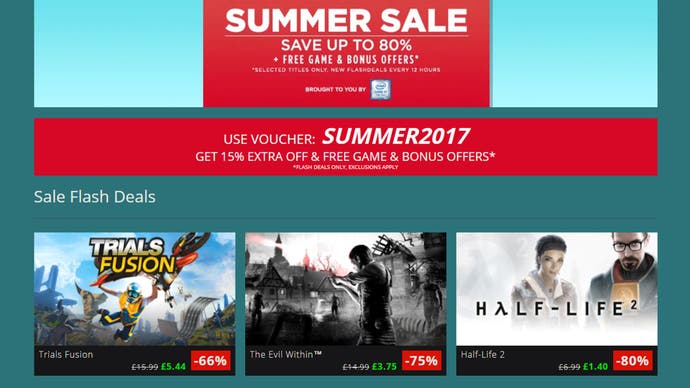 It's time for the Green Man Gaming Summer Sale! For a limited time, you can use the code SUMMER2017 during checkout to get an extra 15% off your overall basket spend and some bonus offers on some of the site's Flash Deals, which are set to change every few hours.
Here's some of what you can grab from the Summer Sale currently - these are all shown in GBP, but your local currency should work out roughly the same:
Trials Fusion for £5.44
The Evil Within for £3.75
Dead Rising 4 for £20
Bully for £3.32
Watch Dogs 2 for £22.50
Bioshock The Collection for £13.20
Alan Wake's American Nightmare for £3.50
Resident Evil 7 for £23.99
DmC: Devil May Cry for £5.70
Metro Redux Bundle for £6.25
LA Noire Complete Edition for £7.12
Batman Arkham Knight for £6.08
Sleeping Dogs Definitive Edition for £5
Summer Sale from Green Man Gaming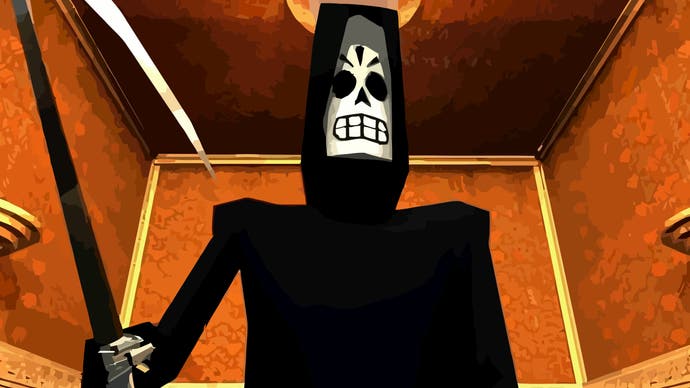 Back to GOG for a second, since the site is not only offering almost every Wadjet Eye Games point-and-click adventure for dirt cheap prices as a part of its Weekly Sale, but is also taking up to 80% off some of Double Fine's best games, including Grim Fandango Remastered, Full Throttle Remastered and Broken Age, among others.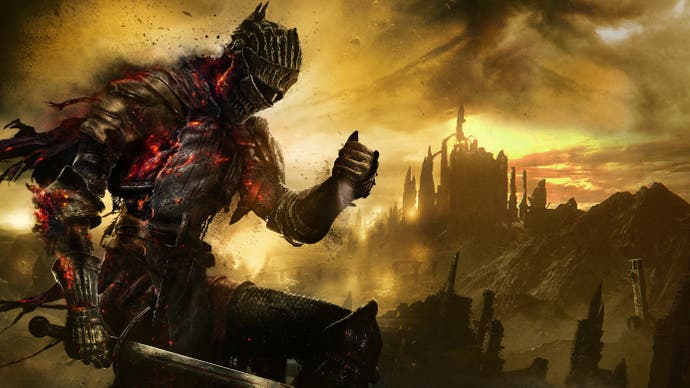 GamesPlanet is putting out some offers for just this weekend which include a PC copy of Dark Souls 3 for only £15.99, WRC 5 for £11.99, Mini Metro for £4.89 and much more. Head on over to the link below to check out the full range.
Some of what's there:
Dark Souls 3 for £15.99
Dark Souls 2 Scholar of the First Sin for £8.99
Project CARS for £7.95
Mini Metro for £4.89
WRC 5 for £11.99
The Next Penelope for £2.49
Weekend offers from GamesPlanet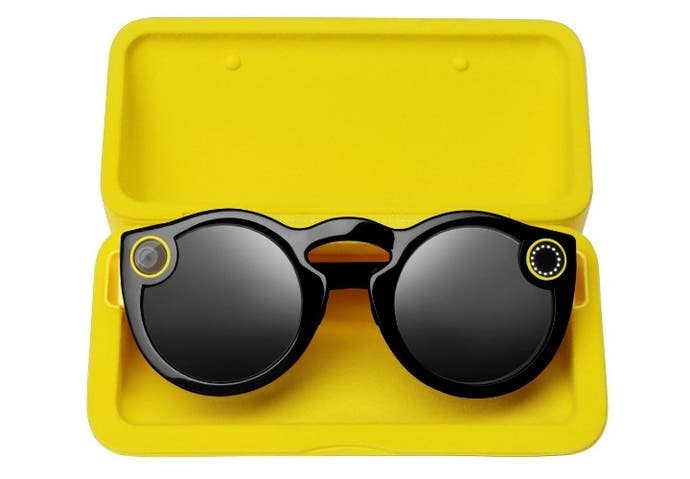 As if there weren't enough harbingers of the apocalypse in the world already, Snapchat has gone and created an actual pair of sunglasses that not only record thirty-second clips of whatever you're looking at, but also format and post those clips directly to your Snapchat, all wirelessly and at the touch of a button. If you want to be a part of this, they'll cost you £125 / $130 from Amazon.
UK Deals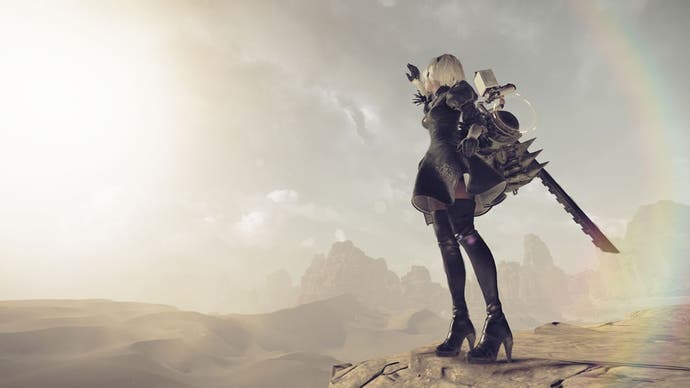 Nier: Automata is currently reduced to its lowest price so far on PS4 - £24.99 over at Amazon UK. Getting the first ending alone will take you numerous hours, let alone the other 25 endings the game genuinely has, so there are far worse ways you could spend £25, let's be honest.
Nier: Automata on PS4 for £24.99 from Amazon UK
If that happens to sell out by the time you get around to clicking, you can also try to grab a copy from Argos for the same price.
Tesco Direct's tech discount vouchers are back! These things tend to show up every few months and offer £5, £10 and £20 off a range of tech and gadgets available from Tesco's website. Using one of the below codes, you can save some cash on a big purchase. Yes, by the way, that does include this being the only way to get a Nintendo Switch for under £260.
Here's some of what you can pick up:
Save £20 on a £150+ spend using code TDX-WPJC
Sharp 49 inch Full HD TV for £279
HP 14-inch quad core laptop for £179
iPad 9.7 inch Space Grey for £319
iPad Pro 12.9-inch for £839
Save £10 on a £75+ spend using code TDX-PLNX
Fitbit Charge 2 Fitness Tracker for £99
Samsung Galaxy Tab for £79
Microsoft Office Lifetime license for £79
Amazon Fire TV with 4K Ultra HD for £59
Save £5 on a £35+ spend using code TDX-MVPW
Canon MG3650 all-in-one printer for £34
KitSound Slam Portable Bluetooth Speaker for £30
Fire 7 Tablet for £44
Amazon Echo Dot for £44
Amazon Fire TV Stick for £34.95
These vouchers expire on Sunday, so be quick if you want to grab something.
Save up to £20 on tech with vouchers from Tesco Direct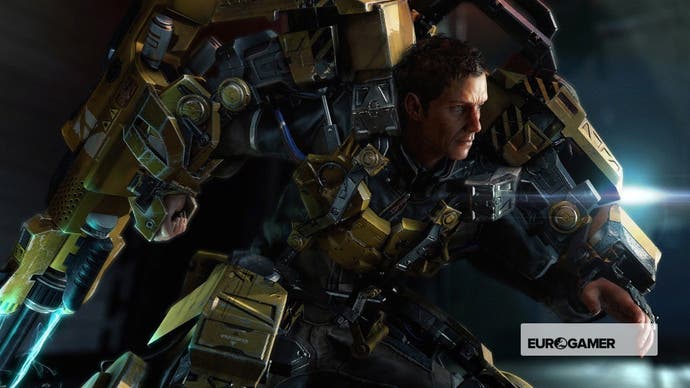 If you're currently feeling the urge to play a game that's a lot like Dark Souls but isn't quite Dark Souls and is, in fact, better than it had any right to be, you're going to want to pick up a copy of The Surge on Xbox One or PS4 while it's reduced down to £23 at Zavvi.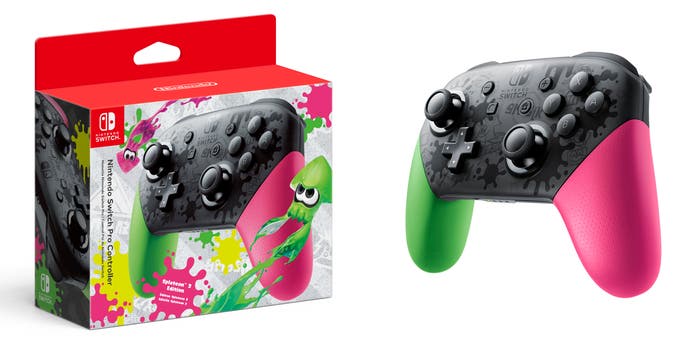 If you hesitated for a matter of days before pulling the trigger on a purchase of the Splatoon 2-themed Pro Controller for Nintendo Switch, it seems your patience has been rewarded. The neon coloured controller was previously £10 more than the regular Pro Controller but, at least for now, is reduced to the same £59.99 price point at Amazon UK.
Splatoon 2 Nintendo Switch Pro Controller for £59.99 from Amazon UK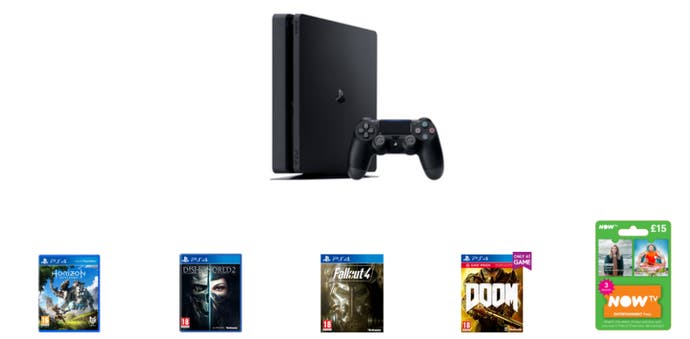 If you're looking for a PS4 Slim bargain at the moment and would like to stock up on as many Bethesda games as possible at the same time, check this out - at GAME, you can pick up a PS4 500GB with Horizon Zero Dawn, Dishonored 2, Fallout 4, DOOM and a three-month Now TV Entertainment pass for £229.99.
PS4 Slim with Horizon Zero Dawn, Dishonored 2, Fallout 4, Doom and 3 month NOW TV Entertainment pass for £229.99 from GAME
Alternatively, you could opt for a 1TB model of the same bundle from GAME for £279.99.
PS4 Slim 1TB with Horizon Zero Dawn, Dishonored 2, Fallout 4, Doom and 3 month NOW TV Entertainment pass for £279.99 from GAME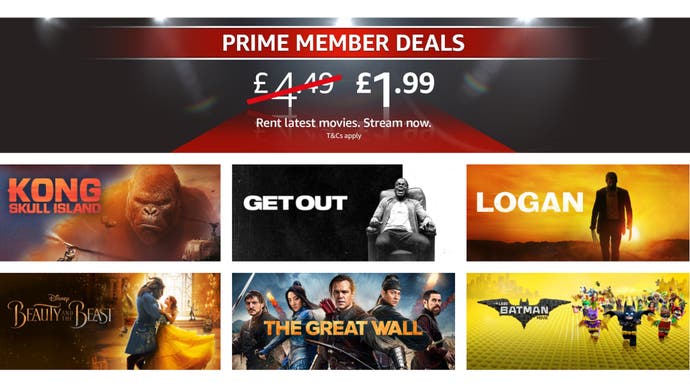 If you're not too fussed about keeping movies and you'd like to catch one of the most recent releases while spending as little as possible, you can head to Amazon UK at the moment. There, Prime members are currently able to rent one of a selected bunch of new-release movies digitally for just £1.99 each. The range includes Kong: Skull Island, Get Out, Logan and more.
Rent and stream brand new movies for £1.99 with Prime from Amazon UK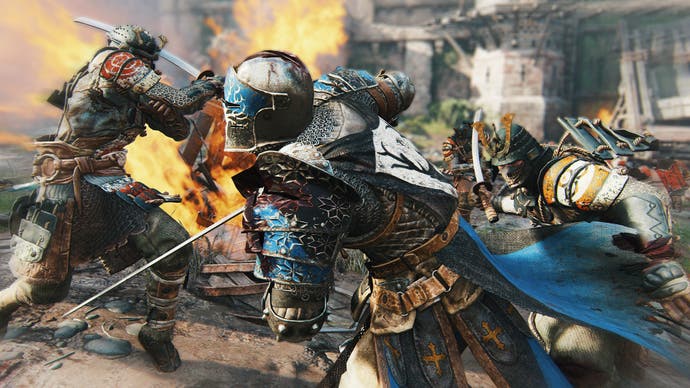 Ubisoft's answer to the age-old "Who would win in a fight" question, For Honor, is down to its lowest ever price right now at Argos. You can grab a PS4 or Xbox One copy for just £14.99 for a limited time.
The offer is also available on Amazon UK, though limited to only Prime members at the moment.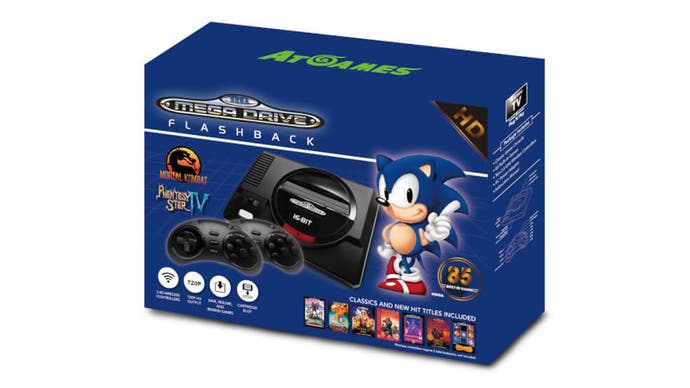 Whether or not you've been able to get your hands on a Nintendo Classic Mini (or even a pre-order on the upcoming SNES Classic Mini), fret not! You still have ample time to get yourself one of these Sega Mega Drive HD mini consoles. These ones come with over 80 games pre-installed, but take the extra step of being completely compatible with any and all actual Mega Drive games you may have in a box in your attic somewhere.
Sega Mega Drive Mini HD for £79.99 from Zavvi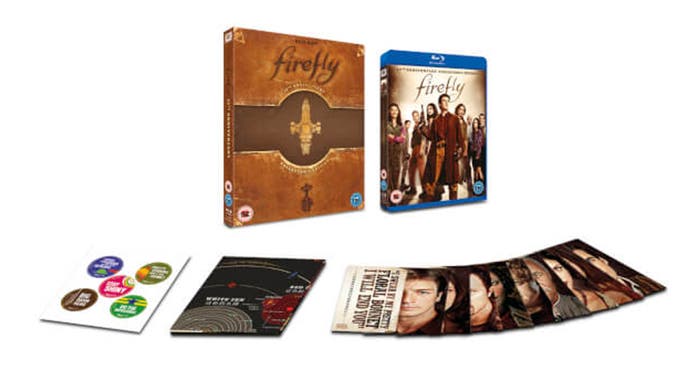 Firefly is now somehow old enough to receive a commemorative 15th Anniversary Collector's Edition Blu-ray set, which makes me feel so much older than I felt before knowing that. You can head over to Zavvi and pre-order the set today, which is set to see a release this September.
Firefly Complete Series 15th Anniversary Edition Blu-ray set for £26.99 from Zavvi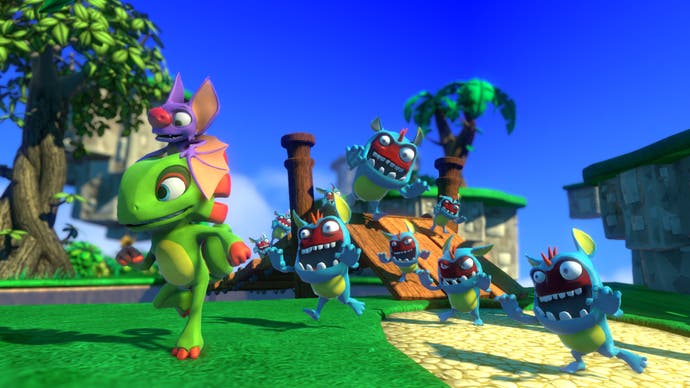 The latest in a long-running series of discounts on Yooka-Laylee is here - this time, Tesco Direct is the one bringing the price down to £17 on both PS4 and Xbox One for a limited time. It's available to order online or click and collect if you like convenience.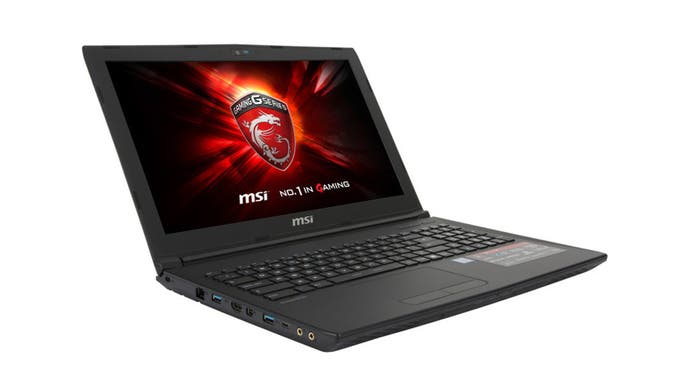 Looking to get yourself a fancy new gaming laptop and are quite fond of saving some money? Even more fond of free backpacks? Then you're going to want to head over to Ebuyer today since you can get a free backpack along with a nice £150 discount on this MSI GL62 15.6-inch gaming laptop. Did I mention the backpack was free?
MSI GL62 15.6-inch gaming laptop for £599.98 with free backpack from Ebuyer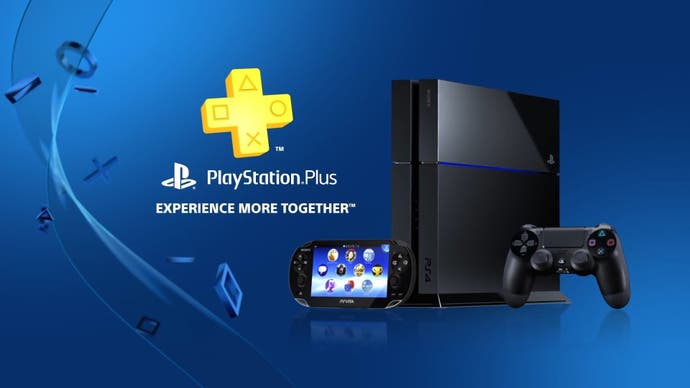 In light of this week's news that PlayStation Plus memberships will be going up in price for the UK, you may just want to extend your current membership (or pull the trigger on a fresh one) while you can still get it for under £50. With that in mind, you can still pick up a 12 month subscription for £39.99 from Amazon UK or head over to Play-Asia and get just the code for just over £35 at the time of writing.
US Deals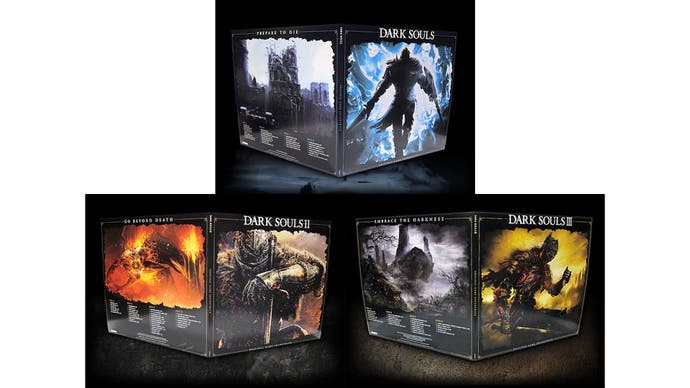 Following the recent trend of putting every video game soundtrack in existence onto some form of fancy vinyl, the latest collector's LP set comes in the form of the extra moody soundtracks to all three Dark Souls games. These sets will cost you $34.99 each and are available exclusively from ThinkGeek for the time being.
Dark Souls Exclusive Double LP Vinyl Soundtracks for $34.99 from ThinkGeek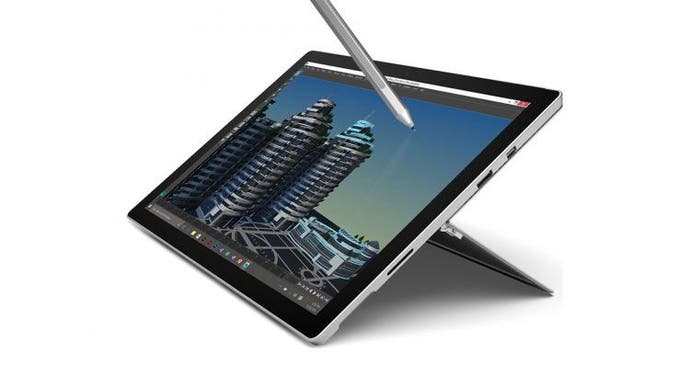 Whatever your use case might be for a tablet/laptop hybrid thing, a Microsoft Surface Pro 4 is a nice little device that you can take with you wherever you go. Right now, you can also save $150 off the price of one of these things by going directly through Microsoft's own online store. That discount is available for the i5 model, too, which is nice.
Save $150 on a Microsoft Surface Pro 4 tablet from Microsoft Store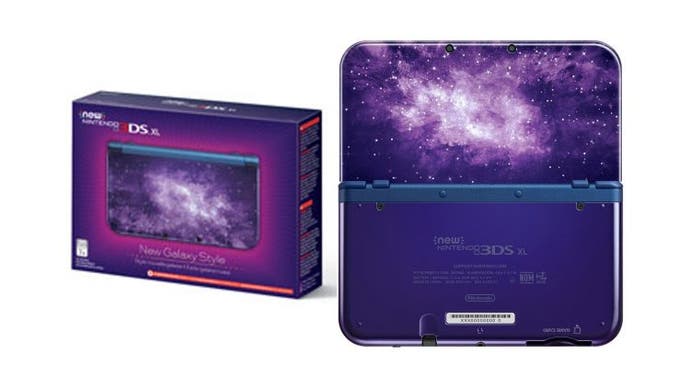 For those not completely swayed by Nintendo's new non-3D direction, there is still the opportunity to pick up a really nice-looking version of one of the company's finest machines. This Galaxy-themed 3DS XL console has recently made its way back into stock at Amazon US and can be yours for $175 currently.
Nintendo 3DS XL Galaxy style console for $174.99 from Amazon US
With that, we're done for another week. Keep in mind that deals, prices and availability can change at the drop of a hat, so apologies if you miss out on something you wanted. I'll be over at Jelly Deals, scouring the world wide web for more deals. Feel free to visit, or follow us on Twitter and give us a like on Facebook.
Did you know that Jelly Deals has launched a newsletter? Let us bring the best deals directly to you each day. Subscribe here, if that seems like your kind of thing.