Jelly Deals: Razer discounting its gaming hardware this weekend
Up to 56% off gaming mice, laptops and more.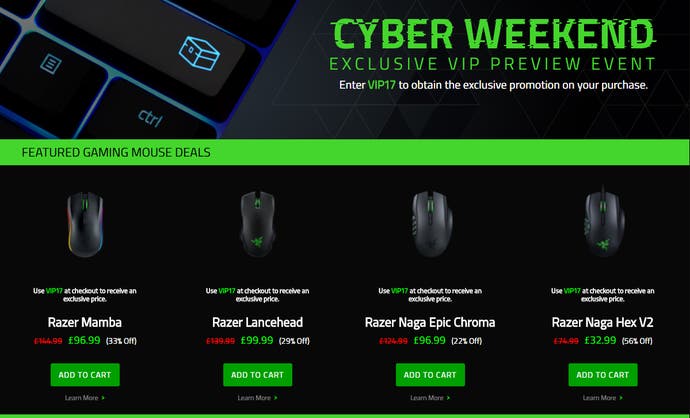 A note from the editor: Jelly Deals is a deals site launched by our parent company, Gamer Network, with a mission to find the best bargains out there. Look out for the Jelly Deals roundup of reduced-price games and kit every Saturday on Eurogamer.
---
The folks over at Razer are getting in on the Black Friday action early with a cheekily named weekend-long sale it's calling 'Cyber Weekend'. Not to be confused with Cyber Monday, wich actually takes place after Black Friday. Cringe-worthy naming conventions aside, this means you can save some cash on some of Razer's most recent hardware for the next few days.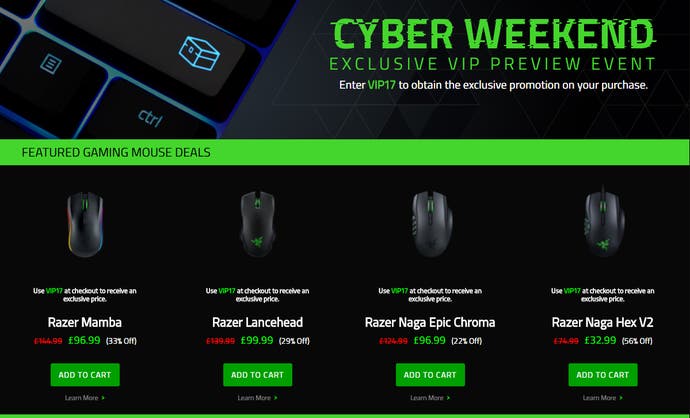 For selected offers, you'll get an added bonus when you enter the code VIP17 during checkout. These bonuses range from extra discounts to a free Razer Blackshark headset when you buy a Razer Blade laptop - there's quite a variation depending on what you're buying. We've got our own guides to the best PC gaming Black Friday deals, along with a whole bunch of others available, if you'd like to stay up to date.
Some of the highlights of the range:
Razer Mamba gaming mouse for £96.99 (down from £145)
Razer Lancehead for £99.99 (down from £140)
Razer Naga Hex V2 for £32.99 (down from £75)
Razer Firefly Gaming Mat for £39.99 (down from £60)
Razer Blade Stealth 4K Laptop for £1249.99 (down from £1549.99)
Razer BlackWidow Chroma V2 keyboard for £139.99 (down from £170)
Razer Ornata Chroma keyboard for £79.99 (down from £100)
Razer Man O' War 7.1 gaming headset for £69.99 (down from £120)
Razer Kraken Pro V2 gaming headset for £59.99 (down from £80)
Razer Raiju PS4 controller for £119.99 (down from £150)
In addition to the discounts, if you end up ordering more than £54 worth of kit, your shipping will be free as a nice extra.