Jelly Deals: PS4 Pro with FIFA 18 and Crash Bandicoot for £299
Update: Amazon's throwing in COD:WW2.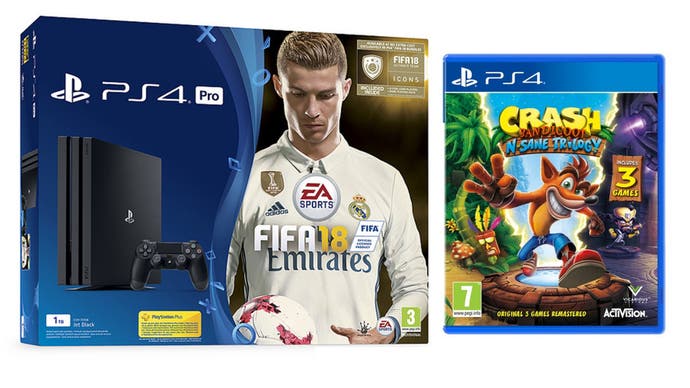 A note from the editor: Jelly Deals is a deals site launched by our parent company, Gamer Network, with a mission to find the best bargains out there. Look out for the Jelly Deals roundup of reduced-price games and kit every Saturday on Eurogamer.
---
Update 20/11/2017: Amazon has launched some PS4 Pro Black Friday offers of its own today, to tempt you into spending some cash. Right now, you can pick up a PS4 Pro 1TB console with FIFA 18 and Call of Duty WW2, all for £299.99. You can also add a PlayStation Plus membership to that bundle and get 25% off that subscription, too. It's worth noting that the copy of FIFA 18 in the bundle is a boxed copy, so you may be able to sell it on or trade it after your purchase.
Original post: As the week progresses, more and more retailers are putting their Black Friday deals live ahead of next week's shopping madness. This basically solidifies the whole 'Black Friday' thing as less of a one-day event and more of a fortnight's worth of offers and price cuts. Such is the way of the world now.
We've been keeping track of all sorts of Black Friday deals, and will continue to until the whole thing is done with for another year. You can find our guides to the best PS4 Black Friday offers, Xbox Black Friday deals, Nintendo Black Friday bundles, PC gaming Black Friday discounts, and more on our various guide pages. Go ahead and bookmark them, they may come in handy soon.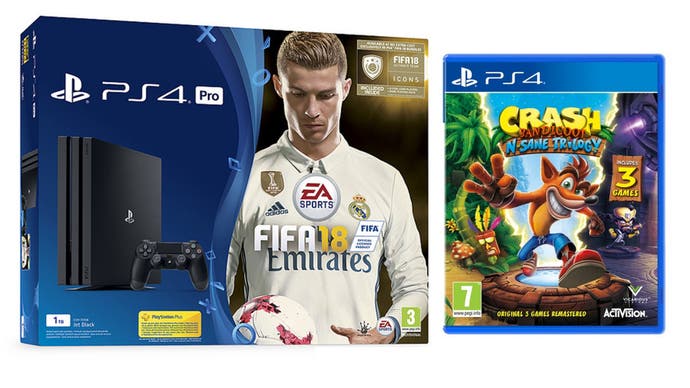 As for today, the day started off quite nicely with one of the best PS4 Pro bundles we've seen all year. Currys is currently offering a PS4 Pro console with FIFA 18 and Crash Bandicoot N'Sane Trilogy for the discounted price of £299 altogether. For a console that normally costs £350 without any games, it's hard to go wrong with this pairing for under £300. The stock is incredibly likely to sell out of this one, though, so you may want to be quick about it.
If you like, you can add a copy of Call of Duty WW2 to that bundle for an extra £31, too, and bring the total cost up to £330 which is still cheaper than the console normally costs on its own. Better still, Currys offers a 'seven-day price promise', meaning if you happen to find a better bundle over the next week, you can get the difference back.
Elsewhere, Amazon is discounting the new version of its AI helper bot, the Amazon Echo, to £69.99 and the Echo Dot is cut down to £34.99. Argos has also launched a 14-day long Black Friday 'event', featuring everything from Beats headphones to laptops and more.
It's going to be an intense couple of weeks for shoppers, to say the least.