Jelly Deals: Ni No Kuni 2 collector's editions available to order now
Bit of a Lofty price point.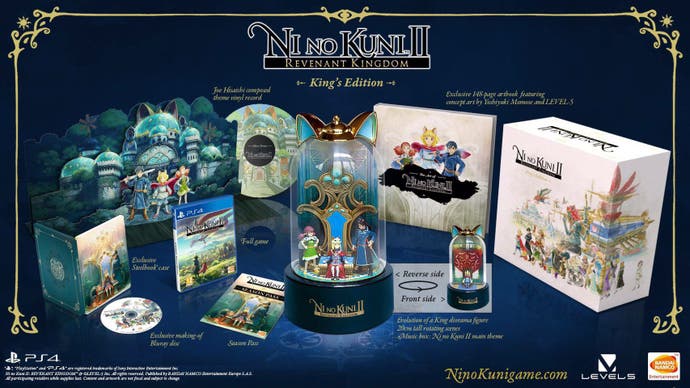 A note from the editor: Jelly Deals is a deals site launched by our parent company, Gamer Network, with a mission to find the best bargains out there. Look out for the Jelly Deals roundup of reduced-price games and kit every Saturday on Eurogamer.
---
Ni No Kuni won plenty of hearts when it launched a few years ago on PS3 and it's easy to see why - between its Studio Ghibli animation and its wondrous use of the Welsh accent, it was charming, to say the least. Now the sequel - Ni No Kuni 2: Revenant Kingdom - is finally due for release early next year, complete with a couple of extra fancy special editions.
You may have spotted the Ni No Kuni 2: Revenant Kingdom special editions in Tom's post about the game (and the recently announced season pass) yesterday. If you did, you also noted that the biggest and most expensive editions (the 'King's Edition') of the game are different in the US and Europe. Frustrating as that is, it means that each edition is just a little bit more unique. Alongside these pricey versions is the slightly-less-pricey pair of 'Prince's Edition' and 'Premium Edition', featuring some digital goodies and fancy cases.
All of these editions are up for pre-order right now, though they will cost you a pretty penny. Judging by the original game's White Witch Edition, which sold out quickly and became an incredibly rare collector's item (often fetching hundreds on eBay after going out of print), there is a fair chance that these fancy versions of the game's sequel may go the same way. In short, if this is calling out to you already, pre-ordering may be a good option to secure one of the big editions.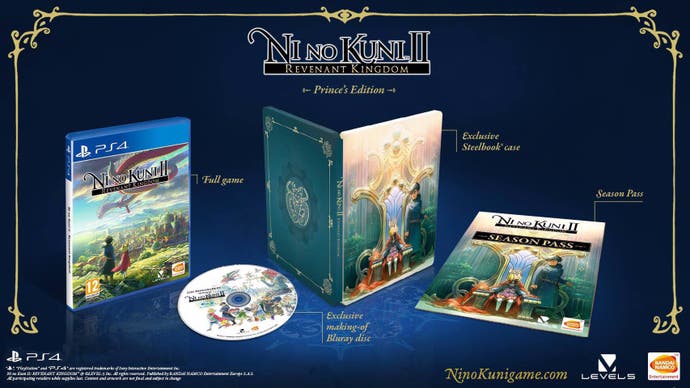 First up, the Prince's Edition. This one is exclusive to GAME in the UK and will run you £99.99 on PS4. It includes the game itself along with an exclusive Steelbook case, a making of Blu-ray disc and the game's aforementioned season pass. Curiously, there seems to be no PC version available for this one.
Ni No Kuni 2: Revenant Kingdom Prince's Edition on PS4 for £99.99 from GAME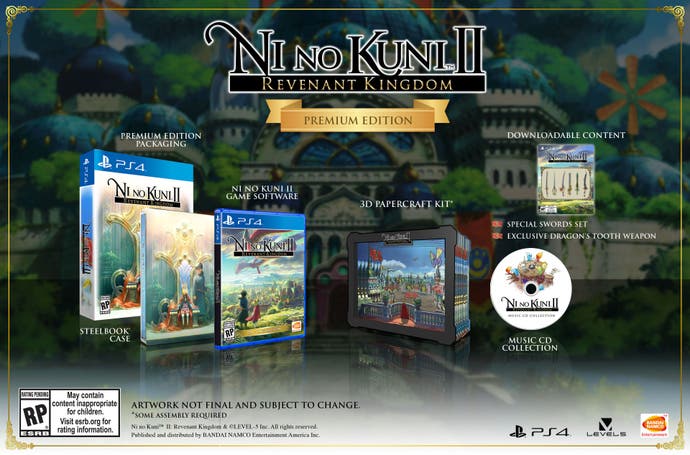 Over in the US, instead of the 'Prince's Edition' we have the less creatively titled 'Premium Edition'. This version will get you the game's soundtrack on good old fashioned compact disc, a Steelbook game case, some exclusive DLC and a 3D papercraft model. That version will run you $79.95.
Ni No Kuni 2: Revenant Kingdom Premium Edition on PS4 for $79.95 from Amazon US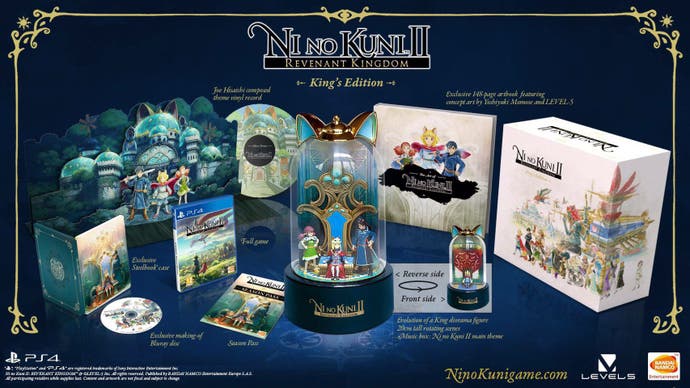 Moving onto the biggest versions now, we have the 'King's Edition' for the UK and 'Collector's Edition' in the US. In the UK, this will get you the game, season pass, the fancy Steelbook case, soundtrack on vinyl record, making of Blu-ray disc, 148-page artbook and, most interestingly, the 'Evolution of the King' diorama figure - a 20cm tall rotating music box that plays the game's theme music. That version will run you £159.99 at GAME, though is available for just shy of £150 elsewhere.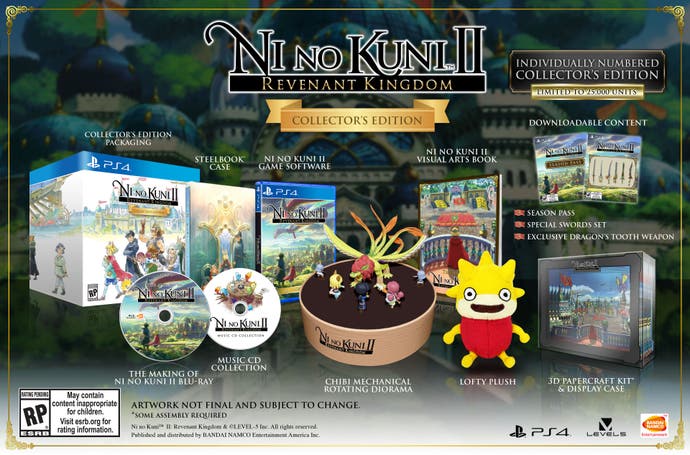 Then, over in the US, the Collector's Edition comes with the game, Steelbook case, collector's box, 3D papercraft set, season pass, exclusive DLC, artbook, CD soundtrack, 'Chibi mechanical rotating diorama' and, most importantly of all, a vaguely terrifying plush of in-game companion Lofty. This version runs a startling $199.99.
Ni No Kuni 2: Revenant Kingdom Collector's Edition on PS4 for $199.99
There's certainly no shortage of ways to indulge in your fandom for the series and/or creepy dead-eyed plushies here. Keep in mind how quickly the original game's Collector's Edition sold out, however, and get involved sooner rather than later if you want to avoid disappointment. But do be kind to your bank accounts while doing it.