Jelly Deals: Lots of PC download discounts this week
Humble, Green Man Gaming, Fanatical, and more.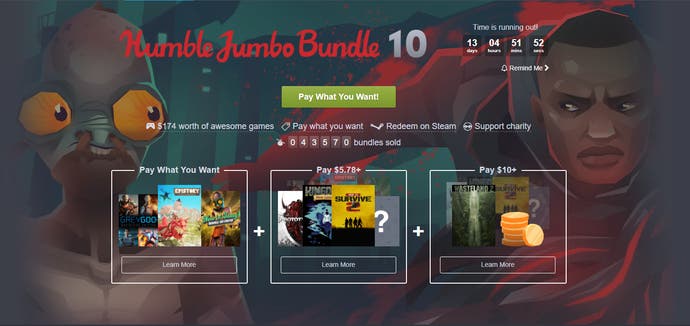 A note from the editor: Jelly Deals is a deals site launched by our parent company, Gamer Network, with a mission to find the best bargains out there. Look out for the Jelly Deals roundup of reduced-price games and kit every Saturday on Eurogamer.
---
There are an absolute ton of discounts on digital PC titles this week. Between the Halloween-themed sales finishing and a slew of other offers rising up to take their place, there is a staggering amount of stuff to get your virtual mitts on this week. Here, I'll take a look at some of the best sale ranges around - some of which (but not all) require you to enter a voucher during checkout, so be sure to do that when applicable.
Right, onto the festivities!
Green Man Gaming Day of the Dead Sale
Firstly, Green Man Gaming is celebrating the Day of the Dead this year with a big batch of discounts across a wide array of titles. You'll get an extra 15 per cent off whatever you decide to purchase when you enter the code DAYOFTHEDEAD at checkout, so be sure to do that if something catches your eye.
Here are some highlights from the range, prices are shown before the extra 15 per cent is applied:
Grand Theft Auto 5 for £20
Cities Skylines Deluxe Edition for £7.50
No Man's Sky for £16
Just Cause 3 XL Edition for £15
Rise of the Tomb Raider: 20 Year Celebration for £16
Life is Strange Complete Season One for £4
Doom for £13.39
Overcooked for £6.50
Strafe for £10.04
Stories Untold for £2.38
Gods Will Be watching for £1.40
Day of the Dead sale (enter code DAYOFTHEDEAD) from Green Man Gaming
GamersGate Halloween Sale
Over at the incredibly unfortunately named GamersGate, you have a matter of hours to take advantage of the site's Halloween sale, where you'll find a whole batch of games with decent discounts. Some highlights:
Resident Evil 7 for £16
Observer for £16.10
Offworld Trading Company for £7.50
Layers of Fear for £3.05
Dead Rising 4 for £12.56
The Walking Dead: A New Frontier for £8.20
Halloween sale from GamersGate (Ends today)
Fanatical Launch Sale
Next, Bundle Stars is no more. The formerly bundle-themed site has rebranded itself into a new beast, now known as Fanatical. To celebrate, the site is having a launch sale, featuring discounts on games such as Dishonored: Death of the Outsider, Child of Light, Far Cry 4, Shadow of War, Sonic Mania and more. You'll get an extra 10 per cent off your purchase when you enter the code FANATICAL10 at checkout.
Fanatical Launch Sale (enter code FANATICAL10 at checkout)
Humble Extra Life 2017 Bundle
To finish off this list, Humble has a couple of bundles on offer right now, depending on your tastes. The Humble Extra Life 2017 Bundle is up for grabs now, featuring Pac-Man Championship Edition 2, Kingsway, Guacamelee and a shocking amount of Pathfinder digital books.
Pay what you want for the Humble Extra Life 2017 Bundle
Humble Jumbo Bundle 10
Finally, Humble's other big deal bundle right now is the 10th iteration of the Humble Jumbo Bundle, which will fetch you $174 worth of content for $10 from Wasteland 2, Kingsway, Oddworld: New 'n' Tasty, Epistory and Grey Goo Definitive Edition, among others.
Pay what you want for the Humble Jumbo Bundle 10
That's all for now, though with Black Friday on the horizon, you can expect a cavalcade of discounts to head our way in the coming weeks.