Jelly Deals: Green Man Gaming offering a range of last chance Summer Sale discounts
Get 20% off using our fancy code.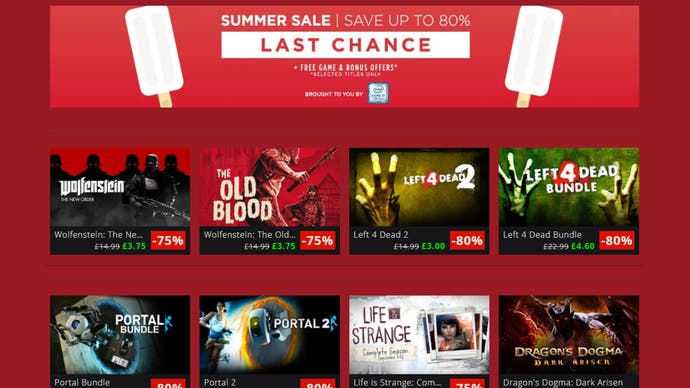 A note from the editor: Jelly Deals is a deals site launched by our parent company, Gamer Network, with a mission to find the best bargains out there. Look out for the Jelly Deals roundup of reduced-price games and kit every Saturday on Eurogamer.
---
The Summer Sale that's been raging on over at Green Man Gaming is coming to an end this week. With that in mind, the site has gathered together some of the best offers into a Last Chance sale range and is discounting the lot by 15 per cent for the last day.
This means that from right now until 4 pm (BST) on Friday 4th August, you can save an extra few pennies when picking up a range of titles from Warner Bros, Bethesda, Gearbox, Capcom, Valve and more. Better still, the folks at Green Man Gaming have given us an exclusive voucher code to get an extra 5 per cent off each of the titles, bringing the total discount to 20 per cent when you use our code.
So, by entering the code EUROGAMER20 during checkout you can get this 'Last Chance' range of titles as cheap as possible before they go back up in price tomorrow afternoon. Here's some of what you can pick up for the time being:
To clarify, all the prices shown here are with the 20% voucher already added.
For my money, I find it hard not to recommend Doom when it costs £8 / $12 / €12. I had countless hours of fun with that game purely by playing and replaying the campaign. If interactive stories are more your thing, Life is Strange also comes highly recommended. Of course, with this year's upcoming new Wolfenstein game, it might be time to pick up the earlier two games and get another playthrough in before October rolls around. Oh, and of course, Hitman because you should absolutely own Hitman. Any other recommendations, feel free to leave them in the comments.
Last Chance offers from Green Man Gaming - Enter code EUROGAMER20