It looks like a Call of Duty: Modern Warfare 2 campaign remaster is coming to PS4
So says a PEGI rating.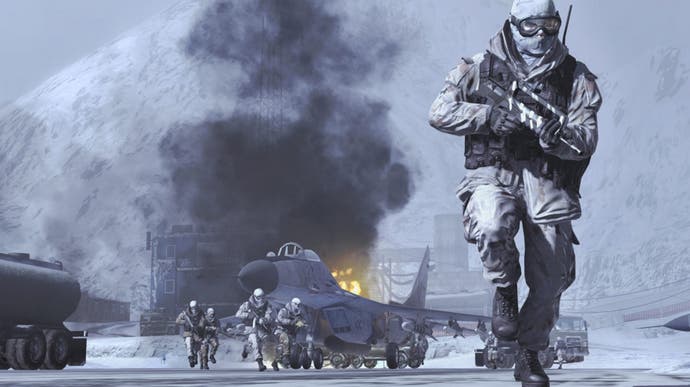 Eagle-eyed internet observers have spotted a new PEGI rating for Call of Duty: Modern Warfare 2 Campaign Remastered on PS4 - and it's probably not unreasonable to infer this means a remastered version of Call of Duty: Modern Warfare 2's campaign is coming relatively soon.
This wouldn't be the first time Activision has wielded its big remaster stick for the Call of Duty franchise, of course. In 2016, the publisher unleashed Call of Duty: Modern Warfare Remastered upon the world (which is part of PS Plus this month, by the way) - delivering an extensive remake of the original's solo campaign and multiplayer component.
It sounds like this new remaster (whose PEGI listing, reported by Gematsu, vanished mid-way through writing this story) will be the solo campaign only, infamous No Russian level and all.
Even so, it's still cause for some degree of celebration, given the quality of Modern Warfare 2's solo bits. Reviewing the game for Eurogamer in 2009, Simon Parkin said of the campaign's outlandish, action-heavy spectacle, "the execution is peerless, ensuring ideas that would appear tired or weak in the hands of less competent developers shine and excite."
Obviously, there's been no official word on a Modern Warfare 2 remaster from Activision (although Eurogamer has heard whispers of its existence before), so we can only speculate as to when it might eventually arrive. Could it, for instance, follow a similar pattern to Call of Duty: Modern Warfare Remastered, and be used to incentivise purchasing the special editions of this year's Call of Duty game, rumoured to be Modern Warfare 4? Presumably, we'll find out soon.