Is your broadband good enough for Google Stadia?
We found out.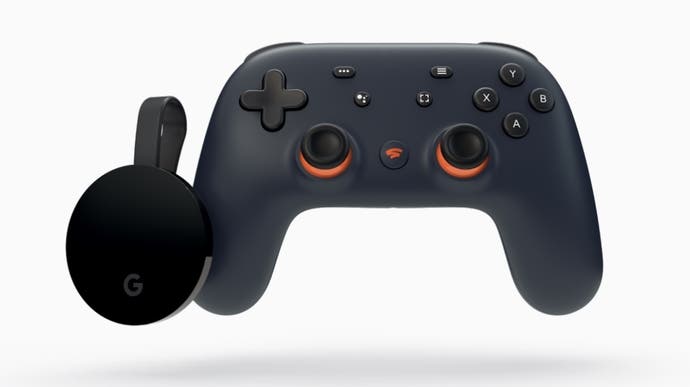 Google Stadia is an exciting prospect - 4K, 60fps gaming via any screen connected to the internet. But as with so many things, Stadia's reality may not match the theory.
Broadband Genie, with some help from Eurogamer readers, conducted a survey of more than 3000 gamers to try to get a sense of whether or not people's broadband speed is, generally, good enough to run Stadia well. The results were interesting!
But first, what has Google itself said is required to run Stadia? Recently, the company announced the speed you'll need for the PC gaming equivalent of a "minimum" spec, as well as a "recommended" spec and an "ideal" spec.
The "recommended minimum" is 10Mbps, according to Google. That'll get you a 720p, 60fps experience with stereo sound through Stadia.
20Mbps gets you 1080p, 60fps, Google said, as well as HDR video and 5.1 surround sound.
35Mbps gets you the best experience, according to Google: aka 4K resolution, 60fps, HDR video and 5.1 surround sound.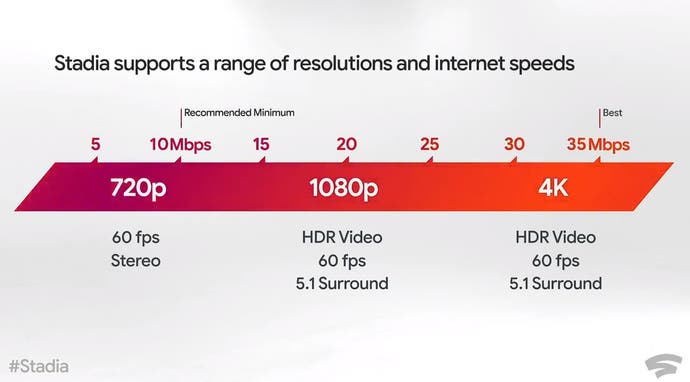 So, onto the results of the survey. 83 per cent of respondents expressed some level of interest in Google Stadia, but almost a quarter (22 per cent) are currently using ADSL or mobile connections that will only support the lower quality visuals - and may even struggle to reach the minimum bandwidth requirements for the service.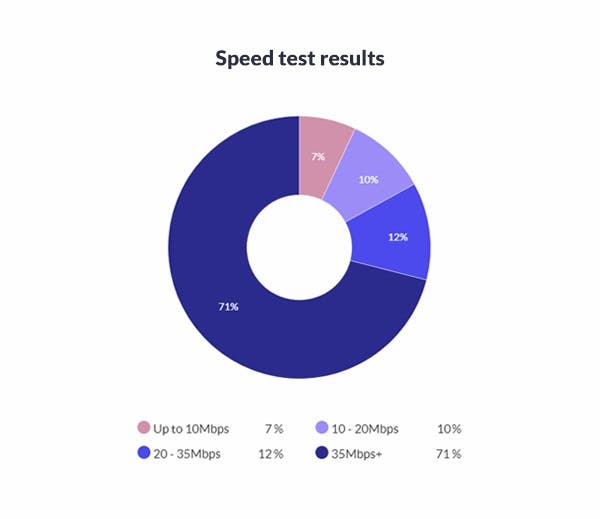 Even if these people move to fibre, which you'd imagine they'd want to if they were going to get Google Stadia, they're still looking into performance that fails to match that offered by a traditional console.
The survey included a speed test on respondents' home connection, and of those who carried it out (2138 respondents), almost a third (29 per cent) failed to reach the 35Mbps required for 4K gaming. 17 per cent reported speeds under 20Mbps.
Broadband speed, then, is of primary concern when it comes to Stadia. Of those who said they were not interested in Stadia, 34 per cent cited their broadband speed as the reason. Even among those who were interested, 26 per cent thought their broadband was too slow, and 71 per cent were concerned performance and visual quality would be compromised.
All this and we haven't even got to the potential impact on data caps - particularly if you're streaming a video game in 4K.
Clearly, there are enticing benefits to video game streaming. No downloads, no installation, no waiting for annoying updates to crawl down the pipe - and no console. But there are drawbacks, too. If your broadband isn't up to much, you could be left with a sub-par experience, certainly compared to a current-gen console.
Advertised broadband speeds are one thing, but the reality for many people is a slower internet. If Google really wants Stadia to take off as a mainstream global platform for millions to play video games on, it'll have to be mindful of the millions whose internet may struggle to provide a console-quality experience.