Insomniac offers to patch out the ill-fated marriage proposal in Spider-Man
"The Easter egg is probably the saddest Easter egg in a game."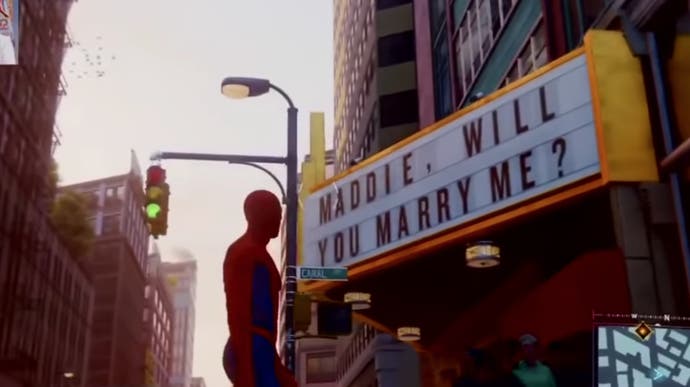 Insomniac Games has offered to patch out an in-game marriage proposal after discovering the relationship concerned broke down just a few weeks before Spider-Man's highly-anticipated release.
Tyler Schultz approached Insomniac back in May, asking if the developer could help him propose to his girlfriend "in a big way". Amazingly, Marvel agreed, and the words "Maddie, will you marry me?" are indeed included on a movie theatre marquee in the final game.
Sadly, it seems the proposal did not quite go to plan, though. According to a video blog by Schultz - which also gives instructions on where to find the sign - Schultz's girlfriend allegedly left him just a few weeks before the game was released.
The story doesn't end there, though. On hearing the sad tale, Insomniac art director Jacinda Chew conveyed her sympathies, and offered to change the sign in a future patch.
While it seems Schultz would indeed like to take Chew up on the offer, he was more taciturn this time around and hasn't publicly shared what it might entail. So watch that space, I guess... literally.
For more Spidey stuff - including information on where to locate some happier secrets - check out our Spider-Man guides.