Meet the F1 racer who streams PUBG, and the esports racer who's now part of an F1 team
Inside McLaren's Shadow Project.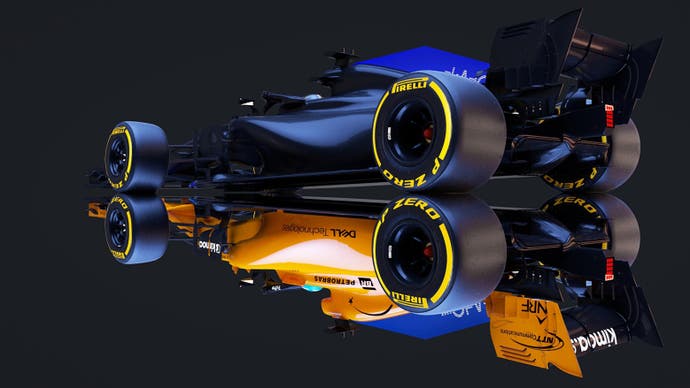 Every year, some of the best drivers in the world - champions from F1, the WEC, NASCAR and the WRC amongst other disciplines - get together to work towards the answer of that perennial motorsport fan's pint-fuelled topic: what if you could put every driver in identical machinery? What if you could strip away the technical side of the sport and find out, once and for all, who's the fastest driver of them all?
The Race of Champions is a fairly informal get-together, with a bit of an end-of-term feel to it, but you can't dull a racing driver's competitive edge, and this year's running was no different. Here, reigning Indycar champion Josef Newgarden was competing alongside DTM and sportscar maestro Rene Rast, Le Mans legend Tom Kristensen and such towering former-F1 veterans as David Coulthard and Juan Pablo Montoya. Not a bad field, all in all.
But perhaps the most impressive performance was put in by a relative newcomer - and by someone who, just months before, was still working as kitchen sales manager back in the small city of Lelystad. Rudy van Buren's tale is one that's told countless times in motorsport; a karting champion in his youth, at 16 the money dried up, and with it his dreams of making it in the sport. But then comes a pleasant twist; at 25-years-old, having found rFactor 2 and applied his skills to a different type of racing, he emerged victorious in McLaren's The World's Fastest Gamer competition. The prize? No less than employment as the team's simulator driver - as well as a few other bonuses along the way.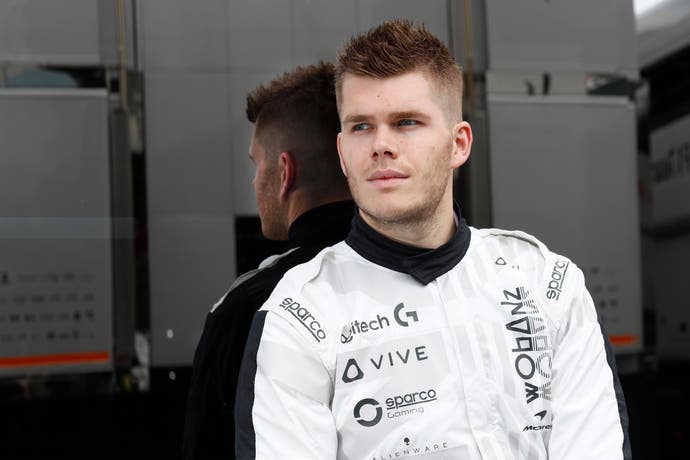 Bonuses that included driving Emerson Fittipaldi's championship winning McLaren M23 up the hill at Goodwood at this year's Festival of Speed, as well as the appearance at this year's Race of Champions in Saudi Arabia, where van Buren shone. His times in the initial qualifying stages weren't just on a par with his fellow competitors - he was a fair bit faster than most of them, too.
"Rudy absolutely nailed the first two sectors, then had to do this doughnut and had to take this chicane at the end," McLaren's director of eSports Ben Payne says, describing one of van Buren's banzai laps that was on the cusp of putting his more experienced competition to shame. "And he absolutely nailed that too. Then he clipped a bollard, which was a five seconds penalty - and you heard nine championship leading race drivers go phew... At that point, he was accepted for the rest of the weekend."
---
The world of motorsport has been quick to accept the rise of technologies and the virtual world, even if it's only begun to adapt to it in more novel ways. At the heart of McLaren's Technology Centre - set in the Surrey countryside and designed by Norman Foster with the famously fastidious touch of McLaren Technology Group founder Ron Dennis, it's often likened to a Bond villain's lair - there's a room that's shrouded in secrecy. It's there where van Buren does much of his work on McLaren's simulator, working on set-ups for race weekends amongst other tasks.
McLaren's long been a leader in the field, having pioneered simulator work in the late 90s. Simulators now play a key part in the operation of every F1 team, being used to assess technical tweaks and new developments as much as they're a tool for training drivers, and so advanced are they that teams keep their workings close to their chest. It's tempting to think of them as the ultimate video game, beneficiaries of millions of pounds of investment and untold racing expertise, though it's not as if you'll ever be allowed anywhere near one.
It's from that sim that van Buren emerges when we meet in one of the McLaren Technology Centre's rooms - crisp, grey and perfectly clean - where he's still sweaty from a morning's hard work. He's a serious character, though you can't really fault him for that. You sense that van Buren is well aware how incredible the opportunity he's been afforded is, and he's keen to make the absolute most of it.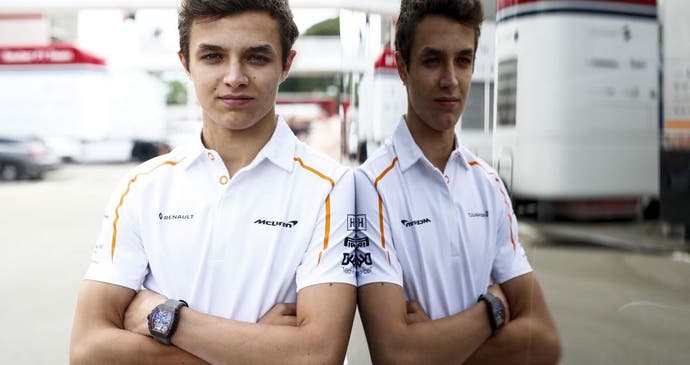 "For me, F1 is impossible," he says when we talk about how McLaren's hi-tech simulator compares to the video games that got him here. "So this is the focus. For me, it being my main thing, it takes away from the whole fun part of a video game. Something like iRacing, you play it at home and it's fun - this is work. It's a job. That's the big difference."
Van Buren's slightly brusque demeanour is in contrast to another of McLaren's new generation of stars, the recently appointed F1 driver Lando Norris, who next year will take to the grid with a sense of expectation not seen around a British driver since Lewis Hamilton made his debut with the team back in 2007. He's charismatic, with an infectious sense of fun; with Lando, you sense he's enjoying his success as if he were playing a game.
And he knows a thing or two about playing games. The 18-year-old Norris is part of a new breed of drivers raised on the medium - indeed, it was Gran Turismo 3 that was his introduction to the sport. He still plays avidly to this day, even able to sneak in a little time trackside during his travels. "I got given an Alienware laptop through McLaren and Dell," says Norris who, already displaying the on-brand traits of the modern race driver, makes sure to name drop some of the team's key sponsors. In other ways, though, he's just like any other 18-year-old "I mainly play PUBG," he says, "which, you know, is much better than Fortnite..."
Like many other 18-year-olds Norris has tried his hand at streaming games, too, with a particular focus on his virtual racing exploits (complete, on occasion, with a spot-on impersonation of the brilliantly camp, infectiously energetic F2 commentator Davide Valsecchi). The streaming has tailed off recently, unsurprising given he's had the small matter of the F2 title to consider, as well as his burgeoning duties as a driver for McLaren in Friday practice sessions before he begins full-time next year. He still plays, though - as much as a tool for learning as a means of pleasure.
"The main platforms like iRacing and rFactor, I use a lot of the time to prepare for the next track, or car or whatever," he says. "But with iRacing, there's so much you can learn, basically, which feel the same as real life - the pressure of a qualifying lap, or making a mistake, all those things are very similar to what I feel when I'm out on track. From a racing point of view, it's very similar - with contact damage or whatever, the licence points in iRacing - you don't want to do anything stupid. Which I've done a lot of... In terms of relaying it to real life - there's a lot of things."
That practice can be beneficial, too. F1 sensation Max Verstappen - who is a teammate of Norris' in the eSports outfit Team Redline - is another driver fluent in video games, something he used to spectacular effect in the 2015 Belgian Grand Prix when he made a move on Felip Nasr around the outside of the ludicrously fast left-hander Blanchimont - a move many would have previously told you is impossible. Verstappen, though, had already tried the move previously in iRacing, and was more than happy to try and make it stick in real life.
"You can just do racing with your friends with no fear factor," says Norris. "Doing a move around the outside of Blanchimont, it's possible - especially in F1. In a GT car it'd be a big no... When you get to the track, you can try things that other people might not know about."
---
Few teams are currently better placed to make the most of the bleed between the real and virtual worlds than McLaren. For a sport with an ageing fanbase, it's an effective way to get a younger audience involved, and for upcoming drivers it's a potential solution to one of the sport's biggest barriers; the inordinate cost. "Motorsport is quite an exclusive sport," says Payne, "and the path from karting to F1 can be millions of pounds."
Van Buren is the perfect example of what so often goes wrong with the sport - the young talent washed up when the money just isn't there - and what McLaren's programme can put right. "He got fat, got drunk, got high, but he found another way in through sim racing, and with World's Fastest Gamer," says Payne.
"We want to - not cheat the system - but with iRacing, rFactor, console titles and mobile - that talent and skillset is there. We all play these sorts of games. I can play Trials - that doesn't mean you'll be able to ride a bike off a skyscraper and land it. If you play FIFA it doesn't mean you're going to score at Wembley anytime soon. But with racing - the apexes are the same. These guys, these racers, they've had more action on-track than any racing driver, because they spend so much time doing it, it's their passion."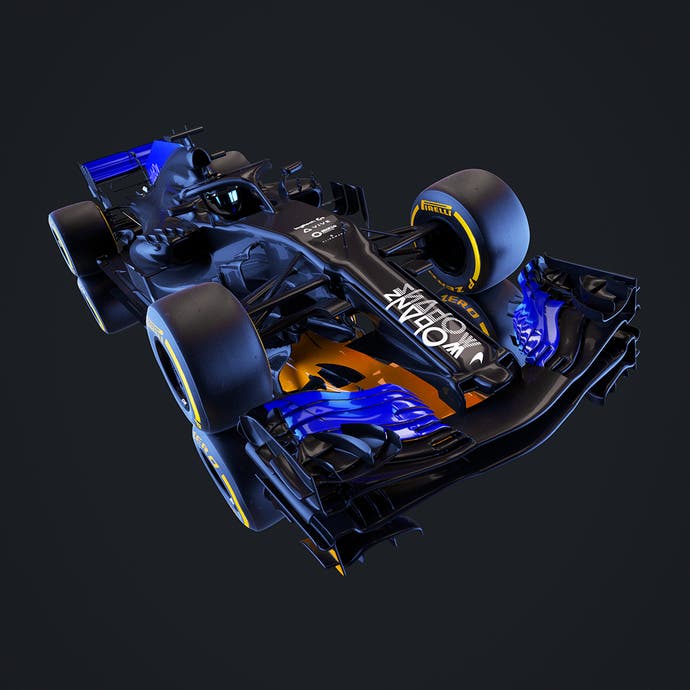 Having brought van Buren into the fold with World's Fastest Gamer, this year's McLaren's programme is built around the Shadow Project - a competition open to all that sees the ultimate winner earning a place on the team's official F1 esports team, and a part in its esports development programme which draws upon the team's deep driver training resources. It's a fairly broad competition, drawing in players of serious-minded sims such as iRacing and rFactor as well as lighter fare such as Forza on Xbox and Real Racing 3 on mobile. It's a gilded opportunity for an emerging talent, and even if there's no explicit seat at the end of it it seems McLaren doesn't really discriminate between its virtual and real-life drivers.
As for van Buren, his story doesn't look like ending when his prize runs its course. "It's no secret the contract runs out next year," he says "I'm working to get a proper follow-up on it." And will that be on-track? "In a formula car, it's a closed book for me - it's impossible," he says, speaking from sore experience - when he drove the McLaren M23 up the hill at Goodwood earlier this year, he had to cut the top of his race boots off to fit his frame into the car. "Anything with a roof, though..."
Where that is exactly remains to be seen - on the horizon are potential official GT programmes, and maybe even an entry into the WEC when the hypercar rules come into place in 2020 - but it's clear that van Buren is likely to play a part in McLaren's future.
"There are opportunities there if they show the talent and the performance to do it," says Payne. "There's a difference from a gaming sim to our sim. To do that again to a car - it's not the same as pumping the pedals on a Logitech. Technically speaking, if these people are good enough we can put them in any car we want. We can see, if you join the dots, and we're in a unique place to maximise that talent on and off the track. What we're looking at as an esports development team, with Shadow, is let's see where it leads. They have to prove themselves initially - and then we have the doors we can open."
You can find out more about McLaren's Shadow Project on its official site.