Infinity Ward quietly removes OK gesture from Call of Duty: Modern Warfare and Warzone
Sign of the times.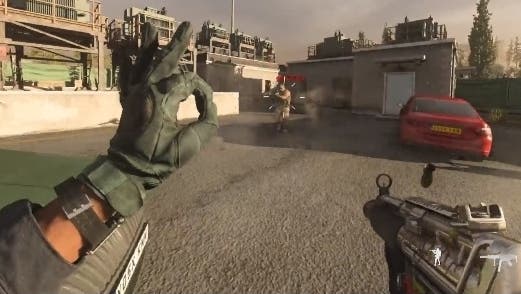 Infinity Ward has quietly removed the OK gesture from Call of Duty: Modern Warfare and Warzone.
The developer has yet to explain the decision, and publisher Activision has so far failed to comment after Eurogamer got in touch last week, but it seems likely the gesture was pulled due to its status as a hate symbol.
In Call of Duty: Modern Warfare and Warzone, you're able to assign hand gestures to your character for use out on the battlefield.
The OK gesture, which was added to the game earlier in 2020, was used by some as a trickshot of sorts - the player character doing the OK sign with their left hand while firing their gun with their right.
Call of Duty social media and subreddits would often carry clips of players doing the OK sign as they ended a multiplayer match or a game of Warzone with the final kill.
But the OK sign is no longer in the game, pulled on the quiet by Infinity Ward as part of Modern Warfare's mid-season update and replaced by a new gesture called "crush". There is no mention of the change in the official patch notes, but of course it didn't take players long to spot the difference.
In September 2019, the Anti-Defamation League (ADL) added the OK sign to its list of hate symbols after it was found to be used by some as a "sincere expression of white supremacy".
Its use in this context owes its origins to users on 4Chan, who pretended there was a hidden meaning behind the OK sign in a bid to trick the media into a reaction. However, this ploy ended up with the OK sign's use by the far-right, and now many believe its meaning has changed.
While Infinity Ward is yet to comment, the removal of Call of Duty's OK gesture probably has to do with the ongoing Black Lives Matter movement. The developer has issued strong statements in recent weeks, pledging to crack down on racism in Call of Duty: Modern Warfare, and even inserting a Black Lives Matter message into the game.
This isn't the first time the video game industry has taken action over the OK sign. Back in April 2019, Blizzard reportedly told a fan in the Overwatch League arena they were not allowed to use the OK sign after it was spotted on a stream and a complaint was made.