Independent Games Festival 2014 finalists announced
Led by Device 6, Dominique Pamplemousse and Papers, Please.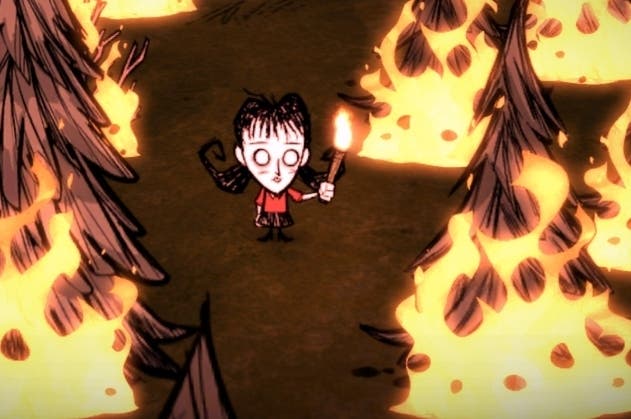 They're not the only indie games you should care about but they're some of the best: finalists for this year's Independent Games Festival - the Oscars of the indie world - have been announced.
The main event, the Seumas McNally Grand Prize, will be contested by The Stanley Parable (Galactic Cafe); Papers, Please (Lucas Pope); Don't Starve (Klei); Device 6 (Simogo); Jazzpunk (Necrophone); and Dominique Pamplemousse in "It's All Over Once the Fat Lady Sings!" (Deirdra Kiai Productions).
The Stanley Parable and Papers, Please finished as two of Eurogamer's Games of 2013.
Honourable mentions for the grand prize included the popular Kerbal Space Program (Squad); Crypt of the NecroDancer (Brace Yourself Games); TowerFall Ascension (Matt Thorson); 868-HACK (Michael Brough); and The Yawhg (Damian Sommer and Emily Carroll).
There are six categories in all, and Device 6 appears in all of them - nominated for four plus two honourable mentions. Christian Donlan loved Device 6 when he reviewed it for Eurogamer. Papers, Please and Dominique Pamplemousse are up for four awards each as well.
It's nice to see beautiful Kickstarter champ The Banner Saga up for the Excellence in Visual Art award and with a couple of honourable mentions, too. It's out next week.
The finalists were whittled down from 650 games by a panel of 375 "elite judges". The Seumas McNally Grand Prize awards $30,000 to the winner.
Winners will be announced at the annual Game Developers Conference in San Francisco on 19th March.
The categories and nominees follow.
Seumas McNally Grand Prize
The Stanley Parable (Galactic Cafe)
Don't Starve (Klei Entertainment)
Jazzpunk (Necrophone Games)
Papers, Please (Lucas Pope)
Device 6 (Simogo)
Dominique Pamplemousse in "It's All Over Once the Fat Lady Sings!" (Deirdra Kiai Productions)
Excellence In Visual Art
Device 6 (Simogo)
Gorogoa (Jason Roberts)
The Banner Saga (Stoic)
Perfect Stride (Arcane Kids)
Samorost3 (Amanita Design)
Drei (Etter)
Excellence In Design
TowerFall Ascension (Matt Thorson)
868-HACK (Michael Brough)
Mushroom 11 (Untame)
Papers, Please (Lucas Pope)
Don't Starve (Klei Entertainment)
Crypt of the NecroDancer (Brace Yourself Games)
Excellence In Audio
Samorost3 (Amanita Design)
Dominique Pamplemousse in "It's All Over Once the Fat Lady Sings!" (Deirdra Kiai Productions)
The Stanley Parable (Galactic Cafe)
Crypt of the NecroDancer (Brace Yourself Games)
Device 6 (Simogo)
The Yawhg (Damian Sommer & Emily Carroll)
Nuovo Award
Dominique Pamplemousse in "It's All Over Once the Fat Lady Sings!" (Deirdra Kiai Productions)
Luxuria Superbia (Tale of Tales)
Extrasolar (Lazy 8 Studios)
Perfect Woman (Peter Lu and Lea Schonfelder)
SoundSelf (Robin Arnott)
Papers, Please (Lucas Pope)
Save the Date (Paper Dino Software)
Corrypt (Michael Brough)