Kane & Lynch: Dead Men
IO's Jens Peter Kurup talks online multiplayer and offline co-op.
IO Interactive is trying to do something different with the online multiplayer mode in Kane & Lynch: Dead Men. As you'll know if you've read our preview, it's titled Fragile Alliance and it's all about greed, betrayal and revenge. You have to work with other players at the start of each round to take out police, but by the end it's every man for himself.
However, Kane & Lynch's co-op mode is much more traditional. So traditional, in fact, there's only an offline splitscreen option. Eurogamer sat down with game director Jens Peter Kurup to find out why there's no online co-op and learn more about Fragile Alliance.
Eurogamer You've clearly tried to do something different with the multiplayer element of Kane & Lynch. Was this intentional from the beginning, or did you find the game wasn't suited to traditional modes such as deathmatch?
Jens Peter Kurup
It was a decision from the beginning. There didn't seem to be much reason to do deathmatch, and it didn't really fit the theme of the game because it's so soldier-like. We wanted to make something that fits with the Kane & Lynch franchise.
There's so much greed and hate and betrayal that goes on with the single player game. Nobody had tried to take these powerful human emotions and mold anything out of it before.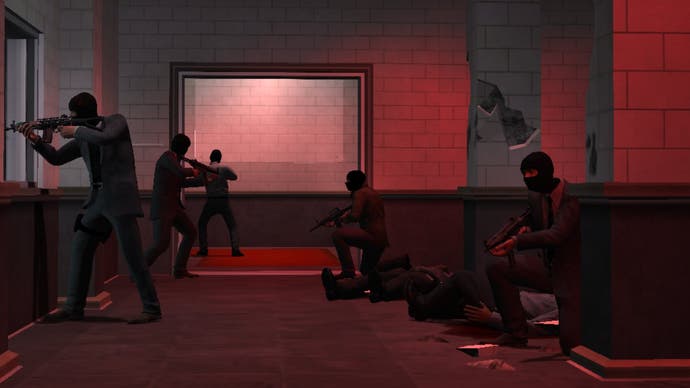 Eurogamer Why do you think no one has tried to create a multiplayer mode like this previously?
Jens Peter Kurup
Either they just haven't had the idea or because it's difficult. We sat down in a brainstorming meeting at the beginning and said, 'Okay, let's try and nail this concept - it's about meeting a van and getting away with the money.' When we were done, we were just like, 'We only have eight lines written down on this small piece of paper, and we're done with the concept. That's a good sign.'
From then on it was like, 'Wouldn't it be cool if we had this rule? Wouldn't it be sweet if, when you die, you get the chance to come back as a police officer and get your revenge?', and so on. I think if you just look at the concept and read the rules one by one, it just lays out well.
Eurogamer Having played a few rounds of the multiplayer mode today, I found myself hanging back, at least at the beginning - letting other players go in and do the work of shooting police, then running in once the path is clear...
Jens Peter Kurup
Me too [laughs].
Eurogamer But won't everyone do that? What happens then?
Jens Peter Kurup
You only have 200 seconds. The only time that really pays off is if you get killed and come back as a cop, because you have an easier time of shooting people and picking up money, maybe getting a reward. You're not going to get really rich. You might get by, but you're not going to win. We all want the big loot, we all want to take the million dollars and run with it.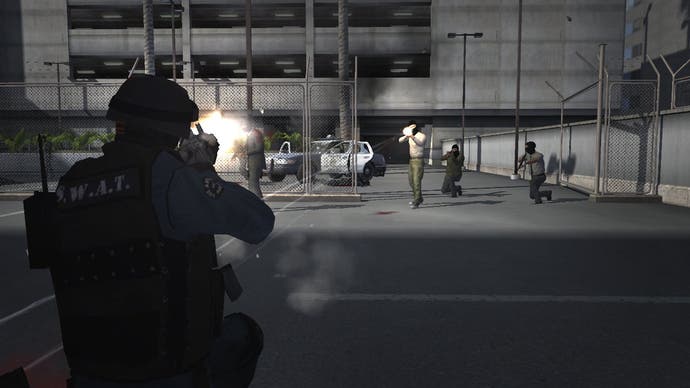 Eurogamer But if you're the one who goes in first and grabs all the money, you're also the most at risk of getting shot and losing everything...
Jens Peter Kurup
In the first five rounds, that's probably one of the things you're going to try out. It's not terribly easy to run in and gun your way to the money on your own. It kind of evens out, nobody really gets away with that. You have to collaborate - well, you don't have to, but it pays to be a little nice in the beginning and choose the exact moment for saying, 'Now I've got enough.'
If you've got more than half a million dollars, everybody wants to kill you and nobody wants to let you get away with it. But if you only have a little, it's a balance and you can slip off. It's a balance with how the other players are playing as well.
We wanted to make sure the level design, the polygons, didn't define the game in the same way they do with deathmatch. It's weapons and the layout. We wanted to do something more based around the human nature of the players, and that changes it quite a lot.
Eurogamer The co-op mode is much more traditional. Why didn't you try to do something innovative there too?
Jens Peter Kurup
It's quite important in the single player and co-op that we're portraying characters and we're also portraying scenarios. It would have been nice to come up with something completely new. There are things with Lynch's Psycho mode which work out differently in co-op, the healing method and things like that, but it is a more traditional approach. We feel that's what players want. Co-op is about good times.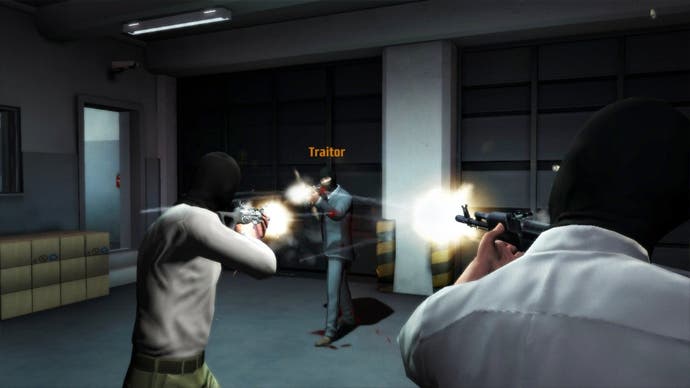 Eurogamer What role do Lynch's hallucinations play in co-op mode?
Jens Peter Kurup
I think we should leave some things for the player to discover. But you do get to know more about Lynch, when you die you get to see what his thoughts are at that moment, so you get more of his background story and what's actually going on with him. He's not just a psychopath running wild. Now and then he is, but at the core he's a pretty cool guy.
Eurogamer Why is there no online co-op mode?
Jens Peter Kurup
It's a matter of focus, choosing what you want to deliver at what time. We looked at it and decided it was too much of a risk to change our code to be very very good at that, and we're not going to be very very good at other elements. I'll miss the online co-op, but not terribly.
Eurogamer Isn't it a bit of a risk? After all, online co-op is proving to be one of the most popular elements of Halo 3...
Jens Peter Kurup
They are not only selling Halo, they are selling technology, they are selling consoles, they are selling Microsoft, the whole online package. That's not what we're doing.
Eurogamer Have you had much negative feedback about the lack of an online co-op mode?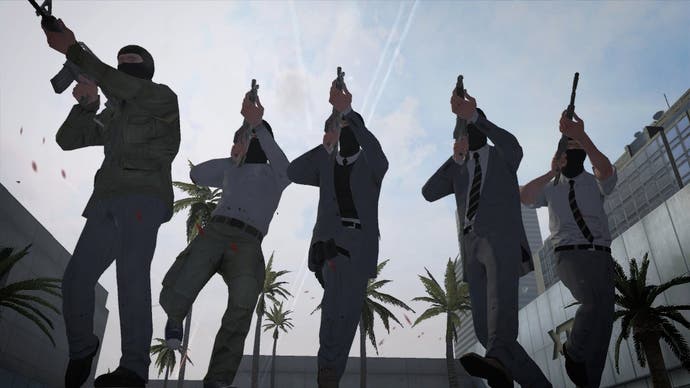 Jens Peter Kurup
Everybody always wants more. People are going to say it would have been nice to have online, but they also want the game at some point.
Eurogamer Maybe for the sequel?
Jens Peter Kurup
Yeah. That would be fun.
JP is game director on Kane & Lynch: Dead Men. The game is out on PC, PS3 and Xbox 360 on November 23.