Hubert Chardot of Gamesquad
Interview - the man behind Alone in the Dark talks about his latest game and his first movie
French designer Hubert Chardot has carved something of a niche for himself in the gaming industry, helping to create the massively popular horror survival genre with his work on classic games like Alone in the Dark, Shadow of the Comet and Prisoner of Ice. More recently he has been serving as Creative Director at Gamesquad, and with his latest project just completed we caught up with him to find out more about the game, as well as his forthcoming movie, MP3.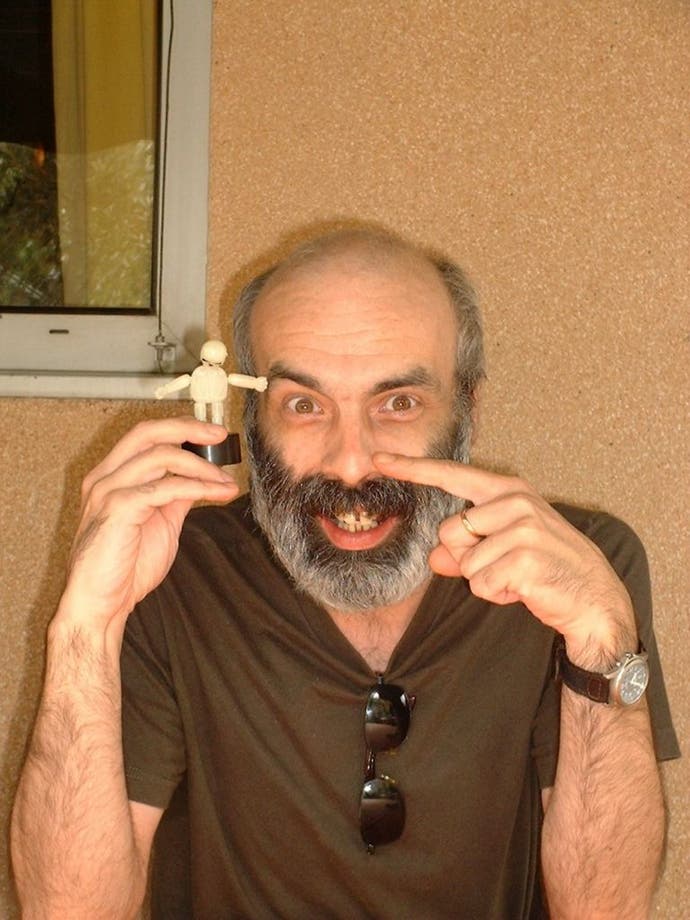 Pure Action
From Dusk Till Dawn is based on the Robert Rodriguez / Quentin Tarantino film of the same name, originally released five years ago and about to get a new special edition DVD release here in Europe. The most obvious question is, why now? "I honestly couldn't tell you why", Hubert admitted. "Maybe it was for political or financial reasons. Perhaps nobody had previously approached Miramax with an interesting interactive licensing deal for the movie."
But last year Gamesquad and publisher Cryo did exactly that. "It happened very easily. Cryo asked us to choose between a few different licenses and we were very excited about the prospect of developing a game based on the 1996 vampire exploitation film From Dusk Till Dawn. It's a cutting-edge cult movie packed with all the kinds of things we admire - humor, violence, sex, guns and plenty of vampires."
"Our ambition was to create an action game based on an original script that could be an alternate sequel to the movie, with blood effects and gameplay that exhibited tough and tense action. It was a good opportunity for us to show everyone what we could achieve. We had wanted to develop a pure action game for many years, and it was this kind of film license that enabled us to make our dreams come true."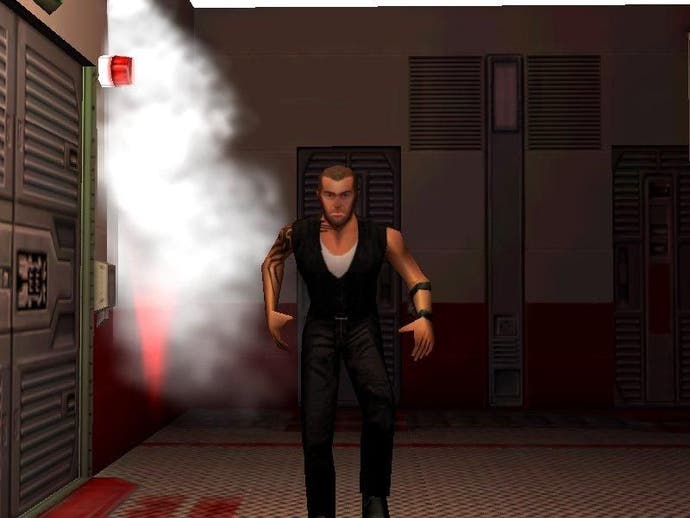 Death Row
From the word go the intention was always to produce an interactive sequel to the movie rather than a straight remake, something which Cryo fully supported. "I wasn't really interested in copying or duplicating the original script", Hubert told us. "I see the world of movies and games as two completely different things. A lot of elements that merge into a cohesive narrative storyline become inadequate when adapted into interactive entertainment. I don't necessarily think it's very interesting to do a complete remake of a movie on the PC."
Of course, From Dusk Till Dawn already has a sequel; two of them actually, both released straight to video. But as Hubert pointed out, "the sequels are nowhere near as good as the original", and they had little influence on the development of the game. Instead Gamesquad took inspiration from the original film as well as other movies such as Brian de Palma's "Carlito's Way", Francis Ford Coppola's "Dracula" and the work of Quentin Tarantino.
"We made the conscious decision to let our minds run wild and try to imagine what would happen to Seth Gecko, five years after the movie. What would he be like? Where would he go? Seth is your typical kind of macho anti-hero. You can just imagine him sentenced to death and yet he is too damn smart, aggressive and dumb lucky to accept the reality of his situation. Just when you think our hero is trapped and faced with death, he has no choice but to escape. His fate is to kill off as many vampires as he possibly can, and to break as many laws as he can along the way. Seth is the real McCoy. He's macho, aggressive and surprisingly sympathetic."
In the end "we decided to put him on a maximum security prison ship, on death row with only 72 hours to live". Everything else soon fell into place. "The bulk of the writing was not very complicated. All the events flow naturally when you begin to accept the idea that you're working the story against the backdrop of a high security prison ship."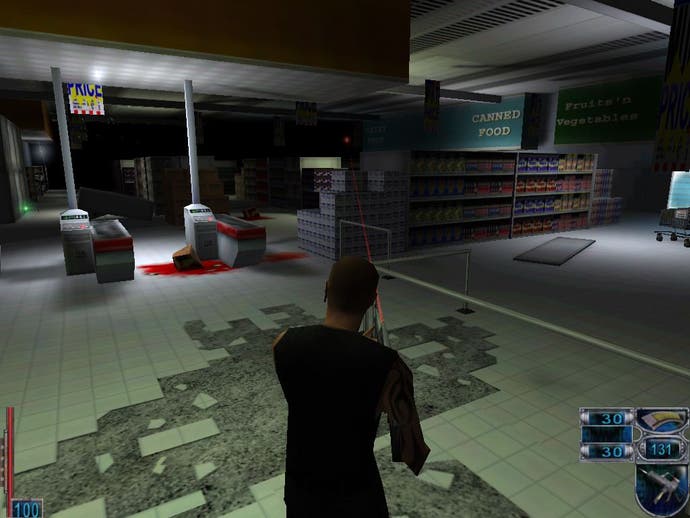 Shotguns And Soda
It's not your average prison ship though, and we were rather surprised to discover an on-board supermarket and cinema (showing Kiss of the Vampire, appropriately enough) when we took a beta version of the game for a spin recently. "Oh .. it's for the wardens and administrative people", Hubert replied when we asked him to explain what the heck was going on.
"Living in a prison is not a very pleasant experience. We envisaged some fine places like a bar and a supermarket. We wanted the prisoner characters in the game to live a normal social life. Alas, when you discover these places you will see that the vampires have already attacked and repainted the prison walls with the blood of innocent men. That explains why you need a shotgun instead of a Visa card to drink beer."
Shotguns and supermarkets alike are rendered using the latest version of Gamesquad's own Theo engine, which was used in the innovative but flawed Devil Inside. Since then there have been a lot of changes though, and the end result is quietly impressive. "An important part of the job was to create ultra-realistic special effects. Everyone at Gamesquad pushed the visual aspect of the game - animations, lighting and movement are all very integral. The player has to experience what he or she feels emotionally whenever they experience the game."
The rest of the engine has also received something of an overhaul, especially what Hubert terms the ergonomics, "the interactivity between the player and what happens on screen", producing what he hopes will be "a very intuitive game where the player can exist in an immersive environment".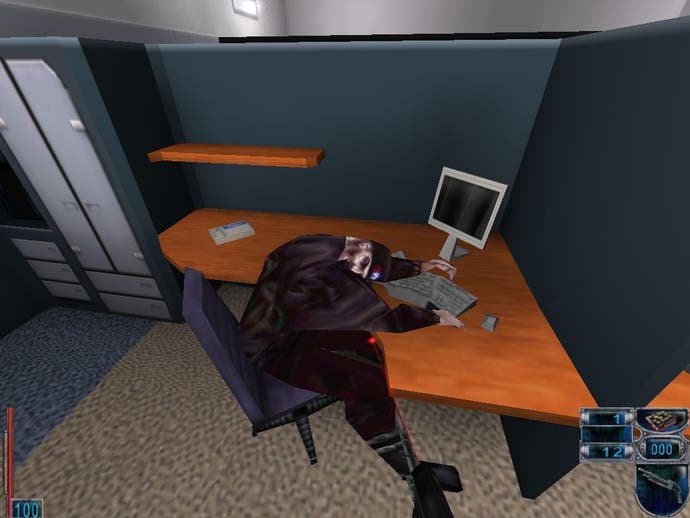 Benchmarking
But despite this, the entire game was developed in just over a year. "This kind of project is a constant challenge", Hubert admitted. "We took two and a half years to make Devil Inside, and From Dusk Till Dawn is twice as big. I think we couldn't have achieved this without the experience of developing Devil Inside and creating the Theo engine. Creating a game in just 12 months is like doing a sprint during a marathon - you're relieved whenever you cross the finish line."
Any project of this kind is going to be something of a compromise, and Hubert was quick to admit that they could have done more if they had been given an extra six months. Indeed, Gamesquad updated the Theo engine just two months before the game was finished, and some of the features will have to wait for their next title. "With future games we'll be able to push the chairs, turn the tables upside down and shoot a ball that will rebound".
The final gold master of Dusk Till Dawn was delivered to Cryo last week, and now there's little Gamesquad can do but sit back and hope that we all enjoy it. "We know competition is very tough in this particular sphere, because the state of the art is now very high and gamers always want something more brilliant, violent and scary", Hubert told us. "The first previews we have received from the press are very positive though, and From Dusk Till Dawn seems to be a benchmark in the horror survival genre. It's extremely encouraging for us. At the end of the day, it's our job to produce dreams that turn into memorable, if not, haunting nightmares."
Compression
Not satisfied with haunting the gaming industry though, Hubert Chardot is also taking his first steps into the movie business. Rumours emerged recently that he was scripting a French-produced film based on Devil Inside, a game in which players take on the role of a cop-turned-TV-show-host exploring haunted houses and blasting zombies back to hell for the amusement of his studio audience. But that project now seems to be on the backburner.
"Movies take a very long time to produce", Hubert explained. "With Devil Inside it's a question of money. A pre-production budget based on the synopsis shows the movie will cost more than 150 million francs [about €22m]."
"We've managed to strike a deal with a film producer by writing him something completely different. It's a comedy entitled 'MP3', about compression. It's all about these people who work for a video game company. I have a feeling it will be very amusing to see when it's completed. It's been a very funny experience to write."
-