Jon Gillard of Games Workshop
Interview - we talk with the Games Workshop to find out more about Warhammer Online
Last weekend a horde of around 8,500 hardcore role-players and table-top wargamers invaded the National Indoor Arena in Birmingham for "Games Day 2000", an event organised by the Games Workshop to showcase their range of best-selling products, including the ever popular Warhammer gaming system.
It wasn't all about lead figures and polystyrene hills though - the new Space Marines first person shooter was on show in the "Fanatics Hall", and members of the Climax team were there with Games Workshop Projects Manager Jon Gillard to talk about their ambitious multiplayer strategy game, "Warhammer Online"...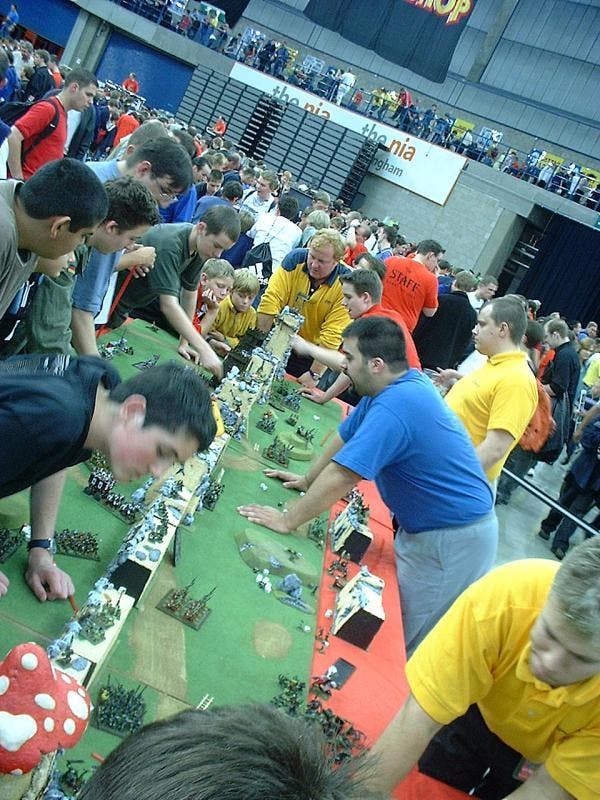 The Digital Frontier
Over the last few years several Warhammer computer games have been released, including titles like "Dark Omen" and "Shadow of the Horned Rat". But whereas previously Games Workshop's involvement has been minimal, simply licensing other companies to develop their games, with Warhammer Online they are taking a more hands-on approach.
"We were keen to look at the online aspect, and find a way to play Warhammer online", Jon Gillard told us, admitting that "the internet side of Games Workshop has grown despite us - we only had three or four people working on our website until about six months ago". And yet the Warhammer phenomenon has taken off online, with hundreds of fan sites springing up, and the official Games Workshop site getting hundreds of thousands of visitors each month.
About a year ago Games Workshop met Climax, who were looking for a use for their new rendering engine at the time. "The rendering engine has infinite level of detail - you can zoom right in to see detailed models, and then zoom out to see hundreds of units in a single battle", Climax head honcho Karl Jeffrey explains. "It was a technology looking for a game, and making a Warhammer game seemed an obvious choice, so we approached Jon to demonstrate the technology."
The two companies hit it off straight away. "We're both very creative companies - a bunch of wacky people who like games..."
"And lager, and girls", added Jon. "Climax brought the technology and expertise, and they're just damn fine chaps - we like them, and go out and drink beer with them."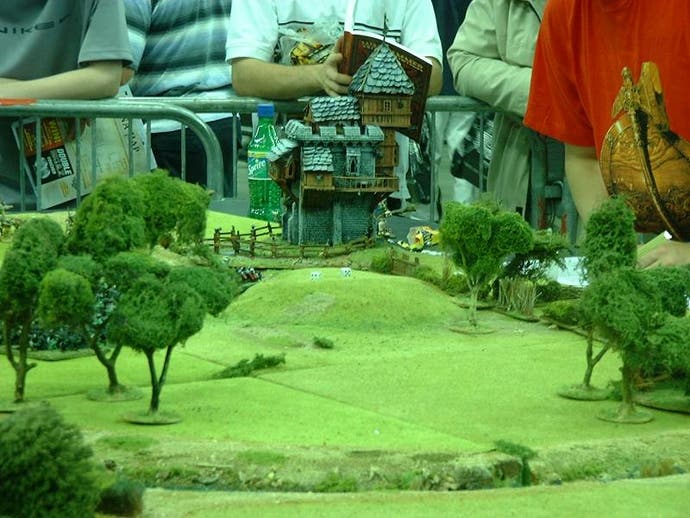 Local
Climax opened up a new studio earlier this year in Games Workshop's home town of Nottingham, and the two companies are working closely to make sure that the new game captures that classic Warhammer feel, without simply being a straight conversion of the table-top game like previous Warhammer computer games.
"It won't just be a recreation of Warhammer on the computer - we're taking Warhammer as a base and moving on from there", Karl told us, explaining that one of the advantages of working with computers is that you "can have incredibly detailed models and very complex rule sets". The company is aiming to bring the Warhammer world to life as never before, with intricate character models and vast battles involving hundreds of animated units.
One of the key changes made possible by the move from table-top to computer is that Warhammer Online will be real time rather than turn-based, although Jon was quick to make it clear that this will be far more than just another clone of Command & Conquer, a game he described as "light and fluffy". In fact, Jon described Warhammer Online as a "tactical wargame with strategy elements", putting the focus on deploying and manoeuvering your troops in battle.
Currently the game is in the pre-production stage, and it's expected to take another two to three years to complete, which means that Climax "can rely on big advances in the PC as a gaming platform, and broadband technology". As Jon pointed out, "by the time this goes online, broadband will be ubiquitous", solving the problem of trying to cram all of your data down an old-fashioned analogue phone line.
"Games like Asheron's Call and Everquest are just an extension of pen and paper role-playing games", according to Karl, just the first easy step in massively multiplayer gaming. "We are trying to do something ambitious - there isn't an example of this kind of game yet online."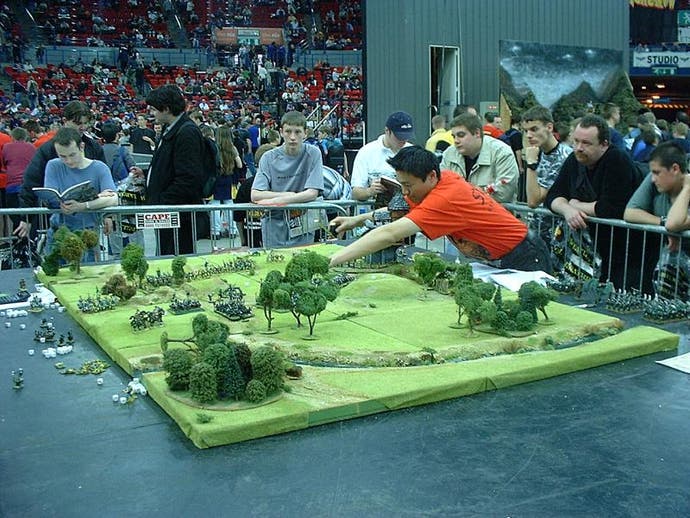 Social
Of course, life moves quickly on the internet, and with a three year development cycle things are likely to have changed drastically by the time Warhammer Online is released. "It's likely that there will be other strategy games online", Jon Gillard admitted. "But they won't have 25 years of background."
The Warhammer series has a history stretching back almost as far as America's big contribution to the role-playing world, Dungeons & Dragons. Over the last two decades Games Workshop have gone from a small local company to one of the largest employers in Nottingham, with a chain of dozens of specialist shops scattered throughout the UK, and subsidiaries in several other countries. And in that time they have learnt what does and doesn't work within the Warhammer game system, building up a vast community of fans, both online and in the real world.
"It's a whole gaming ethos based around the idea of social gaming", Jon told us. "Community has always been at the core of what we've been doing - you talk about your battles at the pub if you're old enough (or if you're not!), or at school. The internet is just a facilitator of interaction, and we're making a game with social aspects."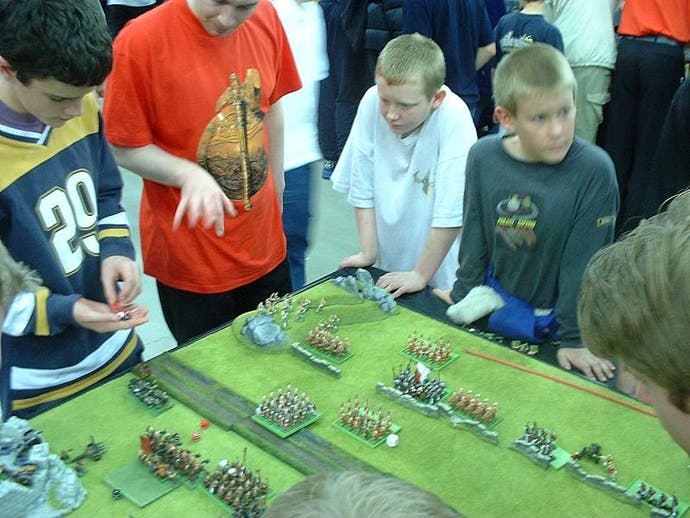 Hardcore
Another reason why Warhammer has proven so popular is the artistic side of the game, which sees players spending a small fortune on lead or plastic figures, and then carefully hand-painting their units ready for battle.
Paul Carruthers, manager of Climax Nottingham, told us that Warhammer Online should reflect this, and players will probably be able to "paint" their own units, as well as being able to use a fully-featured terrain editor to create their own home-made battlefields for playing friendly matches on. Jon added that "aspects of the game will reflect what we do as a hobby, and play on our experience of what makes people excited, and keeps them excited".
Keeping players excited and involved in the game is something which Games Workshop have gained a lot of experience of over the last couple of decades, with a vast hardcore following including both adults and children. "Warhammer fans play the game from the age of 10 to maybe 16, and then discover D&D - drugs 'n' dames", Jon explained. "Many come back in their twenties though."
Trying to keep all of those hardcore Warhammer fans happy whilst keeping the game accessible for newcomers to the series is something of a balancing act, and Paul admitted that it's a little daunting. Jon assured us that Warhammer Online will be "suitably close to the imagery of the [table-top] game to appeal to the hardcore fans, but it should also appeal to people who don't have fifteen hours a week to paint figures, and the money to spend on them". And yes, that's a lot of money...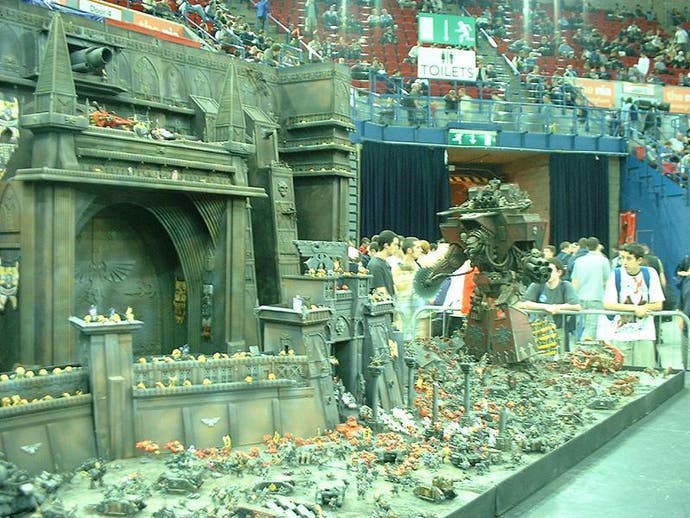 Conclusion
Of course, Warhammer Online is still two or three years from completion, and in the meantime a whole new generation of Warhammer fans are looking for a computer game to keep them busy.
Warhammer 40k fans will be happy to hear that Polish developers Mirage are currently putting the finishing touches to "Space Marine Arena", an online first person shooter featuring terminators and space marines. "It's not Quake 3 Arena, it's not Unreal Tournament - it's a bit of fun to see what people's reaction is, and to have something out there", Jon explained, pointing out that "Dark Omen is two and a half years old now".
There are also other games due for release over the next two years, although Jon couldn't tell us anything about those at this stage, and there's even a CG animated Warhammer 40k movie in the works at Exile Films, a new company whose founders have previously worked on special effects for films such as "Lost In Space" and "Starship Troopers". All in all it looks like Warhammer could be about to escape from the table-top and enter the digital age in style...
-