Dave Saunders of Smartdog
Interview - Smartdog's technical director talks about their latest game, Downforce, and the state of Formula One
Motor racing games tend to be split between relatively realistic depictions of real-life events like Formula One, rally driving and American-style CART racing, and futuristic sci-fi games along the lines of Wipeout, usually featuring hovercars, hoverbikes, hovercraft, or some other kind of gravity defying vehicle.
Falling between these two extremes is Downforce, grounded in reality but featuring imaginary cars built around cutting-edge technology. We spoke to Dave Saunders, technical director of developers Smartdog, to find out more...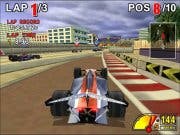 Boring
According to the press release which first announced the game a little over a year ago, the extreme racing seen in Downforce comes about when a group of Grand Prix drivers split off to form their own championship. "In the near future", it states, "Formula One has become dull".
Some people would argue that we're there already, and Dave Saunders is amongst them. "F1 is boring these days", he ranted. "There seems to be a real lack of any hardcore one on one racing and most races are decided by pit strategy. Where is the excitement in that I ask you!? What happened to the racing? I remember when I first got into F1 the likes of Senna and Mansell would race wheel to wheel, real exciting stuff, head to head racing. Nowadays it's about how many pit stops and when's a good time to stop in order for you to get a good position when you rejoin."
"I think the fact that the drivers know they can win by pit strategy will mean they won't take as many risks in order to make up positions. Why risk running into someone and ruining your chances when you can pass someone with safety with a concrete pit wall between you! Another thing, if you think about it it's not surprising we end up with a processional race - [they] spend an hour seeing who goes the fastest, and then line them up on the grid with the fastest at the front!"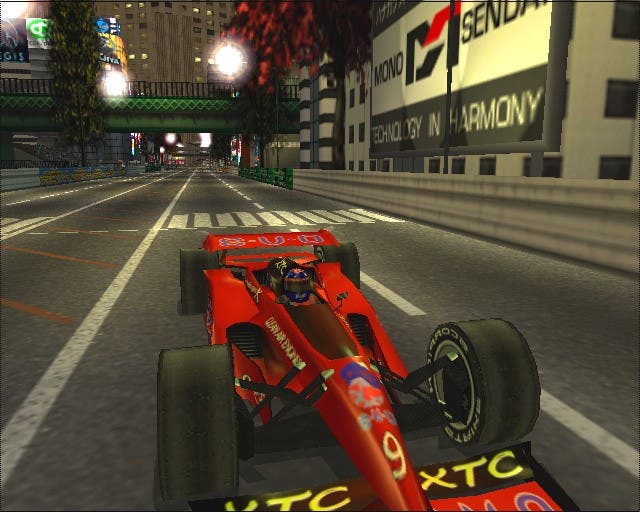 Doing Something Different
So what would Smartdog do to make F1 more exciting? "Remove the necessity for aerodynamic [down]force and increase mechanical grip", was the simple answer. "This will improve overtaking. And something to eliminate drivers winning via pit strategy is a must - they need to get the real racing back into F1."
Putting their money and development talents where their mouths were, Smartdog set about creating their own fanciful F1-style championship in which anything goes. The result is outrageous cars with bizarre looking aerodynamic doohickeys hanging off their front and rear, some of which will even move about as you drive around a circuit, to give the best possible performance on both straights and corners.
"Why would we want to simulate what we find tedious and boring?" Dave asked us. "We could have got a FIA licence, produced all the same cars as everyone else, produced all the same tracks as everyone else, stuck to the championships like everyone else and been yet another clone of what has been done year after year. Not having a FIA licence has been key to what we wanted to do, making a F1 arcade style game that isn't restricted in design, cars, tracks, looks and rules."
Actually turning these ideals into digital reality was something of a challenge. "Getting the graphics engine up and running was hard work, and then developing a realistic but fun handling car sim took a bit of getting right, but in the end I think the game turned out pretty much close to what we had designed at the start. We were aiming for a very fast arcade racing experience with constant one on one racing and big smashes, and I think that is what we have delivered."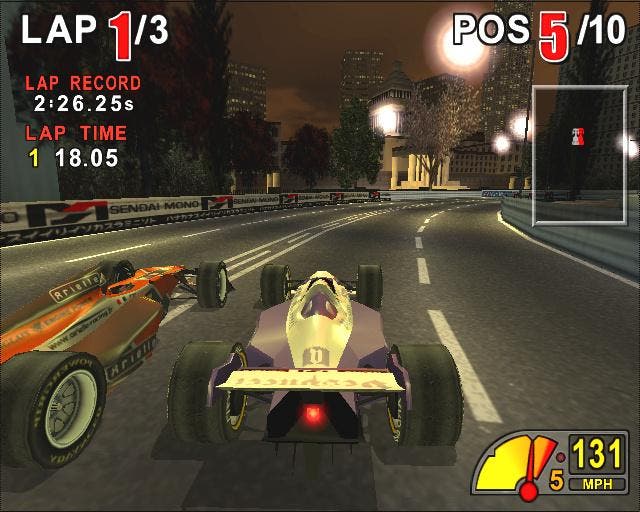 Street Racer
An important part of this approach has been the ability (necessity, even) to design fresh circuits instead of regurgitating real world tracks like Hockenheim and Silverstone. The result is a focus on street racing rather than expensive custom-built facilities like Sepang.
"The spectacular looking races of the F1 season are city based, for instance everyone knows that Monaco is the show piece of F1. Ask yourself why this is. What looks more spectacular, driving past buildings just feet away with everything in your face, knowing that one mistake could cost you big time, or driving past grass and gravel knowing that if you have an off you'll maybe jump a few inches and stop, or maybe even rejoin after a bit of offroad driving?"
"Having the city as our track also has the added benefit of extreme danger. Now, I'm not suggesting that it's something that the FIA should use to spice up the races, but for us, allowing cars to be smashed beyond all recognisable shape has been great fun. Normal grass and gravel tracks would not have given us the opportunity to create carnage in such spectacular ways! Not being restricted by a licence allowed us to take the races to some of the most spectacular cities in the world. Once we had picked routes through cities we then modified them to make a great driving experience, adapting corners and combinations of corners until it felt great to drive."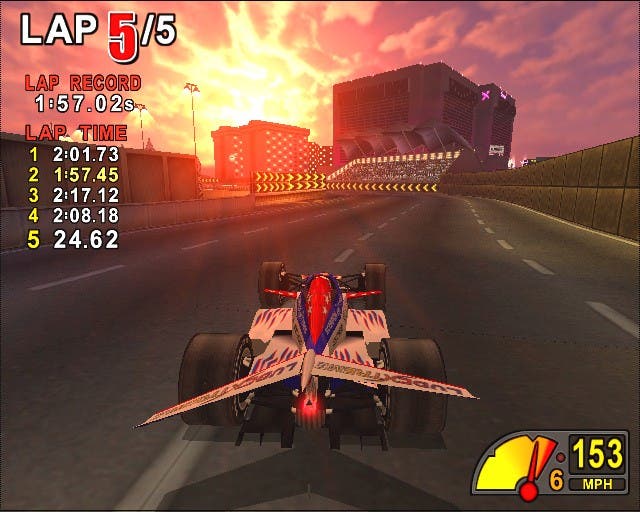 The Future
Although Smartdog are happy with how the game has turned out, they still have a few tricks up their sleeves. "There are a few technical features we have thought of and tested along the way which we are saving up for a follow up. This should allow us more cars, more special effects and even greater looking smashes!"
Yes, you read it here first - Downforce hasn't even been released yet, but already plans are afoot for a sequel. "We are already developing the GameCube version [of Downforce], and we are also designing Downforce 2 for both PS2 and GameCube. This will see all the benefits mentioned above, plus a great deal more in the way of pure arcade racing."
Meanwhile the Xbox version sadly seems to have dropped off the radar, or at least there's still no sign of the game and Dave wouldn't comment on its status. One mystery we did manage to solve though was the question of why the game has taken so long to release. We received final review code for the PlayStation 2 version of Downforce well over a month ago now, and yet at the time of writing the game still hasn't been released. So what was the hold-up? "We want Downforce to be our next arcade racing brand, looking forward for new releases on other next gen platforms and sequels", Titus marketing director Eric Laporte explained. "Thus, in order to give the product maximum exposure and best seasonal release, since historically the summer months always saw poorer sales, we decided to pull back the release of the Playstation 2 version."
Our latest information is that Downforce should finally be released in the UK on July 12th, but from past experience we wouldn't count on it until we've actually seen the game on store shelves. In the meantime though there is one important question still to be answered - who is going to win the Silverstone Grand Prix on Sunday?
"Whoever manages to get his car into first by the first corner", Dave helpfully offered. "Unless his car breaks, and then it will be whoever is in second."
Thanks...