Humble Bundle Black Friday sale 2022: save up to 90% on games and more
Here are the best PC games to grab in the Humble Bundle Black Friday sale.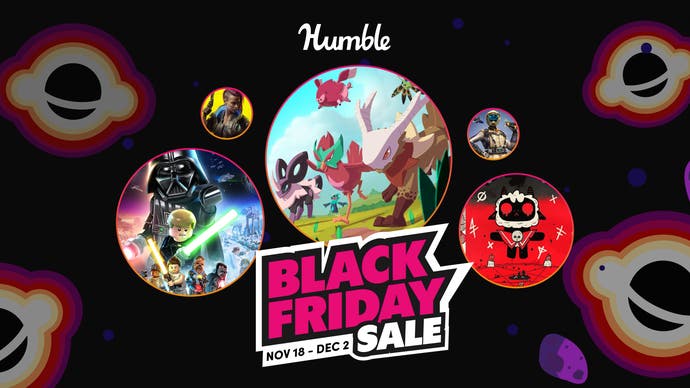 Humble Bundle has launched its Black Friday sale, offering incredible savings of up to 90 per cent on thousands of games, including a new flash deal every 48 hours. On this page we've highlighted their best Black Friday deals for cheap PC games so far.
And remember, if you're a Humble Choice member, you may be able to snag some extra discounts in the Black Friday Sale. Shoppers can also snag a
12 month Humble Choice subscription for just £89 right now with the code "HOLIDAY22"
.
Humble Bundle Black Friday sale 2022
The Humble Bundle Black Friday sale is running from 18th November until 2nd December so you've got a decent amount of time to snap up some bargains in the sale. You will, however, want to check their site regularly for their 'warp speed deals' aka flash deals.
Take a look below for some of the top games included in the sale.
Humble Bundle Black Friday game deals
| | |
| --- | --- |
| | Get every DLC and the base game for a fantastic price. |
| | Unlock the whole Anno 1800 experience for considerably less than its RRP. |
| | A 4X real-time strategy game where you must farm valuable spice and avoid losing your troops and harvesters to sandworms and your opponents. |
| | Play as mechanical masterpiece, Aegis, as you must save the French Revolution in this challenging action-RPG. |
| | Explore the galaxy in an epic voyage like none other for half the price. |
| | The game is still in early access but right now you can currently save 40 per cent. |
| | Get this open world adventure for half price. Explore the streets of Night City and hunt down the key to immortality as the character, V, a mercenary outlaw equipped with cybernetic enhancements. |
| | Save 45 per cent on the standard edition of Dying Light 2. The Ultimate Edition and Deluxe Edition are also making appearances in the Black Friday sale. |
| | This Ultimate Edition features all Special Edition Story Mode content, additional online content and free access to the Survivor Camp Theme. |
| | The Gold Edition comes with a season pass for three new DLCs that let you play as Far Cry villains. |
| | For only £7/$10, this is an absolute steal for such a story-rich fantasy RPG. |
| | Get 67 per cent off this fun co-op FPS with awesome space dwarves. Also available on PC Game Pass and Game Pass Ultimate. |
| | Enter the Norse world of Valheim where you must slay Odin's rivals and creatures of chaos. |
| | Grab 20 per cent off Temtem, which is described as a "massively multiplayer creature-collection adventure". Explore the six islands of Achipelegio and become a Temtem tamer. |
| | A usual suspect in most sales, but still a good'n if you haven't already played it. |
| | Join lawyer Ryunosuke as you gather evidence, battle in court and crack the case of each murder-mystery in this fun, witty and charming double pack of games. |
| | Play as a possessed lamb where you must start your own cult and build a community of woodland followers. |
| | Save 50 per cent on this fun Lego action-adventure game featuring your favourite characters and tales from all nine episodes of the Star Wars saga. |
| | Set off in the latest RPG adventure in the Tales series. |
| | The deluxe edition is currently the same price as the standard edition, which means you will receive a Streetwear Outfit Pack and Shinobi Outfit & Kunai Weapon for no extra cost. |
| | Save a couple of quid on this deathly charming platformer. Note it is still in early access right now. |
| | Explore 1960's Mother Earth as the groovy alien, Crypto, and take revenge on the KGB for blowing up your mothership. |
| | This beautiful game about transporting spirits to the afterlife is also available on PC Game Pass and Game Pass ultimate. |
| | Take 25 per cent off the latest expansion DLC for Monster Hunter Rise. You'll need the base game to be able to play this expansion, which is actually also on sale. |
| | Decide the fate of nine camp counselors in this cinematic tale. This game can also be played with up to seven friends. |
| | Save 25 per cent on the latest survival horror game in the Resi franchise. |
| | Grab this awesome JRPG for under £22/$35- that's a massive 75 per cent discount. The Ultimate Edition includes a Season Pass, digital art book, full soundtrack and more. |
---
There's so many more digital PC games on sale over at Humble Bundle right now, so do go pay them a visit and see if anything takes your fancy! We here at Jelly Deals are covering all kinds of gaming deals this Black Friday, but if you're looking for PC hardware and other PC accessories deals, make sure to check out more Black Friday guides over at our pals Digital Foundry and Rock Paper Shotgun, who are working hard to bring you even more of the best Black Friday deals.