Huge Final Fantasy sale on EU PlayStation Store this week
Darkness 2 and UFC 3 demos launch.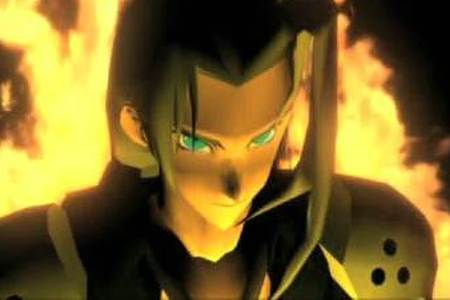 Sony has announced a wide-ranging Final Fantasy sale on the EU PlayStation Store this week, with nearly every early release in the series cut down in price.
With the exclusion of Final Fantasy 3, the entire numbered series up to Final Fantasy 9 is now available for just £3.99 a pop. PlayStation Plus members get an additional 10 per cent off that.
Final Fantasy 5 will be completely free for Plus subscribers on February 8th - "for at least a week", Sony told Eurogamer.
It is another quiet seven days for new content, however. Tentacle-infused shooter The Darkness 2 and mixed martial arts fighter UFC 3 both get PS3 demos, whie rotating water physics puzzler Puddle arrives alongside a downloadable version of last year's Duke Nukem Forever (also out on Xbox Live this week).
LittleBigPlanet 2 gets new Muppets costumes and levels, while Assassin's Creed: Revelations adds a multiplayer map pack.
The full list of content lies below, courtesy of the EU PlayStation blog.
PS3 Games
Duke Nukem Forever (£14.99/€19.99)
Pinballistik + DLC Bundle (£6.49/€7.99)
Puddle (£7.99/€9.99)
Special Offers - PS Plus members get additional 10% off
Dissidia: Final Fantasy (Was £14.99/€24.99 - Now £9.99/€11.99)
Dissidia 012: Final Fantasy - Prologus (Was £2.39/€2.99 - Now £1.19/€1.49)
Dissidia 012: Final Fantasy (Was £27.99/€34.99 - Now £13.99/€17.99)
Final Fantasy (Was £7.99/€9.99 - Now £3.99/€4.99)
Final Fantasy II (Was £7.99/€9.99 - Now £3.99/€4.99)
Final Fantasy IV: Complete Collection (Was £27.99/€34.99 - Now £13.99/€17.99)
Final Fantasy V (Was £7.99/€9.99 - Now £3.99/€4.99)
Final Fantasy VI (Was £7.99/€9.99 - Now £3.99/€4.99)
Final Fantasy VII (Was £7.99/€9.99 - Now £3.99/€4.99)
Final Fantasy VIII (Was £7.99/€9.99 - Now £3.99/€4.99)
Final Fantasy IX (Was £7.99/€9.99 - Now £3.99/€4.99)
Final Fantasy Tactics: War of the Lions (£7.99/€9.99 - Now £3.99/€4.99)
PlayStation minis (PS3/PSP)
PS3 Demos
The Darkness II Demo
UFC Undisputed 3 Demo
PS3 Add-Ons
Assassin's Creed Revelations - Mediterranean Traveler Maps Pack (£7.99/€9.99)
Disgaea 4 - Holt Village Map (£0.79/€0.99), Mao (£2.39/€2.99), Overlord Priere (£2.39/€2.99)
Elevator Action Deluxe - Additional Character - ARKANOID (Free)
The King of Fighters XIII - Unlock Colours (£2.49/€1.99)
LittleBigPlanet2 - Muppets Premium Level Kit (£4.79/€5.99)
Magic: The Gathering - Magic 2012 Beknighted Foil (£0.79/€0.99), Magic 2012 Beknighted Unlock (£0.79/€0.99), Magic 2012 Trinity Of Elements Foil (£0.79/€0.99), Magic 2012 Trinity Of Elements Unlock (£0.79/€0.99)
Motorstorm Apocalypse - Year Of The Dragon Livery (1 Week Only) (Free)
Warhammer 40K Space Marine - Death Guard Champions Skin (£1.59/€1.99), Iron Hands Veteran Skin (£1.59/€1.99), Dreadnought Assault Mode (£1.59/€1.99)
Rock Band
Rock Band 3 - Rush 2112 (£2.49/€3.99) (Includes the following, also available separately) 2112: Discovery, Presentation - Rush (£0.99/€1.49), 2112: Oracle: The Dream, Soliloquy, Grand Finale - Rush (£0.99/€1.49), 2112: Overture, The Temples Of Syrinx - Rush (£0.99/€1.49). Hall & Oates Pack 01 (£2.49/€3.99) (Includes the following, also available separately) I Can'T Go For That (No Can Do) - Hall & Oates - Rush (£0.99/€1.49), Maneater - Hall & Oates - Rush (£0.99/€1.49), Private Eyes - Hall & Oates - Rush (£0.99/€1.49). Lodi - Creedence Clearwater Revival - Rush (£0.99/€1.49), 2112: Discovery, Presentation - Rush (Pro Guitar) (£0.59/€0.79), 2112: Oracle: The Dream, Soliloquy, Grand Finale (Pro Guitar) - Rush (£0.59/€0.79), 2112: Overture, The Temples Of Syrinx (Pro Guitar) - Rush (£0.59/€0.79), Susie Q - Creedence Clearwater Revival (£0.99/€1.49), Private Eyes (Pro Guitar) - Hall & Oates (£0.59/€0.79)
Rock Band Network - The Way It Ends - Prototype (£0.59/€0.79), Ziltoidia Attaxx!! - Devin Townsend (£0.99/€1.49), Just A Game - The Blue News (£0.59/€0.79), Hold Me In Your Arms - The Trew (£0.59/€0.79), A Prophecy (Rb3 Version) - Asking Alexandria (£0.99/€1.49), Be Right Here - Mind At Risk ((£0.59/€0.79), Boy - Ra Ra Riot (£0.99/€1.49), Can You Tell - Ra Ra Riot (£0.99/€1.49), Easy Days - Free Spirit (£0.99/€1.49), Found Me The Bomb - Buckner & Garcia (£0.59/€0.79). Frankenstein Teaser Trailer - Richard Campbell (£0.59/€0.79)