HTC unveils three new versions of its Vive Cosmos VR headset
Say hello to the Play, Elite, and XR.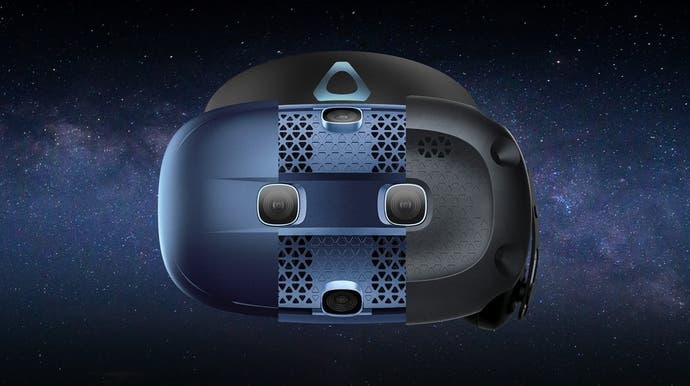 Half-Life: Alyx is just over a month away, and those looking to step into the heady world of VR gaming have a new range of options to consider courtesy of HTC, which has just unveiled three new iterations of its Vive Cosmos headset.
The original Vive Cosmos launched at the tail-end of last year, offering a high-end PC-based VR experience that, in terms of price at least, occupied the middle ground between Oculus' £399 Rift S and Valve's maxed-out £919 Index, coming in at £699.
Vive Cosmos' three new variations - the Elite, XR, and Play - all have the same 90Hz 2,880 x 1,700 LCD display as the original model, but each utilises its own (removable) faceplate, providing support for a range of different features.
At the lower end of the scale is the Vive Cosmos Play, an entry-level VR offering with a faceplate that supports four-camera inside-out tracking, as opposed to the six-camera set-up of the original Cosmos. At the upper end is the Cosmos Elite, whose faceplate features external tracking utilising two included base stations. Two Vive controllers are also provided.
Notably, the modular faceplate design of the Cosmos series means that owners can integrate a different feature set at a later date, regardless of the model they own, simply by purchasing and installing an alternative faceplate.
Last of the new models is the Cosmos XR, a mixed-reality headset in the vein of Microsoft's Hololens, featuring two pass-through cameras. This one's primarily intended as a development tool at present, and will debut in the form of a developer kit in Q2 this year.
There's no release date or price for the Cosmos Play just yet (although we know it'll cost less that the standard model Cosmos), but the Elite has an £899 price tag and is due to launch in the first quarter of the year, with preorders opening on 24th February.
Those eager to explore VR can peruse their available options more thoroughly in this handy guide created by Digital Foundry's Will Judd.