How to pre-order Steam Deck, Valve's handheld gaming PC
Pre-order requirements are in place to counter reselling.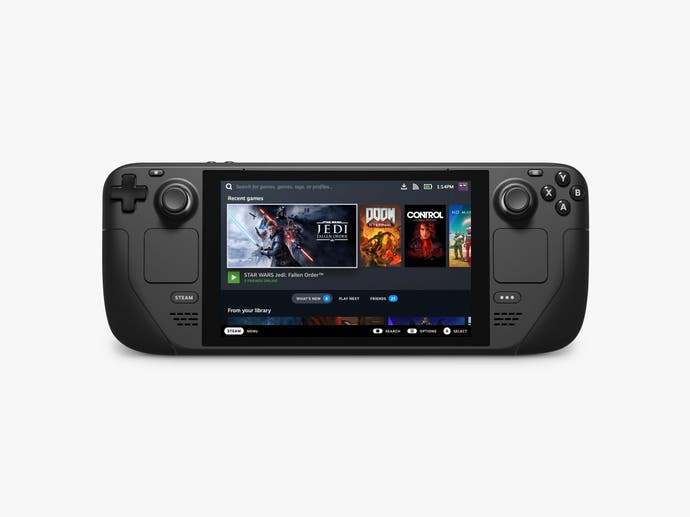 Pre-orders for Valve's handheld gaming PC, Steam Deck, open today, but getting your hands on the new device may prove difficult due to the measures that Valve has in place to deter resellers.
If you didn't catch yesterday's reveal, Valve calls Steam Deck "the most powerful, full-featured gaming handheld in the world." As well as being able to access your entire Steam library on the move, you can also stream video content, browse the web and install and access other PC software.
If you weren't impressed by the Nintendo Switch OLED reveal or you simply want more ways to churn through your Steam backlog, you can find out how and where to pre-order the Valve Steam Deck below. It isn't as straightforward as you might think...
Valve Steam Deck release date
All three versions of the Valve Steam Deck start shipping in December 2021 (no exact date has been provided yet) to customers in the UK, EU, US and Canada. The device is expected to release in other countries outside of these areas in 2022.
Where to pre-order the Valve Steam Deck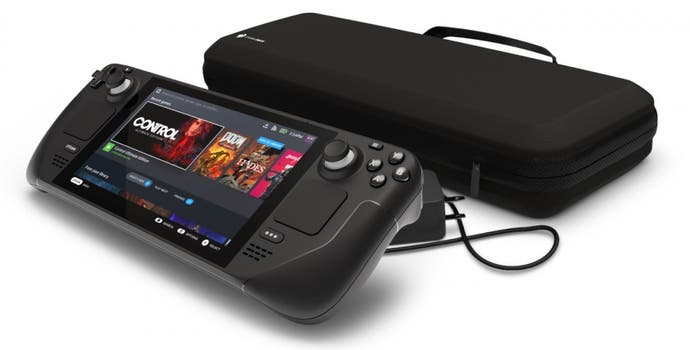 You'll be able to place a reserve order for the Steam Deck direct from the Steam website today (Friday 16 July) at 6pm BST/1pm EST/10am PDT. Reservations are limited to one per customer and carry a $5 fee which is taken off the balance of your total purchase when you place your order for the device.
If you're the type of person that needs constant reminders to do things, you can also visit the website now to set up a handy reminder email. And if you missed your opportunity to pre-order the device, the $5 will be added to your Steam balance.
How to pre-order the Valve Steam Deck
It's important to note that this isn't your typical, straightforward pre-order process. Notice the wording of reserve rather than pre-order. Reserving the Steam Deck is no guarantee that you'll be able to purchase it.
No other retailers are listing the Valve Steam Deck at the time of writing, but we'll be updating this page with links and pricing information for other outlets if they start stocking the device.
The reservation system places you into a queuing system where Valve will contact you when Steam Deck stock is available to purchase. You'll be contacted depending on when you placed your reservation, so if you reallywant one, get those reservations in quickly - if you can, that is...
Valve Steam Deck pre-order requirements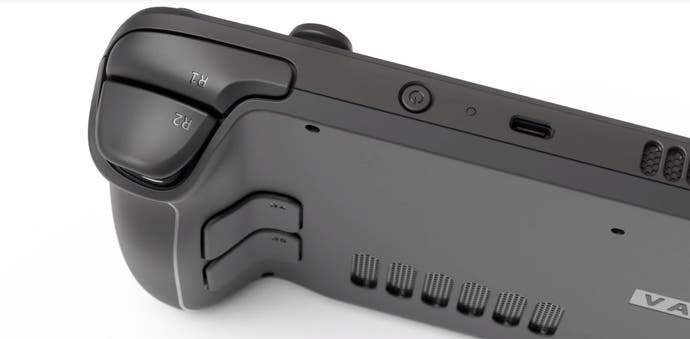 While reservations open for the Steam Deck today, you'll only be able to place a reservation in the initial 48-hour window if you've made a purchase on Steam prior to June 2021.
If you don't have a Steam account already, you'll have to wait until Sunday to get your reservations in, which will bump you further down the queue.
It's expected that demand for the Steam Deck will outweigh supply, and this measure is to prevent resellers buying bulk copies of the handheld device to sell at inflated prices.
Your Steam account needs to be in a valid region too. At the time of writing, these are the UK, EU, US and Canada. If you live outside of these areas, Valve's FAQs state information about expanded region support is "coming soon."
Valve Steam Deck price and models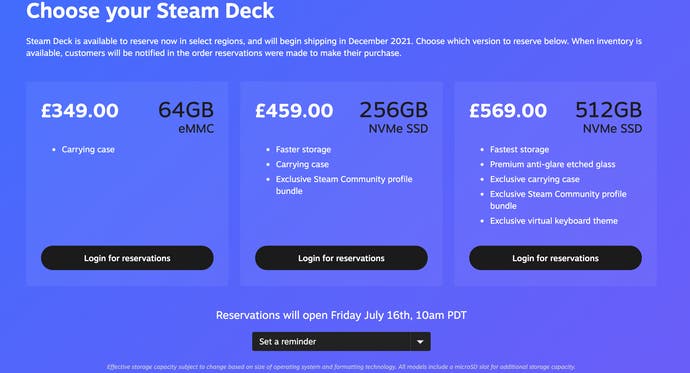 There are three main models of the Valve Steam Deck with prices ranging from £349/$399 up to £569/$649 and the cheapest version coming with 64GB eMMC storage. Performance is the same across all three models with Valve boss Gabe Newell revealing pricing the Vale Steam Deck has been difficult due to its specs.
The version up from that includes faster 256GB SSD storage for £459/$529 and a carry case and Steam community profile bundle, while the most expensive model comes with 512GB SSD storage, anti-glare etched glass and an exclusive virtual keyboard theme, as well as the carry case and community profile bundle.
Make sure you've put some time into thinking about which version of the Steam Deck you want. Once you've placed your reservation and you receive the invitation to pre-order, you'll only have access to the model you chose.
Valve Steam Deck specs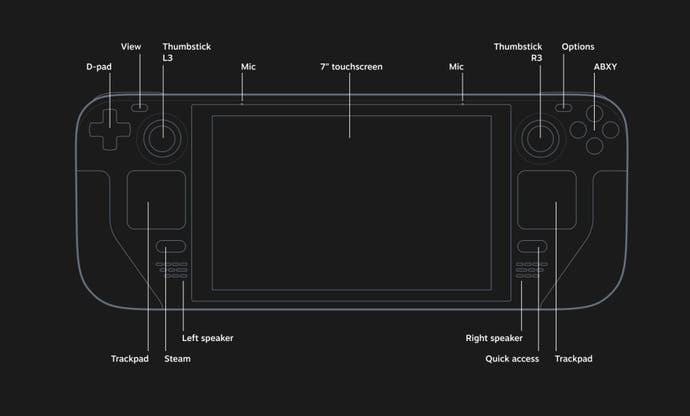 The Steam Deck is powered by an AMD APU processor with a quad core Zen 2 CPU and an AMD RDNA 2 GPU with 8 Compute units. There's 16GB of LPDDR5 RAM and all versions of the Steam Deck come with a high-speed microSD slot, and there are no other differences across the different models in terms of performance.
We expect the side-by-side comparisons with the Nintendo Switch to continue for some time. The Steam Deck features a 7" touchscreen display and there's even an official dock (sold separately) for video output to monitors, TVs and other devices.
You can take a more detailed look at the Valve Steam Deck's specs and layout by checking out our announcement coverage.
---
That's everything for now. We'd love to hear your thoughts on the Valve Steam Deck and who it will appeal to most. Is the lack of news around the Switch Pro enough to make Nintendo fans pick it up? What about the people that lack a decent gaming PC/laptop but have been looking for way into the Steam library? Let us know below.
And don't forget you can follow Jelly Deals on Twitter to keep up with the latest gaming deals and discounts, as well as regular updates on PS5 stock and Xbox Series X stock when it goes live.