How the world's greatest motor race is coming to video games this weekend
'The world of esports over the last few weeks has accelerated by a factor of many years.'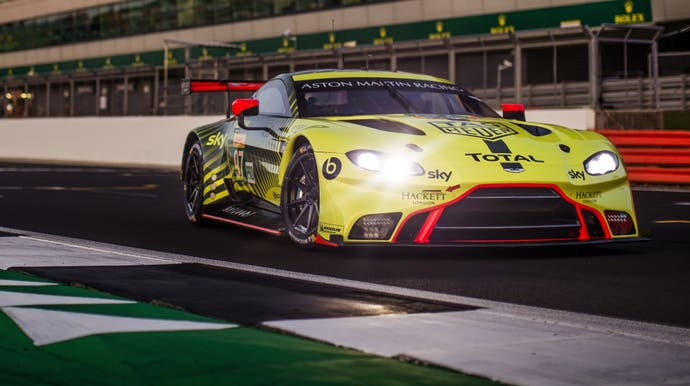 Around this time of year, like countless other Brits, I'd be packing up my car with a tent, a sleeping bag and a few crates of beer and making the drive across France to the greatest race of them all - in fact, I'd say it's one of the greatest sporting events of them all. But Le Mans, like every other big sporting event, isn't happening this June - for the first time since 1968, when civil unrest gripped France, the race has been pushed back to September. In its place, though, is something that promises to be pretty special - the Le Mans 24 Hours Virtual, an officially sanctioned esports event taking place in rFactor 2 in place of the traditional event this coming weekend.
It's undoubtedly the high point of what's been an exceptionally busy period for racing esports, where we've seen real-life drivers partake in outstanding virtual battles - and occasionally embroil themselves in controversy too. It boasts a driver roster that's the measure of any that have lined up at the Circuit de la Sarthe, with multiple winners of the real event such as three-time winners Andre Lotterer and Darren Turner, joined by double winner Fernando Alonso and F1 hotshots such as Charles LeClerc, Max Verstappen and Lando Norris. For motorsport fans starved of real action for some months, it's something to salivate over.
For organisers Motorsport Games, though, I imagine it's something to fret over - as someone who struggles to get a handful of mates together to run some hotlaps in iRacing, the idea of herding some 200 drivers, and relying on 200 different internet connections, has me breaking out in a cold sweat.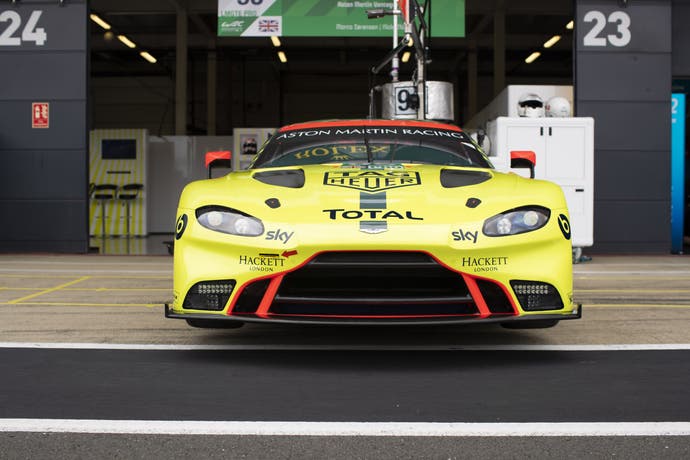 "Well, it's 200 drivers plus all their support staff, the team managers that are helping them, the race crews for strategy," Stephen Hood, president of race organiser Motorsport Games, tells me. "So, yeah, it's a rather large number. We're running the world's biggest esports race over the internet, you know, people connecting from home all over the planet Earth. There are multiple backups - we have a, Plan B, Plan C, plan D, we've worked our way through the alphabet, we've invented new letters. Because lots of things can go wrong."
Motorsport Games has quickly gained experience of running big events for established race series since lockdown began - it's had a hand organising Formula E and NASCAR events - but the Le Mans 24 Hour Virtual is on another level entirely, with Le Mans' organiser ACO putting its weight, and its workforce, behind the event. The Le Mans 24 Hour Virtual is being run from a hub in Paris, with a comms team you'll be familiar with from the real deal, and with WEC race director Eduardo Freitas taking up his usual seat for the virtual race. It's serious business, and the drivers are taking it very seriously indeed.
"The world of esports over the last few weeks has accelerated by a factor of many years," says Hood on some of the drama that has emerged through virtual racing in recent months. "Things have moved so quickly, and not all people's perceptions - even professional drivers - have advanced as quickly. If you're a professional driver, I can understand that - in real world motorsport, you take everything quite seriously because you're putting your life on the line. We like to think that there is serious competition in place - there are rules and regulations. There is an audience, and there are sponsors. Yeah, we take it seriously. It's a professional esport at times. So, it hasn't surprised me some of the antics and I don't mind them. I don't take the view that everything has to be hardcore serious. We have to instil that sense of professionalism and make drivers and competitors drive sensibly."
For racing drivers starved of action it's a welcome diversion. "Obviously this is fantastic that we have this opportunity within racing, especially when you see the manufacturers behind it so much," says Aston Martin's Nicki Thiim, a racing driver who's no stranger to the world of sim racing thanks to his various streams in the past. "But at some point, you do miss the power. You miss the force on your body, the adrenaline, the stress level. Everything that goes into being a racing driver."
Aston Martin teammate Darren Turner is another driver with considerable sim experience - having won the McLaren Young Driver Award in 1996 he found himself taking part in the teams' early experiments with driver-in-the-loop simulators and would later use that experience to establish his own company, Base Performance Simulators. "Consumer simulators have come on a long way," he says. "The level of immersion from the likes of iRacing and Assetto. Corsa means the enjoyment for drivers who do the real thing has increased."
How exactly does it compare to the real thing? "When you're driving in the real car, there are a million things giving you information about what the car's doing underneath you," says Turner. "All your senses are alive and you're getting all this information coming in through your body that tells you where the car is and what it's doing. Now when you're driving in the sense that we're driving this weekend, you've got what you see, what you hear, and what you feel through the steering. You've only got the three cues to go off, so you have to focus on those three elements even harder."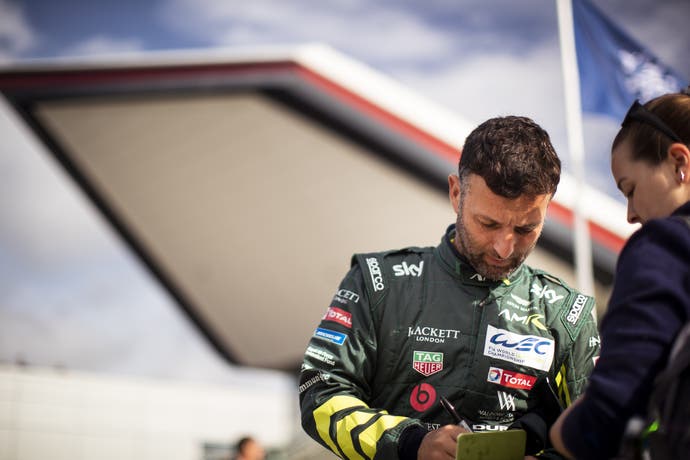 It's not necessarily any easier, and it means the Le Mans 24 Hours Virtual will be as much an endurance test as the real thing. "There will be a different type of fatigue," says Turner. "Mentally it might be slightly more tiring. You won't have the same level of adrenaline, but you still get a lot of the emotion from virtual racing, especially if you're taking it as serious as I think this weekend will be. From that perspective, I think we're going to be as focused as you would be at the race itself."
I'm certainly taking it seriously myself, getting in some cheap French beer to decant into my collection of Le Mans plastic cups and setting up camp in my garden to get a bit closer to the proper experience. As a replacement for the real deal it doesn't really get much better, though I do wonder where the newly emboldened world of esports will end up once real racing properly returns across the globe.
"I think we're going back to what our original intent was, which was to try and make esports more appealing and to build some structure around it," says Hood. "I've been incredibly pleased by the drivers' willingness to participate in these events. Somebody like Lando [Norris], he's in pretty much everything. It's been fantastic to see them doing that, even some of the older drivers that are coming back to try and compete. This would have never happened in any other climate. But I think it'd be foolish for us to imagine that that goes on forever. We know that that will reduce.
"And we have to concentrate on just using where we've got to today as a ramp for the future. Yeah. That's why we're capitalising on Le Mans. I would like to run similar events in future and build up some kind of rhythm to these major esports events so that they become a major fixture. But if we can, if we can use this as a platform to build a proper esports calendar in the future.I think it'll be just as entertaining as the real world, if not more so, because we'll be able to put new products into the pipeline and see how the drivers work across different types of games. It'll be fascinating, but there needs to be more consistency to it."
It'll be interesting to see where it leads, and what comes of the rapid acceleration racing esports has seen in recent months. For now, though, it's impressive how wholeheartedly the endurance racing community has embraced this event. When those 50 cars are winding their way through the Ford Chicanes on Saturday afternoon to the traditional sound of Strauss' Also sprach Zarathustra and the Tricolore is about to drop, I'm sure I'll just be thankful the great race has found a way to >endure.
The Le Mans 24 Hours Virtual kicks off at 2pm BST on June 13th - can find details of how to watch live over on Autosport.com.