How Crytek UK is relaunching Homefront on PC, PS4 and Xbox One
But what about TimeSplitters?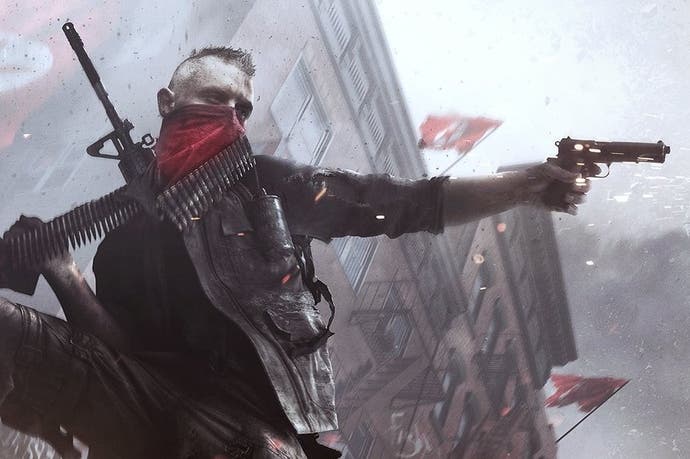 Crytek UK has announced that its Homefront sequel, now titled Homefront: The Revolution, will be released next year for PC, PlayStation 4 and Xbox One.
Set in an occupied Philadelphia, The Revolution is a CryEngine-fuelled open-world FPS with a focus on guerrilla warfare and optional online co-op for up to four players.
You play as a "freedom fighter", one of a growing number of civilians beginning to engage the Korean People's Army after four bitter years of occupation. The problem is that those in control have all the technology and guns, whereas you can only fight with the weapons and resources you scavenge or craft from your surroundings.
The Revolution is an entirely different beast to the original Homefront's linear, level-based structure and, apart from the basic premise of a North Korea-invaded USA, there's little else that links Crytek's game with its predecessor. And this is no bad thing.
The first Homefront gained developer Kaos mixed reviews for its work, before earning the studio a complete closure from its owner, publisher THQ. But the game sold well - a million copies in its first week - and Crytek UK was brought in to work on a sequel.
That was three years ago, THQ is now dead and, after acquiring ownership of the brand outright, the Nottingham-based branch of Crytek has been quietly building its new definition of Homefront ever since.
"There was quite a massive shift in how we were approaching Homefront," Crytek UK game designer Fasahat Salil tells Eurogamer. "We started off with THQ coming to us to work on the next Homefront. That was exciting because we saw the potential that Homefront had and could offer - we wanted to take that premise forward. But we were still working on a very linear scale where it was a level by level shooter.
"Once we acquired it after the whole THQ business in 2012 [when the publisher collapsed], that gave us the flexibility to push out from that and see how far we could take it. All of a sudden it was up to us how big we wanted the game to be - we were in full control of it. That was really exciting. It was then we made the call to make this a free-roaming world where the player isn't restricted by levels."
Walk through the game's version of Philadelphia and it's clear the game's inhabitants are suffering. Swathes of the city have been converted into ghettos, "Yellow Zones" where the KPA keep a close eye on the population and pass out a meagre supply of food rations. Surveillance drones constantly scan inhabitants for suggestions of wrong-doing, while KPA troops patrol on foot and whiz by in armoured vehicles.
Several of these zones exist in the city and Crytek is designing each to have their own feel. Then there are the Red Zones, lawless badlands which the KPA largely avoids. It's not confirmed, but it sounds like the danger here will be your fellow citizens. There's an "opulent" Green Zone too, where KPA officials have taken up residence.
The slice of gameplay we're shown has the player and three online friends take on a KPA checkpoint, a floodlit, armoured barricade surrounded by troops. One player runs off to activate an IED in the distance, with the resulting explosion drawing a large number of troops away from our position. Meanwhile, we're cobbling together a bomb strapped to a remote-controlled car. A quick crafting session later and our miniature vehicle is driving up to the checkpoint under the wheels of one of the KPD's own trucks. Once by the checkpoint it detonates, and the other players push forward to quickly mop up survivors.
"We have an entire story thread going that will push the story forward with big missions," Salil continues. "But apart from that - ambushes, assassinations, sabotage on KPA structure... we want to litter the world with stuff for people to do but focus it on guerrilla tactics. You can't just pick up a gun and start shooting people, you have to utilise the world around you.
"All of the content is geared around hit and run stuff. We want to get the player to do something and then melt back into the population - that's the essence of being a guerrilla fighter, you can't linger or you'll be hit back by the response."
While the game can be played alone, Crytek hopes that friends will buddy up to together, even if players are undertaking different activities in completely different parts of the map.
"If your buddies are in the world with you, you don't have to be doing the same thing," Salil explains. "The idea is that you come together to do something you all want to do - if you come across a mission you think is cool, or want someone to help you out." If your friends want to do their own thing then that's fine too, and gameplay will be balanced so you're not at a disadvantage.
More of the game will be shown off at E3, but for a first look at what was previously a dormant franchise, this introduction to The Revolution is certainly worth shaking off your preconceptions for and taking notice. Think of it not as a Homefront 2, then, but as Crytek UK's take on the open-world shooter genre.
"The original game did have its flaws, there's no secret about that. It didn't quite reach the level that people were hoping for but it did come out of nowhere," Salil concludes. "It was the same for us, as players, we said 'wow, this is a really interesting premise'. We realised we'd be able to put our own stamp on it."