Housemarque's new multiplayer game Stormdivers sounds like a battle royale
"That's a very good assumption."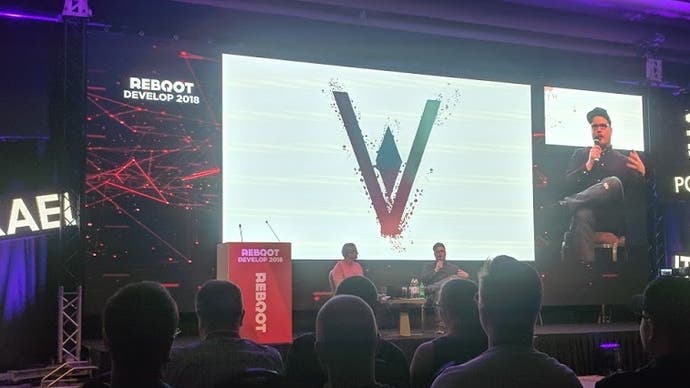 The first game of Housemarque's post-arcade future will be Stormdivers, a multiplayer game.
A very brief video was shown during Housemarque's Reboot Develop 2018 talk today (embedded below - skip to 45 minutes). The trailer shows a moody forest with some basic structures in and a storm raging through it.
Housemarque said Stormdivers began as a concept three years ago and had been in production for two. It is multiplayer-focused and made in Unreal, but the studio gave no detail beyond that. I found out more, however, speaking with head of publishing Mikael Haveri afterwards.
And it sounds like Stormdivers will be a battle royale game.
"You can compare it to a lot of the multiplayer experiences you have now," Haveri told me, which I remarked sounded like Housemarque was doing a Fortnite game - a battle royale game. "That's a very good assumption," he replied.
"Right now we are saying it is multiplayer. It's a very competitive environment, specifically with those types of titles. How can you even compete? We know what we do and we've been making something for quite a while. Hopefully it will be able to compete."
PC and consoles are the focus for Stormdivers, probably one before the other to see if the game works first, and it could be released this year.
"We've been playing it for almost two years now," Haveri said. "Internally we've been perfecting the gameplay part of it and now we need to catch up with the stuff we haven't been able to focus on" - things like art polish.
"It's not far away but we're not in a hurry to push it to market before it's done. Hopefully still this year but maybe, to be cautious, we shouldn't say it's going to be this year."
What actually is Stormdivers? Haveri wants it to remain mysterious but said the trailer was "a very blatant tease". "We're giving you a lot of what to expect," he said. "Most of your expectations and first ideas [your hunches] will probably be on the money.
"It's fast, very gameplay centric," he added. "We hope when people pick it up they start feeling good. We want there to be adrenaline, we want them to be moving, we want them to be really getting into it - a fast experience where you have to go outside and take a breather from it. Couple that with visual flair; you play Resogun, you see all this stuff exploding and going off - that's what we're bringing to the multiplayer. This is a Housemarque take."
There's no publisher or partner for Stormdivers yet, although that might have already changed over the course of Reboot Develop 2018, and no business model locked down. But Housemarque is treading very carefully so as not to "swindle" players.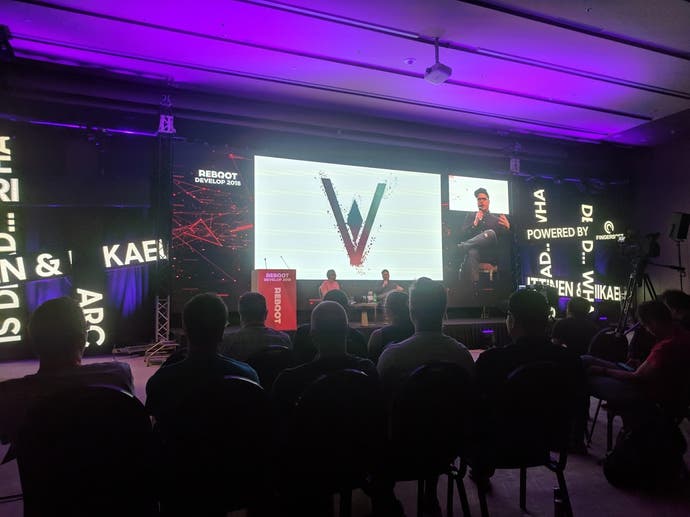 Stormdivers isn't the only new game Housemarque has in the works. Around 20 people are making Stormdivers but there is another, bigger, triple-A game in development too.
"Definitely triple-A comes with a lot of connotations," Haveri said. "Especially coming from where we do it seems like an insane leap - and that's what it's going to be."
He wouldn't say how long the bigger game has been in development but suggested it was further off. "We're going to be able to pull off some surprises for sure," he said, "but definitely right now we're focused on Stormdivers."
He concluded: "This is like the renaissance of Housemarque. It's very exciting internally. We've been able to, we feel, perfect some of these formulas we've done in the side-scrolling and top-down genres, and now it's how do we take on the other stuff? How do we really make an impact, and how do we make it so people will say 'oh that's Housemarque'?"