Hotshot Racing looks to capture the spirit of London's Trocadero in the 90s
It's taken Ages.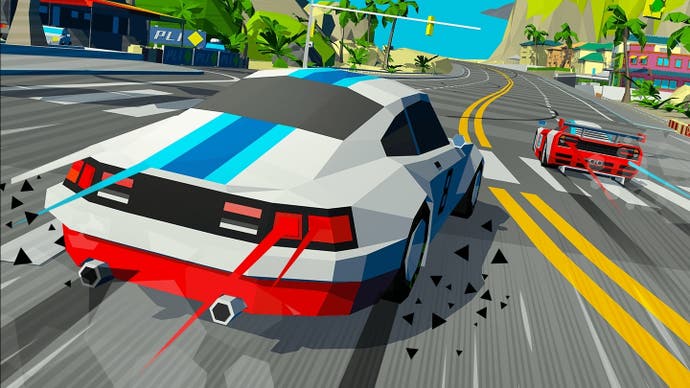 If you lived within a 20-mile radius of central London in the 90s and had any interest in interactive entertainment, there was only really one game in town. London's Trocadero was a mecca not only for video games, but a very particular, very 90s brand of video game: Sega's big, brash arcade racers, the likes of Sega Rally and Virtua Racing becoming an indelible part of so many childhoods. It's no wonder so many of us still pine for these glorious things.
They all played a big part in the childhood of Trevor Ley, a young kid who got the racing bug at Brands Hatch and did all he could to get a taste of the action at what was then known as Sega World. Having later carved out a living making racing games at EA, Rockstar and Sony's London Studio, and working on the likes of Burnout and Midnight Club, it's something he's been keen to return to ever since.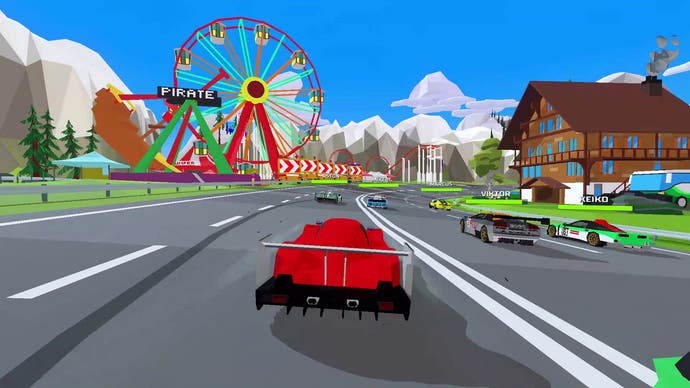 "I wanted to do something that brought back the feeling of the arcade games back in the 90s, because I used to skip school and go to Trocadero to play games like Virtua Racing, Hard Drivin', Daytona USA, Sega Rally," he says. "Driving games were basically the ones for me."
For coming up to 10 years, Ley's been working with his small team at Lucky Mountain Games to make that happen, and his work is finally approaching the finishing line. You might have noticed something familiar about Hotshot Racing, which broke cover late last month and is due for release on Xbox One, PlayStation 4, PC and Switch sometime later this spring. And that's because Hotshot Racing began life as Racing Apex - and it began life some 10 years ago.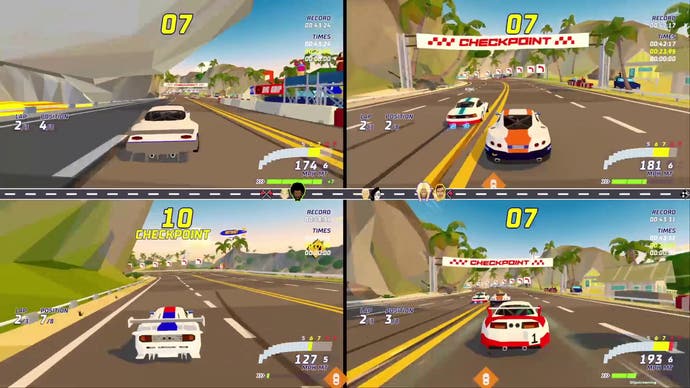 "The plan back then was to go on mobile," says Ley, "because that was a time when iPhones had become quite popular." And so Racing Apex started pitched to iOS devices, built on Unity. An awful lot has changed since then.
Racing Apex had more than a dash of those Sega classics with its low-poly look and supercharged 90s soundtrack, but it folded in some other influences too: there was a focus on combat, and on destructible vehicles, suggesting some Interstate 76 and Chase HQ had also found their way into the mix. Then there was a shift away from mobile and towards PC with an ultimately unsuccessful crowdfunding campaign in 2016, and then everything started to go a little quiet.
That's partly because, behind the scenes, something super-exciting was happening as Racing Apex changed direction once again. "It evolved quite a lot," says Ley. "I think with the amount of time that it's taken, it's sort of been honed down, a little bit like grains of sand going through an hourglass. It's been filtered down to what it is now; a supersonic racing game first and foremost, with the kind of handling that you would expect from something that was inspired by Daytona or Out Run."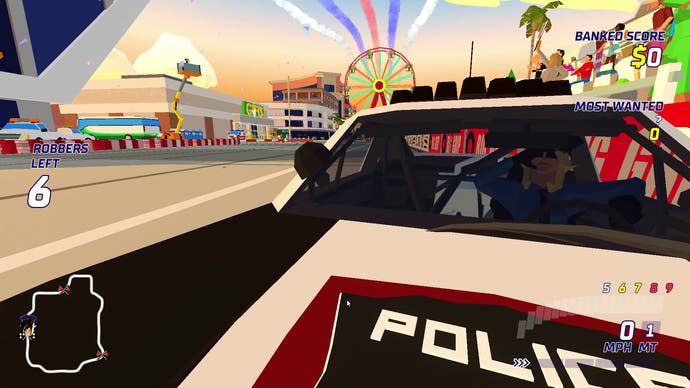 Perhaps the most sizeable development, though, was the introduction of another developer into the mix. Back in 2018, Sumo Digital - veterans of the arcade racing genre, having first helped bring OutRun 2 to home consoles before working on Sega's exemplary Sonic Racing series - came onboard to help bring Racing Apex home.
"When we first saw the build of the game that Trevor presented to us, I think for a lot of the guys here because we've got that racing heritage and, and the driving experience, we just fell in love with it," says Tom Turner, development director at Sumo Digital. "You could see the potential there, and what this could become. We just thought that this could be a really, really cool project that we could apply our expertise to."
The name's changed to Hotshot Racing, but plenty more has been tweaked too - the most fundamental shift being the move away from Unity and onto Sumo Digital's in-house engine as the game was rebuilt from the ground up at the company's Nottingham studio. It's set to hit 60fps on all platforms too - something that Team Sonic Racing was unable to do on the Switch, but something that Hotshot Racing can achieve thanks to its simpler visuals.
Sumo Digital also helped expand the idea, introducing several new modes built around broader concepts such as elimination or cops and and robbers - all of which look like they benefit from the same kind of leftfield approach to the fundamentals of arcade racing that made the further reaches of games like OutRun 2006: Coast 2 Coast such a joy.
What should make it special, though, is the attention to detail and the amount of passion for the subject that simply drips from the screen. It's a passion shared by the entire team - the composer of Hotshot Racing's upbeat soundtrack has their own Virtua Racing twin cabinet, which has been put through its paces in the name of research. It's a passion surely shared by anyone who ever excitedly spent a pocketful of pound coins at London's Trocadero, and Hotshot Racing looks utterly faithful to the spirit of one of gaming's great lost places.