Horizon Zero Dawn Complete Edition coming to GOG next week
And of course it's DRM-free.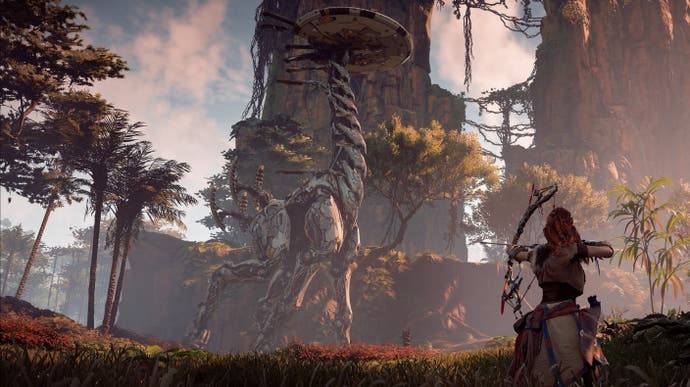 Horizon Zero Dawn Complete Edition launches on GOG on 24th November 2020 with full GOG Galaxy 2.0 features support.
Sony's once PlayStation 4 exclusive game launched on PC via Steam and the Epic Games Store in August. As you'd expect of a GOG release, Horizon Zero Dawn Complete Edition launched on the platform DRM-free. Horizon on Steam uses Valve's in-built DRM. There's no DRM on the Epic Games Store version.
Guerrilla's action adventure is the first first-party Sony game to launch on GOG as part of its recent push on PC. On the platform, Horizon is published by PlayStation Mobile, Inc., which is also the publisher of Helldivers, Guns Up!, Everybody's Gone to the Rapture, and Arrowhead Ultimate Co-Op Collection on Steam.
Things have gone a little quiet on the PlayStation games on PC front - perhaps understandable as Sony focuses on launching the PlayStation 5. Back in late August, Sony said it would continue to release first-party PlayStation games on PC after Horizon. PlayStation has largely ignored PC over the years, instead focusing on creating exclusives for its consoles.
"We will explore expanding our first-party titles to the PC platform, in order to promote further growth in our profitability," Sony said in its report.
That means more PlayStation exclusives are coming to PC. But what? Media Molecule's Dreams seems like a safe bet. But could the likes of Insomniac's Spider-Man also come to Steam? Will PS5 games such as Spider-Man: Miles Morales, Demon's Souls, Ratchet & Clank: Rift Apart and Horizon Forbidden West also come to PC eventually?
Back in March 2020, PlayStation Worldwide Studios boss Hermen Hulst explained the decision to port Horizon to PC, saying it was about introducing more people to PlayStation.
"I think it's important that we stay open to new ideas of how to introduce more people to PlayStation, and show people maybe what they've been missing out on," he said.
However, Hulst insisted Sony does not intend to follow Microsoft's lead and release all its games on PC and console at the same time.
"And to maybe put a few minds at ease, releasing one first-party AAA title to PC doesn't necessarily mean that every game now will come to PC," he said.
"In my mind, Horizon Zero Dawn was just a great fit in this particular instance. We don't have plans for day and date [PC releases], and we remain 100 per cent committed to dedicated hardware."
Back to Horizon on GOG - it's probably a good time to pick the game up if you're interested, now Guerrilla has a series of patches under its belt following the game's rough launch.