Hollow Knight's final free expansion Gods & Glory is unveiled in new teaser trailer
Plus a first look at the game running on Switch.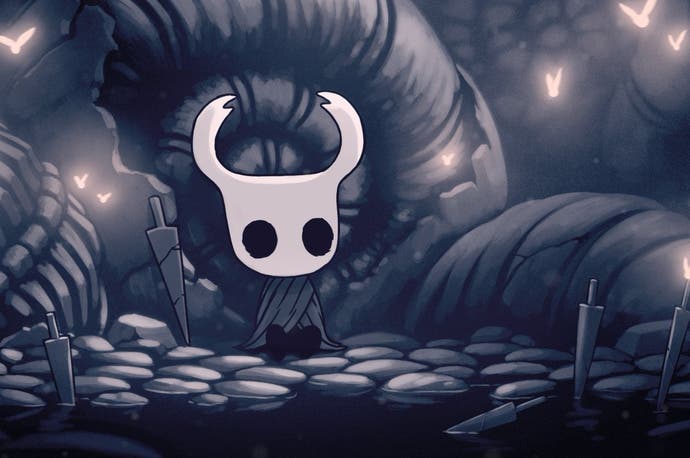 Gorgeous bug-based exploration adventure (or Metrdoidvania, if you will) Hollow Knight is due to get one final, free expansion update soon - and developer Team Cherry has offered up a new teaser trailer in anticipation of its arrival.
Hollow Knight's final expansion, Gods & Glory - AKA Content Pack 03 to Kickstarter backers - follows on from last year's substantial freebies The Grimm Troupe and Hidden Dreams.
It introduces a new character and quest, more boss fights, a new game mode, and special Glorify Charms. "Track down this disturbing yet alluring being, break her chains and aid her in an ancient duty", says Team Cherry of new character The Godseeker.
As for boss fights, the developer is being wilfully vague at present. "Hallownest's greatest warriors raise their blades," it says, "Prepare yourself for giant new boss fights against the ultimate foes. Each new battle intertwines with the Godseeker's quest." The new game mode, meanwhile, is something "long requested" and a "classic for the genre", and those hoping for information on the new Glorify Charms are completely out of luck for the time being.
Gods & Glory is due to arrive "early 2018" and will be free to all players. And that will soon include those on Switch. Team Cherry announced Hollow Knight for Switch last January. However, as November rolled around, it admitted that development had proven more complex than expected on Nintendo's platform, moving release to the early part of this year.
A proper release date for Hollow Knight on Switch still isn't forthcoming, but Team Cherry has provided the next best thing - a first look at the game running on the console. "We're now hitting our frame-rate targets (Gotta go 60!), load targets and cleaning up lots of little niggling bits alongside some serious testing", it says.
When Hollow Knight finally arrives on the platform, it will include the The Grimm Troupe and Hidden Dreams expansions at launch; Gods & Glory will release for free at a later date, due to the team's current workload. "As much as we'd have loved to sneak the new content pack in ready for Switch launch," explained the developer, "we'd kill ourselves in the process."