Here's your first look at Cyberpunk 2077 running on PS4 Pro and PlayStation 5
Featuring some early Nomad Lifepath gameplay.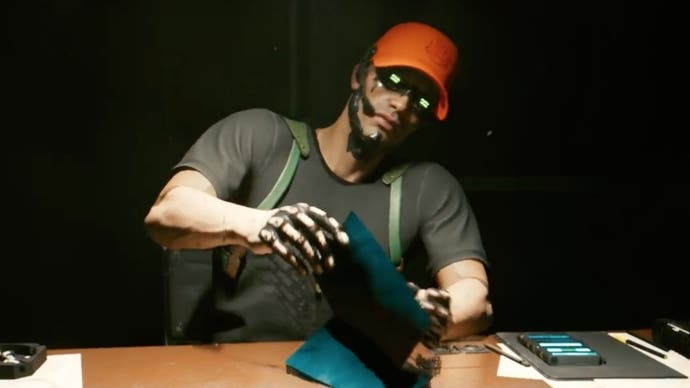 Hot on the tail of last week's first look at Cyberpunk 2077 running on consoles, courtesy of Xbox One X and Xbox Series X, developer CD Projekt has released a second helping of console gameplay, this time focusing on PS4 Pro and PlayStation 5 via backward compatibility.
For its latest trailer, CD Projekt has opted to showcase a section of gameplay from right at the start of the adventure, focussing on an early portion of the Nomad Lifepath, one three Lifepath options (alongside Streetkid and Corpo) available in-game. Notably, some of this footage was leaked online over the weekend, but it's much better served by this official gameplay capture.
CD Projekt's preamble begins with a glimpse of Cyberpunk 2077's character creator (remaining strictly PG and firmly above the collarbone for this PlayStation showing) and a brisk vehicular tour of Night City as seen on PlayStation 4 Pro.
The game's Nomad storyline gets properly underway, however, with some first-person car tinkering and conversation out in the Badlands beyond Night City's perimeter; then, after a bit of a detour, we're back in the city itself, where some initially leisurely first-person driving and sightseeing escalates to a gun-toting car chase through the rain-drenched streets.
All in all, it's a considerably more engaging selection of footage compared to last week's rather stately meandering through Night City, which offered plenty of opportunity to admire CD Projekt's environmental work but not much else.
Of course, it's disappointing CD Projekt still isn't showing Cyberpunk 2077 running on either the base PlayStation 4 or Xbox One - particularly given development for the machines is said to have contributed to Cyberpunk 2077's most recent delay - but there's no denying that it's a looker on PlayStation, and that's even without the full next-gen update, which is scheduled to launch on PS5 and Xbox Series X some time next year.
Expect the reveals to continue as CD Projekt ramps up for Cyberpunk 2077's long-awaited Xbox, PlayStation, and PC release in less than three weeks time, on 10th December.