Here's what Overwatch's gravity manipulating new hero Sigma can do
Available now on the PTR server.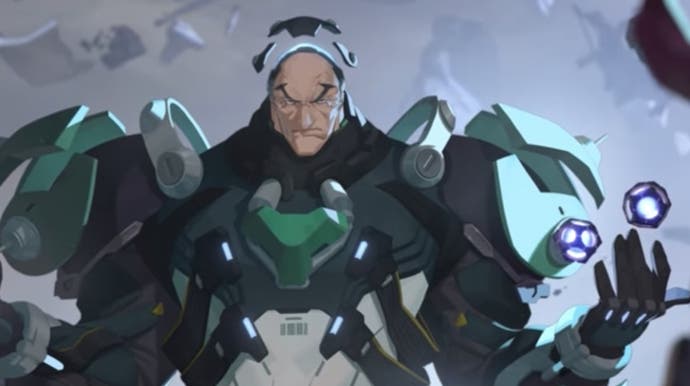 UPDATE 24TH JULY: There's no official gameplay footage of Sigma but renowned Overwatch pro Seagull has taken him for a spin, demonstrating - with considerable skill of course - what the new character is capable of.
ORIGINAL STORY 23RD JULY: Following on from yesterday's official unveiling, Blizzard has now detailed exactly what Overwatch's 31st hero - the gravity manipulating astrophysicist Sigma - will be able to do on the abilities front when he arrives in-game soon.
First a quick backstory recap: Sigma (real name Siebren de Kuiper) is brilliant scientist from the Netherlands, with a particular interest in astrophysics.
One fateful day, however, an experiment to harness the power of a blackhole goes horribly wrong, and Sigma wakes in a secret government facility, quarantined, suffering severe psychological damage, and, as luck would have it, imbued with strange gravitational powers. Enter terrorist organisation Talon to bust him out, and here we are today. There's even more on Blizzard's Sigma reveal page if you just can't get enough of that backstory stuff.
Which is great and all, but how does he play? Speaking in a new developer video, Overwatch game director Jeff Kaplan has now shared more, revealing that Sigma is designed as a barrier-focussed tank character, with a host of distinct abilities.
While the likes of Winston and Reinhardt also come equipped with barrier moves, Sigma's floating Experimental Barrier is somewhat unique. It can, for instance, be deployed to different locations and at different angles (or can be dismissed at will) in order to help team mates.
According to Kaplan, this can be used to push through challenging choke points, found on the likes of the Volskaya Industries map. Additionally, thanks to its angling ability, the barrier can be used to bounce back, say, Pharah's Ultimate, killing her instantly.
Sigma's main weapon, meanwhile, is the Hydrosphere. This fires off a two-round burst of very-short-distance "gravitic charge" projectiles. Each charge can bounce off a surface one time and will do proximity damage (incorporating a slight gravitational pull) within a sizeable radius once at its final destination. Kaplan notes that the Hydrosphere's unique properties mean that players can perform trick shots around corners or under angled shields.
As for Sigma's primary ability, that's the new defence-based Kinetic Grasp. When deployed, Sigma will hold out his hand and unleash a slight field effect, able to catch all incoming damage and transform it into protective shields for himself. Kaplan says the limit is currently set at 400 shields, although this may be tweaked over time.
Sigma's offensive utility ability is Accretion, enabling players to form a mass of earth out of thin air, then thrust it at enemies to cause tremendous damage and knock them down. While devastating, Kaplan notes that the move is telegraphed, and can be avoided by observant sorts.
Lastly, Sigma comes equipped with the Gravitic Flux Ultimate, in which he takes flight to target a large area on ground, with the aim being to catch as many enemies in its radius as possible. Once the move is triggered, everyone trapped within is propelled upward and suspended in the air for short time, leaving them vulnerable to incoming fire. At the end, players crash to the ground and receive fall damage of about half their max health on impact. Thankfully, this move is also telegraphed and avoidable.
Although Blizzard hasn't yet released footage of Sigma in action, Overwatch's 31st character is now available for testing via the game's PTR server on PC. There's still some tuning and balancing to be done, but Kaplan says that Sigma is expected to arrive in Overwatch's live game on PC and consoles "very soon".