Here's Sony's Last of Us Part 2 limited edition PS4 Pro and controller bundle
And there's a matching headset and hard drive.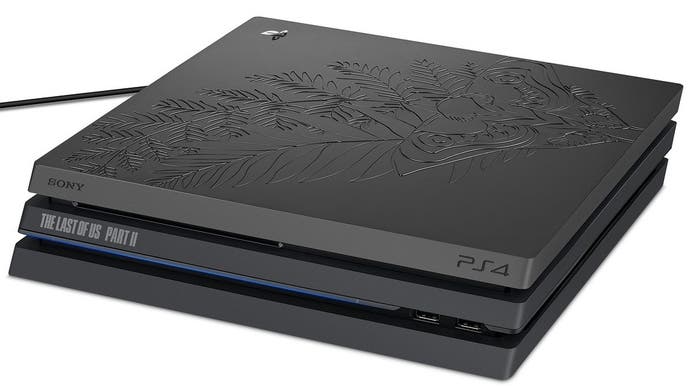 Should you suddenly discover a yearning void within your being when you finally sit down to play The Last of Us Part 2 in June - one that can only be satisfied by playing The Last of Us Part 2 upon a specially branded The Last of Us Part 2 PlayStation 4 Pro and controller - then Sony is here to help. Because it has announced these things.
The newly revealed Last of Us Part 2 PlayStation 4 Pro bundle is a limited edition affair and will launch alongside the game on 19th June. Its shimmering centrepiece is the customised PS4 Pro, which features a matte finish and comes engraved with Ellie's distinctive fern tattoo.
That motif is carried over to the accompanying DualShock 4 wireless controller, which features a truncated version of the fern design on its lower right-hand side. Adding the final touches are white detailing and the game's logo, slapped prominently upon the touchpad.
In addition to the hardware, Sony's limited edition bundle features a code for various bits of digital content - such as a Last of Us Part 2 dynamic PS4 theme and avatar selection - and, you'll perhaps be relieved to hear, a physical copy of the game is included too.
Away from the bundle, Sony is promoting two extra bit of similarly themed hardware; there's a "steel black matte" wireless headset emblazoned with Ellie's fern squiggle, and an officially licensed Last of Us Part 2 Seagate 2TB Game Drive, which features the same botanical flourish alongside a gargantuan Last of Us Part 2 logo, obliterating any pretence at subtlety.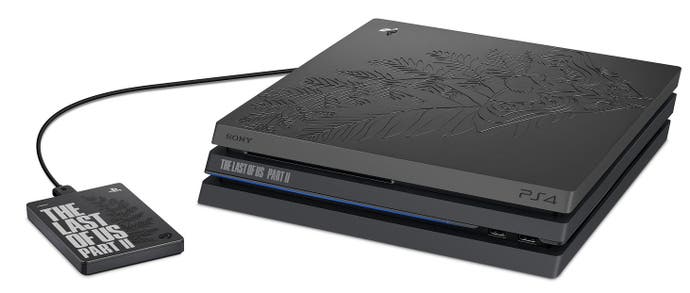 A glance around the internet suggests the Last of Us Part 2 PS4 Pro bundle will cost around £349.99 in the UK, while the controller can be purchased separately for £49.99. The wireless headset is £77.99, and the Seagate hard drive doesn't yet appear to be available.