Here's everything else shown during today's Xbox Series X livestream
Bloodlines 2! Scorn! Scarlet Nexus! More!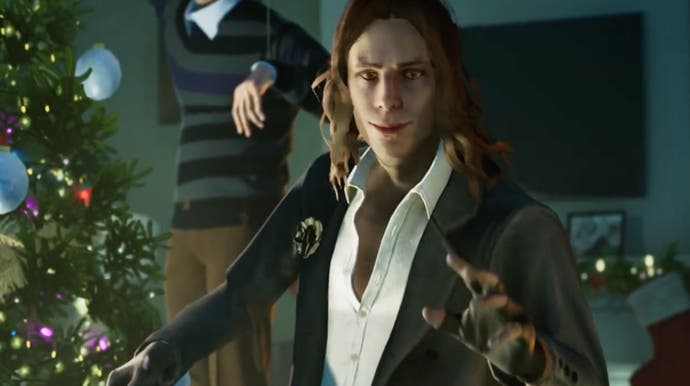 Just as it promised, Microsoft has shown off the first batch of Xbox Series X gameplay footage (although in some cases, you might prefer the term "gameplay" footage) from a broad array of third-party titles coming to the console for its "holiday 2020" launch and beyond.
We've highlighted some of these elsewhere - namely, Assassin's Creed Valhalla, Yakuza: Like a Dragon, The Medium, Dirt 5, Call of the Sea, and Chorus - but, for the sake of completion, and because a lot of the below looks promising too, here's everything else that got shown.
The Ascent
The Ascent, developed by Neon Giant and published by Curve Digital, is a solo and co-op action RPG (and an Xbox Series X console exclusive) set across the rain-slicked, neon-drenched streets of The Ascent Group arcology - a self-contained corporate-run metropolis. When the city's automated security systems go haywire following a series of catastrophic events, players set out on a journey of looting, shooting, and body modifying in order to make things right.
Bright Memory Infinite
Bright Memory: Infinite is an "all-new lightning-fast fusion of the FPS and action genre" from developer FYQD-Studio. Its eye-catching slide-y/slash-y/shoot-y action unfolds in the year 2036, where the Supernatural Science Research Organization is investigating a sprawling futuristic metropolis in search of answers to a mysterious phenomena darkening the skies.
Scarlet Nexus
Bandai Namco's Scarlet Nexus is a new RPG that's being designed by former members of the team behind the acclaimed 'Tales of' series. This one's set in the far flung future city of New Himuka, where humans have developed extra-sensory powers. Those skilled enough - which includes protagonist Yuito Sumeragi - are now caught up in a battle to defend the planet from deranged brain-chomping mutants known as Others.
Scorn
Scorn, developed by Serbian studio Ebb Software, has being doing the rounds for years, having first been unveiled back in 2016. It's a first-person adventure offering a mix of puzzles and shooting, that's immediately notable for its striking, unsettling aesthetic - one almost wholly indebted to the work of artist H.R. Giger. Eurogamer's Ian Higton explored an early demo build of Scorn in 2017 and wasn't too impressed with the game beneath those visuals, but there's been ample time for substantial improvements since then.
Second Extinction
Second Extinction is the work of developer Systemic Reaction, part of the newly formed Avalanche Studios Group, and is a co-op focussed first-person shooter that sees teams of three heading online, hoisting weapons, and preparing to defend the Earth from hordes of mutated dinosaurs. At the start of each game, players pick a mission, define their load-out then step out onto the planet's surface for some dino-slaying mayhem. Spoils of missions can be used to purchase new weapons and upgrades, and then the whole process starts over again.
Vampire: The Masquerade - Bloodlines 2
Paradox Interactive's Vampire: The Masquerade - Bloodlines 2 resurfaces with a splendid new trailer whose grotesque Christmastime imagery is going to take quite a while to wriggle its way out of my brain. This one, of course, is the sequel to developer Troika Games' cult classic (and notoriously wonky) 2004 acton-RPG. Hardsuit Labs is taking the reins for this promising follow-up though, which casts the player as a newly turned thinblood vampire in 21st Century Seattle.