Here's everything announced in tonight's Nintendo indie showcase
Grindstone! Hades! Manifold Garden! More!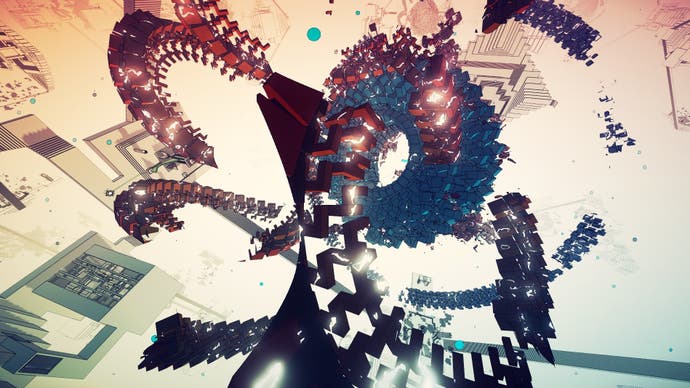 It might not have had the distinction of being one of Nintendo's big-boy Directs, but tonight's indie showcase for Switch still managed to pack in a bunch of great surprises. Old favourites, such as superb underwater horror Subnautica, were announced to be making their debut on Nintendo's platform, there were some striking exclusives, and even a gaggle of 'Surprise! Available nows!' for those impatient sorts in the house. Should you not have time for the full 20-minute livestream, though, here's everything that put in an appearance.
Hades
Supergiant Games' greek-mythology-inspired rogue-like dungeon crawler Hades - in which the immortal prince of the underworld attempts to escape from hell - is coming to Switch this "autumn". Pleasingly, it'll feature cross-saves with the PC version.
Hypnospace Outlaw
Hypnospace Outlaw, the wonderfully strange internet sleuthing experience from developer Tendershoot, is coming to Switch - as well as PS4 and Xbox One - on 27th August. Its delirious lo-fi journey, which unfolds entirely in a fictitious online world inspired by the World Wide Web of the 90s, was certainly memorable on PC - and those hoping to try before they buy can check out a demo on Switch right now.
Spiritfarer
Spiritfarer, developer Thunder Lotus' "cosy game about dying", is out now on Switch, as well as a bunch of other platforms. It's well worth investigating too, according to Eurogamer contributor Malindy Hetfeld, who had very good things to say about the experience in her review. There won't be a dry eye in the house.
Manifold Garden
Here's another Eurogamer favourite; Manifold Garden, the dazzling, gravity flipping puzzler from developer William Chyr, makes a surprise Switch (and PS4/Xbox One) debut. This one's a real treat - its sumptuous, impossible spaces as mesmerising as its puzzles are ingenious - and Eurogamer even named it one of the best games of last year.
Garden Story
Garden Story is a "wholesome action adventure" that casts players as a newly appointed guardian (and also grape) who must rebuild a community. That's done both literally, by gathering building resources, and by forming bonds to bring the locals together - all in order to "stave off rot and reunite the grove". Eurogamer's Christian Donlan was rather taken with Garden Story when he played a demo in March, and the full game comes to Switch next year.
Subnautica and Subnautica: Below Zero
Unknown Worlds is bringing its brilliant underwater horror adventure - which combines survival mechanics with story and a wonderfully realised alien ocean world - to Switch next year. And that's not all! Subnautica's Arctic-themed sequel, Below Zero, will also be making the jump to Nintendo's platform in 2021.
Takeshi and Hiroshi
Takeshi and Hiroshi by Oink Games casts players as Takeshi, a young developer, who is trying to keep his younger brother - you guessed it, Hiroshi - entertained with the latest chapter of his game. It sports a super-cute stop-motion aesthetic, combined with a more traditional 2D look as the action moves into Takeshi's video game fantasy adventure - which players will need to manipulate in order to keep Hiroshi happy. This one is out now.
Raji: An Ancient Epic
Nodding Heads Games' Raji: An Ancient Epic is a striking acrobatic action-adventure in which players must defend the world against the forces of the mighty demon lord. It's heavily inspired by Indian culture, architecture, and mythology, and promises intense action built around combat with Divine Weapons. It's a timed console exclusive on Switch, and it's out now.
Bear and Breakfast
There's something for management game fans in Gummy Cat Studio's Bear and Breakfast. This one asks players, in the role of Hank the bear, to manage their own bed and breakfast, turning a dilapidated shack into a thriving business. That involves decorating rooms, attracting customers, and managing guests - and there appears to be a few wrinkles to the formula, courtesy of the mysterious inhabitants of the nearby forest. It's also a timed console exclusive on Switch and releases next year.
A Short Hike
A Short Hike is another Eurogamer favourite, and a charmingly compact game of exploration-based adventure. Christian Donlan liked it enough to bestow it with Essential review badge, and Nintendo has secured it as a timed console exclusive, available right now.
Evergate
Also available now is Evergate, a 2D puzzle platformer and "touching, heart-warming story" set in the afterlife. "Fire your Soulflame at the crystals dotted around the environment and harness the mysterious powers they hold to aid your persuit of the end gate," explains developer Stone Lantern Games, "Experiment with using your Soulflame on multiple crystals at once, to witness how their energies combine."
Torchlight 3 and Card Shark
Rounding out the big indie announcements, we have a known quantity in the form of action-RPG sequel Torchlight 3 - which arrives on Switch this "autumn" - and a new offering from Nerial, the developer behind swipe-to-rule hit Reigns. Card Shark, as the latter is known, looks gorgeous and features quite the premise, offering up a game of "real card tricks and manipulations" as players attempt to "fleece and cheat" their way to the top of 18th century French society. It's coming to Switch (and PC) in 2021.

That's still not quite it, however; Untitled Goose Game is getting a co-op mode on 23rd September, as we've discussed elsewhere, and Nintendo also offered up a clutch of release dates and other brisk announcements - including Gonner 2 and a Switch release for superb matching game Grindstone - in one final montage. It was all a bit blink-and-you'll-miss-it, so here's a summary for the sake of completion:
Haven - out later this year
Going Under - 24th September
The Red Lantern - autumn 2020
Unrailed - 23rd September (demo out now)
Struggling - 27th August
Inmost - 21st August
She Dreams Elsewhere - early 2021
Grindstone - autumn 2020
Gonner 2 - autumn 2020