New photos reveal Universal Studios Japan's under-construction Super Nintendo World
Mushrooming kingdom.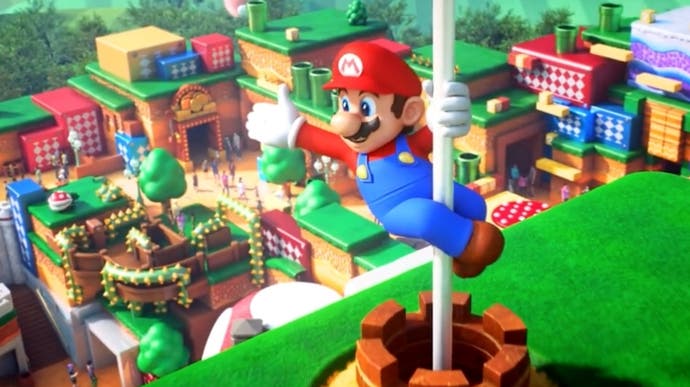 Universal Studios Japan's Super Mario World inspired area is scheduled to open next year, ready for Tokyo's 2020 Olympics. As you might imagine then, construction work is well underway, and recently snapped images have given the best look yet at the project's progress.
Nintendo and Universal initially announced a collaboration back in 2015, revealing plans to launch a variety of "immersive experiences" based on Nintendo properties at Universal Studios parks around the world. The first of these, it was later revealed, would be built in Osaka, Japan.
As the years have gone on, numerous reveals - ranging from leaked concept art and models to official CGI videos - have given those following development a pretty clear idea of how Universal's initial offering, known as Super Nintendo World, would look when complete.
Now, however, a Universal Studios Japan fan page on Twitter has shared construction photos of the Mario-themed portion of Super Nintendo World from various angles around the park, giving the clearest idea yet of how the finished project will appear in the flesh on opening day.
The most prominent element currently viewable, as evident in the photos above, is the towering Super-Mario-World-3D-esque hillside that will loom over the entire area. Based on previous reports, this will likely house at least a portion of Super Nintendo World's omnimover-style Yoshi's Adventures ride - said to consist of both indoor and outdoor scenes, utilising over 40 animatronics, and intended to circle the zone's upper levels.
Chairman and CEO of Universal Parks & Resorts, Tom Williams, revealed earlier this year that Yoshi's Adventures would be one of two rides to feature at Super Nintendo World on opening day. The other, whose specifics are still something of a mystery, is a Mario Kart ride ensconced in an imposing building designed to resemble Bowser's castle.
Super Nintendo World Osaka's Mario-themed area is due to open in "spring" next year, with a second, Donkey-Kong-inspired area expected in 2021. Additional Super Nintendo Worlds, each with different ride selections and layouts, are currently in development for Orlando, Hollywood, and Singapore - although there's no firm word on when these will be complete.