Here's a full list of the 265+ games playable at EGX this week
Fill your boots.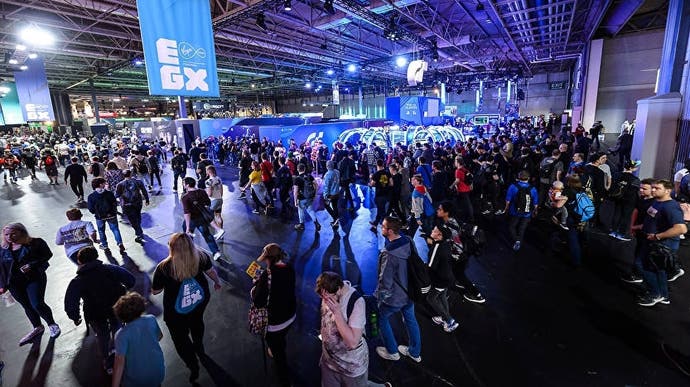 EGX 2018, the gaming event formerly known as the Eurogamer Expo and operated by our parent company Gamer Network, starts today at the NEC in Birmingham and runs for the next four days. And good Lord is there a lot to play there.
An almost-complete list of playable games at the show has been released, and runs to 268 titles - the largest collection of playable software ever presented in the UK, including over 200 indie games. There are still a few indie games unaccounted for, and the list doesn't even include what's available to play in the show's retro area.
You'll find the complete list below, but here are 10 highlights that we at Eurogamer think all showgoers should make time to check out:
Assassin's Creed Odyssey
The Dark Pictures Anthology - Man Of Medan
Disco Elysium
Dreams
Hitman 2
Life is Strange 2
Super Smash Bros Ultimate
Tetris Effect
Total War: Three Kingdoms
Untitled Goose Game
Saturday is now sold out, as is early entry across all days, but there are still day tickets and four-day super passes available. Come and join us! And here's that not-quite-complete list of playable games:
999
3 Minutes to Midnight
Ace Combat 7: Skies Unknown
Aggelos
Alchemic Cutie
Amazing Frog?
Amygdala
Arca's Path
Arcade Spirits
Arena Of The Phoenix
Assassin's Creed Odyssey
Astro Bot: Rescue Mission (VR)
Astrologaster
Aurora
Away: Journey to the Unexpected
Baba Is You
Backworlds
Bayonetta 2
Beacon
Beat Saber (VR)
Beat Your Meat
BEE KIND
Between Stations
Betweenside
Beyond Blue
Big Crown Showdown
Billie Bust Up!
Black Desert Online: Drieghan
Bleed 2
Blood and Truth (VR)
Bomber Crew
Broken Sword 5: The Serpents Curse
Call of Duty: Black Ops 4
CardLife
Carried Away
Catastronauts
CAUSEWAY
Chill Panda
Chimparty
Close
Crash Bandicoot N. Sane Trilogy
CrossVector X
Dark Souls remastered
Dead End Job
Deadstick - Bush Flight Simulator
DESERTER: A GAME OF SORORITY
Destiny 2: Forsaken
Diablo III: Eternal Collection
Disco Elysium
DodgeBrawl
Doggo
Donkey Kong Country: Tropical Freeze
DOOM
Doom Buggies
Double Pug Switch
Dr Dad's Home for Disposable Clones
DRAGON QUEST XI: Echoes of an Elusive Age
Dreams
Eagle Island
Eastward
Eden's Grasp
Eldest Souls
Empires in Ruins
ETERNAL SPIRIT
Everspace
Exodus: Rising
Figment
Final Fantasy XV Pocket Edition HD
Final Fantasy XV Windows Edition
Finger Olympics
Fist of the North Star: Lost Paradise
Flashing Lights
Flotsam
For The King
Fortnite
G30
Gang Beasts
Genesis: Alpha One
GOLD
GRIP
Growbot
Hamsterdam
Hash Rush
Heaven's Vault
Hitman 2
HoloFist
Honey, I Joined A Cult
How to Kill Monsters
Human: Fall Flat
Hyperbrawl Tournament
Hypnospace Outlaw
Inmost
Into The Breach
Jetstream
Jump Force
Kartoon Racers
Kid Tripp
Killer Queen Black
Kine
Kingdom Hearts III
Kingdom Two Crowns
Kinoko
Kitchen Imps
Knowledge is Power: Decades
Lake Ridden
LEGO DC Super-Villains
levedad
Life is Strange 2
Luigi's Mansion
Lunar Mines
Lux Fabrica
Mable and the Wood
Manual Samuel
MaoMao Castle
Mario Kart 7
Mario Kart 8 Deluxe
Mario Tennis Aces
Marvel's Spider-Man
Medieval Steve
MENAGERIE FABULOSA
Meridian Line
Metro Exodus
Mice on Venus
Miles & Kilo
Million to One Hero
Minecraft
MISFOLDED
Monster Hunter Generations Ultimate
Moonlighter
My Big Bad Friend
My Hero: One's Justice
My Time at Portia
Mystery Game - to be announced at the show
Nature's Zombie Apocalypse
New Super Mario Bros 2
Ninjin: Clash of Carrots
Nippon Marathon
Obsol33t
OBVIOUSLY INAPPROPRIATE CONTENT
OCTOPATH TRAVELER
Oddworld: Strangers Wrath
Only Shadows
Orange Island
Orune
Overcooked 2
Override: Mech City Brawl
Paladins
Pathway
PC Building Simulator
Persona 3: Dancing in Moonlight
Persona 5: Dancing in Starlight
Perspective
Phoenix Point
PHOGS
Physic
Pixel Quest
PLANET ALPHA
Pocket Pals
Pode
Pokémon Ultra Moon
Pokémon: Let's Go, Eevee!
émon: Let's Go, Pikachu!
Powerless
Primetime Detective
Production Line
Project Grove
PUSS!
RAZED
RIDE 3
RoBoats
Rocket League
Rogue Aces
Rots 'n' Bots
SATURDAY SUPER VILLAIN
Shadow Detective
Shadow Era
Shadow of the Tomb Raider
Shikhondo - Soul Eater
Shoppe Keep 2
Shuhari Puzzle
SketchTown Show down
Small Talk
Smoke And Sacrifice
Snap Hunt
Soulcalibur VI
Soundfall
Space Ribbon
Splatoon 2
Splatoon 2: Octo Expansion
Spyro Reignited Trilogy
Starbeard
Starlink: Battle for Atlas
Stay
Stick Fight: The Game
Sticky Cats
Strange Brigade
Street Fighter V
Stronk Tonk
Stuntfall
Sublevel Zero: Redux
Sunless Skies
Super Mario Odyssey
Super Mario Party
Super Smash Bros Ultimate
Swimsanity!
Switch 'N' Shoot
Swords and Soldiers 2 Shawarmageddon
Tanglewood
Tannenberg
Team Sonic Racing
TerraTech
Tetra, Elemental Awakening
Tetris Effect (VR)
The Book Ritual
The Bradwell Conspiracy
The Clockwork Rogues
The Collage Atlas
The Dark Pictures Anthology - Man Of Medan
THE ECHO CHAMBER
The Endless Mission
The Escapists 2
The Escapists: Complete Edition
The Fallen
The Gardens Between
The Legend Of Zelda: Breath of the Wild
The Murder Mystery Machine
The Persistence
The Rose Garden
The Swindle
Thea 2: The Shattering
They Suspect Nothing
This is Pool
Those Who Remain
Tick Tock: A Tale for Two
Titanic VR
Tom Clancy's The Division 2
Tony Slopes
Total War: Three Kingdoms
Tracks - The Train Set Game
Travis Strikes Again: No More Heroes
Treasure Stack
Tricky Towers
Troilus and Cressida
Unbound: Worlds Apart
Undercrewed
Untitled Goose Game
Valfaris
Valthirian Arc
Vanguard: Fight For Rudiarius
Velocity 2X
Velocity G
Verdun
Vox Racers
Wargroove
Wario Ware Gold
Wavey the Rocket
We Were Here Together
What Lies Underground
WHAT THE GOLF?
Windjammers
WipEout Omega Collection (VR)
Wolfenstein II: The New Colossus
Wordhunters
Worms W.M.D
Wrongworld
Yellow Rock Road